Daily Fantasy Basketball Strategy: March 4, 2016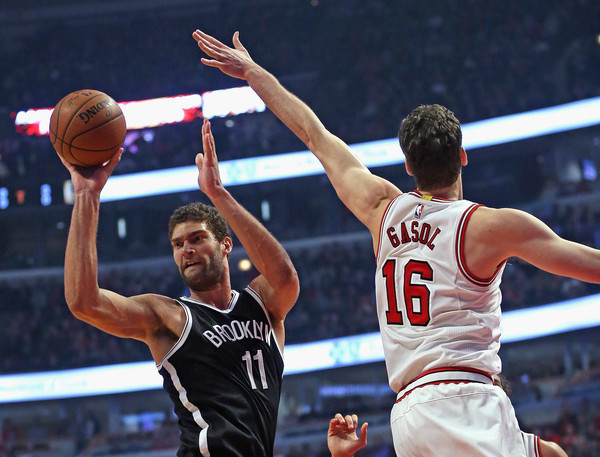 Point Guard
"The Play": Until waking up this morning, I was pretty sold on Kemba Walker as the point guard (PG) I'd be plugging into a majority of items but then a piece of news popped up on Twitter. Kevin Love has been ruled out of Friday's game due to Coach Tyronn Lue giving him a day to rest. Now Kyrie Irving will be forced to take on a larger portion of the offense and is still priced as though Love were healthy. As evident by the numbers, Irving isn't shy about shooting when he and LeBron James are the last men standing of the big three; Irving sports a 27.5-percent usage rate (usg%) with Kevin Love on the court versus 35.9-percent when he is not. For reference, DeMarcus Cousins leads the league with a 35.7-percent usg% so Irving's number without Love actually tops that. Irving will only cost $7,500 on DraftKings (DK) while Cousins typically hovers around $11,000. Simply put: Irving is a no-brainer.
[cointent_lockedcontent article_labels="basketball"]
Other Options: The aforementioned Walker is still firmly in play as he'll draw a matchup against the only team he has double-doubled against so far this season: the Indiana Pacers. Consistency has been the name of Walker's game lately as he has scored at least 20 points (PTS) in 10 of his last 11 games. Indiana also plays at the eighth fastest pace in the league so Walker should once again flourish and he's a nice compliment or even alternative ($7,800 versus $7,500) or Irving. All Kyle Lowry did in his prior meeting against the Trail Blazers was drop 30 PTS and 57.50 fantasy points…and this time he'll face them at home. Maybe the best value at the position comes from a player whose price has risen steeply over the past few days (which is a strange thing to say) but D'Angelo Russell is once again an elite play. Both Kobe Bryant and Jordan Clarkson are listed as questionable with knee injuries and Russell's usg% rises from 20.0-percent with both to 26.9-percent with neither. The only punt and mid-tier options I see as viable are George Hill at a sub-$5,000 price (dropped 30-plus fantasy points versus Charlotte in last meeting) and Archie Goodwin whose price has sunk as low as it will ever be. Others to consider: John Wall (both), Ricky Rubio (GPP), Dennis Schroder (GPP), Mike Conley (GPP), Goran Dragic (both), Marcus Smart (GPP) and Damian Lillard (GPP).
Have you thought about playing DFS on FantasyDraft.com? If you sign up through our referral link, you will receive one month of our Front Office DFS content for free. If you already have a subscription to NBA Front Office, let us know and we will give you the first month of MLB Front Office content for free, and that crew is awesome as well.
Shooting Guard
"The Play": Sometimes daily fantasy basketball comes down to identifying holes in a team's defense and choosing players to exploit the weaknesses. According to nbawowy, the three most commonly used lineups by the Milwaukee Bucks this season include Khris Middleton at the shooting guard (SG) position. In terms of defensive efficiency, the Timberwolves rank in the bottom third of the category to only one sole position: SG. Therefore, the en fuego Middleton should be able to have himself a day. Middleton has scored at least 21 points in four consecutive games and hasn't dropped below 30.50 fantasy points since Feb. 1. In other words, he has gone an entire month without a dud which is incredible for a player who relies so heavy on scoring. The game environment suggests Middleton and the Bucks will have to play up slightly in pace to keep up with the Timberwolves so lock him in as an elite cash play with the upside to provide 6x value on DK.
Other Options: Shooting guard, as per usual, is overall unappealing compared to the other positions. Evan Fournier will return for the Orlando Magic tonight and probably push 40 minutes as per usual. The matchup literally could not be any better because the Suns rank dead last in terms of efficiency against opposing backcourts. With that being said, Victor Oladipo is firmly in play as well but all Magic players are always a slight risk due to Coach Scott Skiles' tendency to bench players for no reason. Gary Harris quietly has produced at least 22 fantasy points in four straight games as he continues to push 40 minutes on a nightly basis due to Danilo Gallinari's injury. He is pretty much a cash option only but punting SG to fit other spots isn't the worst idea in the world. Others to consider: Dwyane Wade (GPP), Monta Ellis (GPP), Devin Booker (GPP), Andrew Wiggins (both), Will Barton (GPP) and Avery Bradley (cash).
Small Forward
"The Play": When is the last time the top-priced player on a 10 game slate only cost you $9,600 on DK or $17,100 on FantasyDraft (FDR)? Well tonight fitting in the most expensive stud isn't overly difficult because his price isn't pushing $12,000. With Kevin Love ruled out, LeBron James only further becomes the above and beyond past play of the entire slate. I write a "Today's Plays" article for FantasyDraft every night and always write it the night before the slate. Before the Love news I made the case for James because the Wizards allow the fifth most fantasy points to opposing small forwards (SFs), James has played close to 40 minutes in both of their prior matchups and has averaged 51.6 fantasy points in those two meetings. Sans Love, James sports a 36.5-percent usg% and averages a whopping 1.44 fantasy points per minute. Do not fade James in cash games because he will likely be heavily owned and should deliver a monster performance on Friday.
Other Options: If Michael-Carter Williams were to sit, Giannis Antetokounmpo would emerge as the only viable cheaper alternative to James in cash games. When the team's top PG sits out, Antetokounmpo takes over ball-handling duties and instantly becomes a nightly triple-double threat. Over his past five games, Antetokounmpo has triple-doubled twice and those have translated to 75 and 69.75 fantasy points respectively. Vegas implies the Bucks will score 109.3 points tonight and, if they come close, Antetokounmpo will have made his impact. Gordon Hayward would benefit if Tony Allen were to sit once again. Allen hasn't played since Feb. 19 and there are no indications he will tonight so Hayward should be in the clear. Oh and Paul George dropped 53 fantasy points versus Charlotte last week so take note if you have $8,100 to spend. Others to consider: Carmelo Anthony (both), P.J. Tucker (cash), Joe Johnson (GPP), Jae Crowder (both) and Luol Deng (both).
Power Forward
"The Play": Up until last game, Derrick Favors had been on an absolute tear, scoring 32.75-plus fantasy points in six consecutive games including four over 40. Favors is a fantastic cash option because his contributions in the defensive statistical categories supplant his solid cash floor. Once known as a defensive powerhouse, the Memphis Grizzlies rank just 22nd in defensive efficiency to power forwards (PFs) over the last five games probably partially due to the absence of Marc Gasol. Literally all three of the Grizzlies most common lineups since Gasol suffered what could be a season-ending injury include Zach Randolph playing center (C). With Randolph at C, the Grizzlies have used small lineups more often that have included players such as JaMychal Green, Matt Barnes, Jarrell Martin and even Lance Stephenson or Vince Carter at PF! Basically the loss of Gasol assures the Grizzlies will not be able to match Favors in terms of size and therefore he should eat.
Other Options: Julius Randle warrants consideration as he has picked his production back up recently but I worry the Atlanta Hawks are going to blow them out of the gym…the same goes for Paul Millsap although he's a fine cash option. Markieff Morris is an intriguing option as he should play extended minutes against a top Eastern Conference foe but Kevin Love sitting actually hurts his cause (Love is a sub-par defender). Otherwise, Aaron Gordon and Jabari Parker are the only two players I see that I would trust in cash. For tournaments, Thaddeus Young faces a favorable matchup against Denver, Darrell Arthur has been hovering around 20 fantasy points on a nightly basis at just $3,900 and Tristan Thompson warrants consideration without Love. Others to consider: Kenneth Faried (GPP), Myles Turner (GPP) and Kristaps Porzingis (both).
Center
"The Play": If salary is at a premium, Alex Len is your guy at center, but if you still have some dough to spend then make sure to use it on Brook Lopez. On FDR, if Lopez were to just reach his season average in terms of fantasy points, he would produce 2.89x value. For higher priced players, targeting 3x value likely puts you in the PayoutZone for cash games so he is almost there just based on average production. Now factor in the plus matchup against a Denver defense that allows the 10th most fantasy points and ranks 20th in defensive efficiency to the position and 3x value doesn't seem so farfetched. People may look back at Lopez's 21.50 fantasy point dud in the last meeting versus the Nuggets and veer off of using him but Joe Johnson has since been released and Lopez still shot 54.5-percent in that game. The game was nothing more than an outlier and over a larger sample you would likely see Lopez average greater than his season average in a positive matchup for him. Look for Lopez to rebound in a big way and consider him a top target in all formats.
Other Options: As noted in the above tidbit, Len is still priced too cheap. After last night's 12 PTS, 13 rebound (13) performance, Len has now double-doubled in three consecutive games after being moved into the starting lineup. This month Len has averaged more than 36 minutes per game (MPG) while Chandler sits around 22. Starting twin towers has not hurt Len's ability to produce at an efficient clip and he'll square off against a Magic team that ranks 25th in defensive efficiency versus opposing PFs (which is where Len will start). It's hard to find double-double threats sub-$6,000 so you can go back to the well despite the rising price. Man, Hassan Whiteside is in a great spot tonight as the older players will probably have their minutes scaled back due because they played last night. Well Whiteside only played 23 minutes last night and now faces the team that allows the most fantasy points to opposing Cs. Assuming the game does not get out of hand, Whiteside's ceiling might exceed 60 fantasy points. Last but not least, I can't go on about Cs without including Karl-Anthony Towns. The Bucks have improved defensively since they made the shift to Miles Plumlee as starter but Towns averaged 21.1 points per game (PPG), 11.8 rebounds per game (RPG), 2.3 assists per game (APG), 0.5 steals per game (SPG) and 1.6 blocks per game (BPG) in the month of February. At this point, projecting anyone to stop him is probably foolish as he is just a monster. Others to consider: Jonas Valanciunas (both), Timofey Mozgov (cash), Al Jefferson (GPP), Robin Lopez (both), Al Horford (cash) and Nikola Vucevic (both).
Good luck tonight.
Grind on…
[/cointent_lockedcontent]