Daily Fantasy Basketball Strategy: November 27, 2015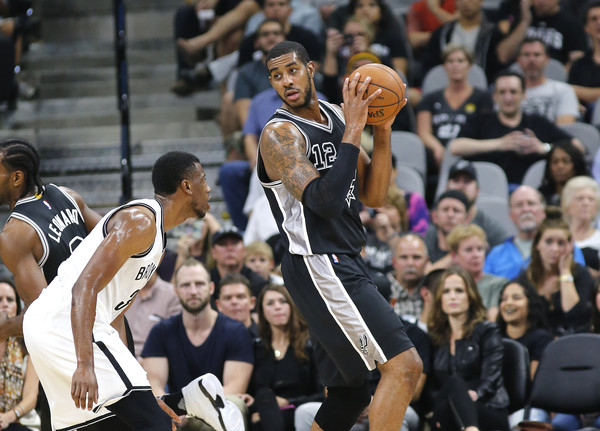 Thanksgiving is a nice little break from reality. We consume 5,000 calories and pretend like it never happened. We spend time with the family, including the members we are secretly not too fond of, and act like all is hunky-dory. Considering there is no basketball on TV, we get a break from the grind as well.
Now today it's back to the real world where we now feel like crap, get to gossip about the crazy stuff said at dinner and get to analyze another NBA slate because basketball returns on Friday night. So after you have hit the treadmill, it's time to take a dive into tonight's 14 game full slate of games.
[cointent_lockedcontent article_labels="basketball"]
Point Guard
"The Play": Chris Paul's performance up to this point is rather disappointing compared to his typical All-Star level but facing the porous New Orleans Pelicans point guard defense should be the perfect elixir to get him going. Only four of 15 starting point guards to have faced the Pelicans scored less than 30 fantasy points this season and those guards were Elfrid Payton (27.5 fantasy points), Deron Williams, Jose Calderon and Tony Parker (25.8 fantasy points). In other words, the ones who have struggled aren't exactly cream of the crop. Stephen Curry scored 53 real points against the Pelicans (82.5 fantasy points) and Russell Westbrook scored 43 (68.25 fantasy points). The aspect that stands out to Paul's matchup is the fact that Blake Griffin will have to deal with Anthony Davis which should limit his upside considerably. If Griffin cannot get going as per usual, Paul will have to shoulder more of the offensive load. His price has dropped recently all the way down to $8,400 (maybe the lowest I've ever seen for him) so all of a sudden there's plenty of room for profit.
Others to Consider: The recent reemergence of Tony Parker seems real and a few key members (will get to them later) have already been ruled out…so with additional usage, he should easily approach value at only $5,300. As long as Derrick Rose is deemed active, he's seeing minutes around 35 per game. John Wall's inconsistency may be driving owners crazy but he's more effective with Bradley Beal on the court and the matchup against Boston should be a track meet. Regardless of matchup, Russell Westbrook is a monster and same can be said for Stephen Curry. Of the two, I prefer Curry on the road against Phoenix as the Warriors seem to get opposing teams' best effort every game. Others worthy of consideration: Reggie Jackson, Kemba Walker, Zach LaVine and Jeff Teague. 
Shooting Guard
"The Play": Strangely I hardly ever consider playing Andrew Wiggins but seem to write about him every week in this article. However, Wiggins' track record (and pretty much every other shooting guards' track record) speaks for itself against the Sacramento Kings. In three prior games against them in his career, Wiggins has produced at least 26 real points in each. He has dropped 48.75, 48.25 and 34.5 fantasy points respectively in the three meetings. Technically the Kings only rank 27th in defensive efficiency against the position but they allow within half a fantasy point of the NBA's worst shooting guard defense (the Nuggets). Also, the Sacramento Kings are the fastest-paced team in the NBA which enhances the allure of the matchup even more. Relying on pure scorers is rarely the strategy I like to employ but I feel exceptionally confident Wiggins is going to light up the scoreboard so I'm comfortable with him in all formats.
Others to Consider: James Harden is virtually matchup proof at this point so it doesn't even matter that the Rockets will likely beat the hell out of the 76ers (10.5 point spread). Other than that, the position is surprisingly thin tonight. Victor Oladipo has been demoted to bench duty (although he'll play a ton of minutes still), Bradley Beal will have to deal with elite defender Avery Bradley and Evan Turner's output fluctuates game-to-game as he's one of the most volatile players in DFS. Avoid the headache and lock in either Wiggins or Harden.
Small Forward
"The Play": All it took was the combination of removing Nik Stauskas from the rotation (due to injury) and inserting Robert Covington into the starting lineup in order to spark Covington circa-2014. He played 35 minutes against the Celtics and registered 11 points, 14 rebounds, two blocks and six steals for a total of 45 fantasy points. Now the 76ers will head to Houston to face a faster-paced team and a weaker defense against the position (Houston ranks 24th in defensive efficiency versus the small forward). While it will be difficult for Covington to replicate the 14 rebounds (unless Jahlil Okafor is suspended) or the six steals but he should crank up the scoring output to cancel it out somewhat. At only $5,100, he doesn't need to replicate the full 45 point outburst in order to produce value. Expect a solid performance but, as a jump-shooter, there is a bit of natural variance to his game. He's better suited for tournaments but his price makes him appealing in cash games as well.
Others to Consider: Just a few weeks ago Jae Crowder dropped 40 fantasy points on the Wizards and their lacking small forward defense. While the price allow much room for profit ($5,700), he's still a safe bet. Rudy Gay makes sense regardless of whether or not DeMarcus Cousins suits up. Last season he benefited from Cousins absence and up until last game he had been struggling this season without Cousins. All-in-all I'd say more usage runs through him without Cousins so I'd prefer the big man sit if I were to roster Gay. Four of the usuals are feasible tonight as Kevin Durant, Carmelo Anthony, Kawhi Leonard and LeBron James all feel safe and they obviously all could go nuts on any given night. In accordance in with their matchups, I would rank them Durant (one of my favorite superstars to spend up on tonight), James, Leonard and then Anthony.
Power Forward
"The Play": Spurs are rarely fun to roster in DFS due to Gregg Popovich's last second inactives and strange rotations but Friday is a surprising exception. For whatever reason, Popovich decided to rule out both Manu Ginobili and Tim Duncan a day early and helped clarify the situation for fantasy owners. In the absence of Ginobili and Duncan, no player on the Spurs averages more fantasy points per minute than LaMarcus Aldridge (minimum of 20 minutes played this season). At 1.28 fantasy points per minute, Aldridge should easily be able to surpass 30 fantasy points assuming Popovich plays him a full allotment of minutes. Without one of the big men active, he could play closer to 40 minutes and sports an awfully reasonable price tag. Even though the Nuggets rank sixth in defensive efficiency, the pace of the game should more than make up for the poor DvP. The first move to setting cash lineups on this slate is inserting the Spurs' power forward and then figuring the rest out.
Others to Consider: Tristan Thompson's price is starting to fully adjust to his role as the starter without Timofey Mozgov but the Hornets rank 28th in efficiency against opposing centers. They also allow the second most rebounds to the position so Thompson should remain active enough on the boards to approach or exceed value even at the inflated cost. UPDATE: Timofey Mozgov has been upgraded to questionable. No news has surfaced yet in regards to Jahlil Okafor's possible suspension but Nerlens Noel would emerge as a great play if Okafor was not able to suit up. Although Memphis has been surprisingly susceptible to opposing centers this year, do not expect that to continue. If Marc Gasol can keep Al Horford at bay, Atlanta will have to rely on more Paul Millsap than usual and he's averaging 41.67 fantasy points. Other such as Jabari Parker, Anthony Davis (cash viable), Draymond Green and Chris Bosh all make sense in tournaments depending on what pricing tier you need.
Center
"The Play": Only one player in the NBA is averaging more than three blocks per game: Hassan Whiteside (4.71). The crazy part is he is actually averaging more blocks per game than 11 NBA teams. The Heat and Knicks met on Nov. 23 and Whiteside produced 39.25 fantasy points (11 points, 11 rebounds and five blocks) in just 33 minutes. Considering the Knicks rank 27th in defensive efficiency versus the center position, I like the probability of him producing a similar line at the very least. If/when they decide to get him involved in the offense, he has the potential to drop 20 real points against the combination of Robin Lopez, Kyle O'Quinn and Kevin Seraphin. On any given day, Whiteside could also block double-digit shots or even scoop up 20 rebounds. For that reason, he's worthy of consideration in both cash games and tournaments as he's both safe and possesses elite upside.
Others to Consider: Opponents rebound at a solid clip against the Chicago Bulls and Ian Mahinmi scooped up 12 of them against the Bulls on Nov. 16. He is the perfect combination of rebounding talent and hustle to consistently dominate the slower, less athletic Pau Gasol on the boards and is priced incredibly reasonably. Even if Zach Randolph returns, Marc Gasol faces an Atlanta Hawks team allowing the seventh most fantasy points to the position and Gasol's all-around game limits downside. Steven Adams is known as a stout defender but Andre Drummond will probably still drop 20 rebounds (or close) on him tonight. Greg Monroe's rebounding ability is needed every game and he's averaging more than 35 minutes per game over the last month so he doesn't come off the floor much. Even though Orlando has improved defensively, they still rank middle of the road against centers. Last but not least, Dwight Howard has serious tournament appeal just in case the Rockets don't blow the 76ers out of the building. If they somehow hang around, Howard possesses 50 fantasy point upside…as does DeAndre Jordan against the Pelicans.
Good luck tonight! Grind on….
[/cointent_lockedcontent]