Daily Fantasy Basketball Strategy: November 5, 2015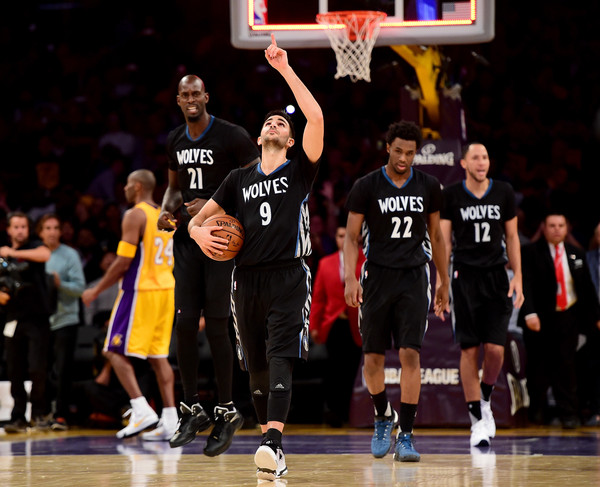 What a night last night was, huh? Big slate and DraftKings hosted a $1million tournament, I didn't do well, honestly. Went with the wrong approach. I did fine in my double-ups but didn't touch the money in GPPs. That's the reality, you have good and bad nights. Some nights my DFS write-up hits on the money, but I use the wrong combination of players and don't have as great of a night as I should have. Just keep grinding away, stay heavy in cash games to keep your bankroll up and toss out some GPP lineups with house money. Just wait on that night that everything hits and you cash in big time. Enough about last night, let's get to tonight's five game slate.
[cointent_lockedcontent article_labels="basketball"]
Vegas lines and totals
Oklahoma City (+1) @ Chicago – 208
Miami (-3.5) @ Minnesota – 198.5
Charlotte (+4) @ Dallas – 197
Utah (n/a) @ Denver – n/a (will update whenever they post it)
Memphis (-4) @ Portland – 193
This slate is full of, hmmm… OK, no need to sugarcoat it, it's lackluster. Memphis and Utah are involved dragging two teams who love to score points down a ways, Hornets/Mavs is just blah, Heat/Wolves, meh. The gem of the night is Thunder/Bulls, no question. The only game total projected over 200 on the 5-game slate and it's got a lot of fantasy heavy hitters involved. Hopefully we can plug the right guys from that game in with a few from the not so intriguing games and win some money. Let's get to it.
Here's a quick recap of the scoring settings on DraftKings:
Point = +1 PT
Made 3pt. shot = +0.5 PTs
Rebound = +1.25 PTs
Assist = +1.5 PTs
Steal = +2 PTs
Block = +2 PTs
Turnover = -0.5 PTs
Double-Double = +1.5PTs (MAX 1 PER PLAYER: Points, Rebounds, Assists, Blocks, Steals)
Triple-Double = +3PTs (MAX 1 PER PLAYER: Points, Rebounds, Assists, Blocks, Steals)
Now, for the top options and values at each position:
POINT GUARD
Russell Westbrook ($10,400) – There's one super elite option on today's slate and there's no reason out there to fade him, I don't care how pricey he is. The other thing about this slate is that there's only three players priced over $8K, so there it's nowhere near as difficult to make a lineup around the highest priced player. Westbrook is basically matchup proof, and the way he fills out a stat sheet and piles up assists, he's made for DFS.
Ricky Rubio ($7,300) – I had Rubio ranked higher (better) than most others that I saw out there coming into the season, and it's not that anyone doubts his abilities, it's that it's assumed he will miss time due to injuries. I just knew Ricky had a string of ankle injuries, not knees, much like Stephen Curry until he had an incredible season to make people forget his injury riddled early seasons. Well, Rubio has been even better than expected thus far and he's a great DFS guy because like mentioned for Westbrook, Rubio compiles points by racking up assists, 8+ every game thus far, that's 12 DK points alone. He's a great play again tonight against the Heat.
Cheap risk option: J.J. Barea ($3,400) is the only PG below $4K that I am really looking at tonight. He's playing minutes in the low-20s each night and has averaged 23 DK points per game over the last three games. That's about his ceiling, so don't expect anything more, but it's above value at his price.
SHOOTING GUARD
Jimmy Butler ($7,700) – The shooting guard position is rarely fun to deal with, and tonight aside from Butler and Wade, it's a whole lotta nada. Seeing as Wade is only $800 cheaper than Jimmy B, just get Jimmy in there unless you decide to punt the position. He hasn't been unworldly but he is averaging 38 DK points a night, and that's well more than you're going to find elsewhere at SG tonight.
Dwyane Wade ($6,900) – I mean, who else is there? Wade was on his way to another nice game on Tuesday before exiting the game with a migraine headache — before you call him a sissy, I get migraines frequently and honestly, I have no clue how he was even playing, never mind putting up 21 points in three quarters. Wade has scored at least 20 points in all four games this season and if not for leaving the last game he'd have four 32+ DK point nights under his belt. Assuming he's shaken the headache, he's got the green light from me tonight.
Cheap risk option: There's not much below $4K at SG either, so even if you punt the position, you're not able to spend the minimum. The cheapest guy I'd think on is Jeremy Lamb ($4,000) who is fresh off signing his new contract and he's scored 20+ DK points in all three games thus far. The new deal gives incentive to up his minutes and he played 26mins this past game.
UPDATE: Mario Chalmers is questionable tonight, so if he misses the game Heat back-up PG Tyler Johnson ($3,000) would likely see 27-32 minutes tonight especially with Gerald Green already ruled out. Monitor the status of Chalmers tonight because any player priced at minimum getting that much PT is a great option, especially on a small slate like tonight's.
SMALL FORWARD
Gordon Hayward ($6,600) – I know he's off to a lackluster start, but he did score 19 points last night, although he really didn't do anything else. It's GHay or Gallinari for me and I just lean to Hayward. Hopefully we get the full break-out we've been waiting for.
Al-Farouq Aminu ($5,600) – Aminu has been really solid this season and he should continue that run tonight against the Grizzlies. The Griz are strong defensively, but Aminu does most of his damage grabbing boards and adding up steals and blocks, so he should overcome. It won't be a huge night, but I'd expect around 30 DK points. No Meyers Leonard also means that AFA will slide to play more PF tonight, and get even more minutes than he already has been playing. He's my go-to SF tonight.
Cheap risk option: With Meyers Leonard out, it helps solidify Maurice Harkless ($3,100) not only because he's basically minimum price, but also because he should get more run while Aminu likely has to slide to play more PF tonight than typical. Hell, last night he played 28 minutes and somehow put up 15pts, 10rebs, 3blks with two treys. I'll have him in a lineup or two just to fit in bigger money guys elsewhere and hope he gets at least 20 DK points.
POWER FORWARD
Dirk Nowitzki ($6,500) – No secret that Dirk is my favorite player, but I rarely use him in DFS these days because I'm a realist and pick with my head/analysis not my heart. No denying Dirk's great matchup tonight though, Charlotte has nobody to stop the Dirk post and fade tonight and at this price, he should beat value with a 35-40ish point DK night.
Zach Randolph ($6,500) – ZBo is another vet that I am a fan of tonight. Portland will be tired from their game last night and guys like Ed Davis and Noah Vonleh have no hopes of stopping ZBo from doing whatever he wants. Another 20-10 game could be in the works for the OG. With Marc Gasol iffy to play, Randolph's usage rate should climb even higher tonight. He's a nice play either way, but if Gasol is out, he's my favorite of the mid-to-upper PF options.
Brandan Wright ($3,000) – This is totally pending the status of Marc Gasol for tonight's game, he's currently listed as questionable. If Gasol does sit out, Wright would step right in to big minutes and he's a very efficient big, so he can produce well if given even 25 minutes, but this would be 30+ minutes. After Gasol left Tuesday night's game, Wright played a total of 28 minutes and produced 29.5 DK points. No way around it, if Marc is out, Brandan is in every single one of your lineups.
Cheap risk option: Until he gives us reason to doubt that he'll play 20+ minutes and beat value, we have no choice but to use Dwight Powell ($3,900) as a cheap play. 20.5 – 18.5 – 24.5 – 32.5 are his DK outputs thus far and he's played 25 minutes in the two most recent Mav games. Plug him in.
UPDATE: It now seems as if Meyers Leonard will be out tonight, this adds Ed Davis ($4,300) to the list of value options out there tonight. He's still not a safe option and I wish he was even cheaper than he is, but if he exceeds 27mins — possible — he should hit value.
CENTER
Hassan Whiteside ($7,400) – Whiteside has went off two games in a row and looks like he's really in the zone right now. He's averaged 22pts, 14.5rebs and 3blks in those two games and the Wolves rank a lowly 20th (small sample size, but…) against centers this season. If you decide to pay up at center tonight, this is the guy. He's one of the safest plays on the board.
Al Jefferson ($6,700) – I really like the value of Big Al at this price point. He's not going to dominate like he did in year's past, but he's still a really solid player every night that he's on the floor and a double-double machine. Look for him to exploit Zaza tonight in the paint on both ends and hit 32+ DK points.
Cheap risk option:
Cash game rankings:
This isn't necessarily an order of who will score the most DraftKings points. Rather, the rankings are aimed to find the best price, value and production combo to help you win cash games, also taking into account potential ownership levels for each player.
PG:
1) Russell Westbrook
2) Ricky Rubio
3) Kemba Walker
4) J.J. Barea
5) Goran Dragic
6) Tyler Johnson (only if Chalmers is out)
7) Damian Lillard
SG:
1) Jimmy Butler
2) Dwyane Wade
3) Will Barton
4) Jeremy Lamb
5) Courtney Lee
SF:
1) Al-Farouq Aminu
2) Gordon Hayward
3) Danilo Gallinari
4) Kevin Durant
5) Rodney Hood
6) Nicolas Batum
7) Andrew Wiggins
PF:
1) Brandan Wright (if Marc Gasol is out)
2) Dirk Nowitzki
3) Dwight Powell
4) Zach Randolph
5) Chris Bosh (if Wade happens to be out, bump Bosh up a bit more)
6) Ed Davis
7) Serge Ibaka
8) Pau Gasol
C:
1) Hassan Whiteside
2) Al Jefferson
3) Rudy Gobert
4) Karl-Anthony Towns
5) Zaza Pachulia
6) Mason Plumlee
As always, stay locked to Twitter and RotoWorld for any late-breaking news the hour before the first game tips at 7 p.m. EST. I'll do my best to update this article as news breaks throughout the day, but the best way to get the latest is always to follow me on Twitter @BigZack44, where I'll do my best to break down the implications of any late scratches or lineup changes.

[/cointent_lockedcontent]