Fantasy Basketball 2013: Terrence Jones Tops Value Buy Candidates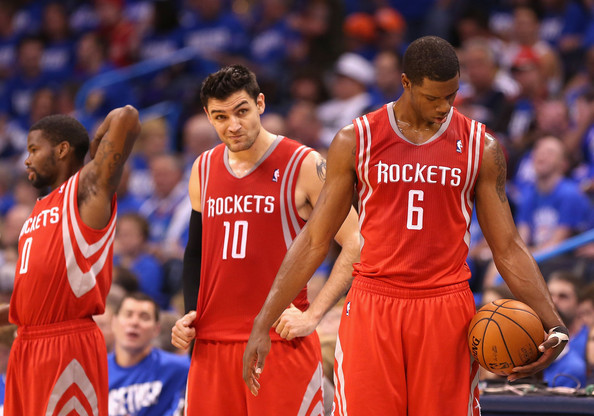 Another of the long line of NBA 'tweeners', Jones' calling card in fantasy is his versatility.
He produced when given minutes last season, as illustrated by his numbers in which he played a minimum of 20 minutes. Although it is a very small sample size of just seven games (remember he only played 19 games his rookie year), Jones put up 11.1 points, 7.3 rebounds, 1 assist, 1.1 steals, 2.1 blocks and 47/73 shooting splits. You can live with the shooting splits because he doesn't attempt many from the field or the line, and really if he is shooting from the floor there's a high likelihood he's either dunking or having a go from behind the arc.
This season Donatas Motiejunas, Greg Smith and Jones were all expected to vie for the starting PF spot, but after strong preseasons from Omri Casspi and Francisco Garcia threatened to further cloud Jones' path to minutes, it was Omer Asik who was given the nod as a starter next to Dwight Howard. It looked ominous early while Asik was starting, as Jones played under 20 total minutes through the first four games of the season!  Asik's pouting and 'Howard-esque' (too soon?) public moaning led to him going back to the bench, ironically 'pining' for a trade elsewhere so he can start.
With Asik's demotion, Jones has benefited the most out of the Rockets' big men and through his first four games with meaningful minutes (including three starts) he has averaged over 33 minutes per game and delivered 9.3 points, 10.3 rebounds and a whopping 2.5 blocks per contest. In addition to the nice rebounds and blocks, keep an eye on Jones' ability to knock down the long ball; at Kentucky he knocked them down at a decent clip for a big man (33% on 42-128) and he's 3-6 on the season so far and we all know Dwight Howard needs space to operate down low.
Jones' production from a fantasy perspective as a starter this season has been both surprising and indicative of what to expect from here on out – if he can stay out of McHale's erratic doghouse – but he's a perfect player to take a flyer on if the price is right.
Another week, another Laker on the list.
Steve Blake has delivered from a fantasy perspective since taking over the reigns from Mike Penberthy Steve Nash, recording four straight double assist games whilst making me look smart for a change.
Chances are if you're into fantasy basketball enough to be reading an article about it, Jordan Hill likely isn't available in the league you're in. He's always been a banger who lacked consistent playing time and a defined role, and always provided his coaches and fans alike with more questions than answers. Is he a C or a PF, can he stretch the D out to 12-15 feet, will he ever stay out of foul trouble, and has anybody ever seen Hill and Chris Copeland together at the same time? Hmmmm.
Wild theories and dopple-gangers aside, Hill's recent run has been in a word, awesome.
Since being inserted into the starting lineup for the maddeningly frustrating Chris Kaman (seriously, remember his three year run from 2008-2010? Try 16.3 points, 10.2 rebounds, 1.8 blocks and 49/75 splits), Hill has put up impressive per game numbers.
Comparing his numbers to Anthony Davis' for example over the last four games, he's scored more (18.8 points to Davis' 17.7) and grabbed more rebounds (12 per game to 10.3) and blocked a good amount of shots (1.7 blocks to 2.5, assisted by Davis doing a Mark Eaton impression against the 76ers with 8 rejections), whilst shooting a crazy 61.7% (29-47) from the floor and 89.5% (17-19) from the line!
Comparing Hill to Davis is just to show his legitimacy when given minutes, as nobody will be trading Hill right now and getting an elite, established player for him. Davis is clearly a top 10 fantasy option this season whereas Hill will likely cool down eventually, especially when Kobe comes back and starts chucking playing again. Even when Kobe returns and takes over the team as option number 1-4, there's bound to be boards to grab and perimeter players blowing by the Lakers' porous defense creating block opportunities for Hill.
The way Mike D'Antoni coaches big men you'd question how long until he replaces Hill with Robert Sacre for no apparent reason, or if they can coax Lamar Odom's corpse to come to the Lakers and play point-forward one more time.
Climb the Hill bandwagon and enjoy the view.
The Phoenix Suns have surprised everybody with their fast start out of the blocks – apart from themselves. Dragic has paired with Eric Bledsoe to form one of the better fantasy (and reality for that matter) back-courts in the entire NBA, with the two combo guards sharing ball handling duties for the majority of the 48 minutes each game.
Dragic's overall numbers are slightly lower than what was expected, mainly because he's been twisted and smashed into a myriad of injuries including a twisted ankle, a face-plant courtesy of team-mate PJ Tucker, and a cut eyebrow from clashing with Mo Williams' melon.
Dragic and Bledsoe have actually only finished one game together this season and Coach Jeff Hornacek will want his team running at every chance they can, as they're barely average in terms of a half-court offense. For want of a better word, they're lousy when the game slows down, usually running Bledsoe ISO plays or sometimes dumping it down to Miles Plumlee in the hope he can make something happen.
The Suns lead the NBA in fast break points, in no small part due to Dragic's frenetic playing style which has drawn comparisons to Manu Ginobili due to his sneaky athleticism and obvious likeness of being a southpaw.
Dragic's three ball hasn't been falling so far this season, whether due to injuries or just being a little more tired than usual after leading Slovenia in this year's EuroBasket tournament in his home country where he also made the All Tournament team. He's shot just 4-18 from deep this year and it may be something to do with how he and Bledsoe are co-existing; both want the ball in their hands but it seems Dragic may be the better shooter overall so it makes sense that he'll play more off-guard as Bledsoe is the better penetrator also.
Dragic has only been healthy enough to play two games of more than 30 minutes this season, and in those games he's averaged 22.5 points, 3.5 rebounds, 9.5 assists, 1.5 steals and shot better than 50% from the field and 90% from the line.
In a Pacific Division matchup against the defensively averse Sacramento Kings, it makes sense to give Dragic a run as he's too big for Isaiah Thomas and too fast for Greivis Vasquez.
Brian Shaw is playing with Denver Nuggets' fan's emotional stability seemingly every game, deciding that roster chaos and playing everyone from Ty Lawson down to the Gatorade guy is the best option to get out of a slump. Lawson is basically the only option you can rely on the Nuggets, besides the odd JJ Hickson double-double or a Randy Foye or Evan Fournier 15 point tease.
Currently they have no less than TEN players sitting between 15 and 24 minutes per night (JaVale McGee included, despite being out indefinitely with a gammy leg), with all of these players performing various feats of underwhelming fantasy production.
Enter Wilson Chandler.
Before the season had started, coach Shaw raved about Chandler's versatility and ability to play both ends of the floor, so when he finally returned from his hamstring injury, he had no hesitation at interesting Chandler into the rotation. He hasn't yet had the heavy minutes as he eases his way into a larger role, but Chandler is already the second leading scorer for the team at 15 points per game and seems to be getting a lot of open looks with Lawson's dribble drive game opening the floor.
The writing is on the wall for other Nuggets' potential SF options Jordan Hamilton, Anthony Randolph and Evan Fournier. In the 24 games where he played at least half a game last season, Chandler threw up top 40 value: 16.5 points, 5.2 rebounds, 2 assists, 1.1 steal, 1.5 threes and sexy (read: unsustainable) 51/81 shooting splits.
Chandler's versatility is his calling card; you can basically lock him in for around 13-16 points, 4-6 rebounds and more than a steal per game with the odd block thrown in for good measure. With the way the offense is shaping up you can expect between 1.5 and 2 threes per night and his percentages won't necessarily hurt you, but they definitely won't hurt you like some other versatile swingmen can…cough Trevor Ariza and Rudy Gay cough.
He'll have ups and downs as he continues to get back to game-shape, but he's a much cheaper alternative to a Jeff Green or Tobias Harris and he may eventually end up landing three position eligibility (SG, SF, PF), just like Green has in Yahoo.