Fantasy Basketball 2013-14: In The Bonus – Waiver Targets Week 4 – Stream Team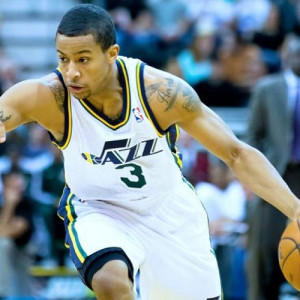 We all play fantasy hoops for fun, but in the end, we all have the same goal: to win the championship. If you want to seriously win, you have to put a lot of effort into it for the whole season. There will be times when you feel worn out, but if you get that 'ship, it's all worth it. 25% of the season is the draft, 50% is the moves you make during the season and the final 25% is luck. If you're in a weekly league, this intro doesn't really help you at all, and you can scroll down to the waiver targets below. This is directed at those in daily leagues that are able to use the often frowned upon strategy of streaming.
Streaming is when you have a spot in your lineup that you constantly rotate players off of waivers instead of having a fully set team. It's a spot where you add a new player everyday to get stats for all seven days of the week instead of just the standard four. A lot of owners think this is a cheap strategy, but as long as it is within your league's rules, it's fair game. Some leagues have a weekly transactions limit that prevents this to a degree, but usually it at least allows six moves which is fine for one stream spot.
Streaming and adding to your team's total stats on a daily basis takes a lot of work but it truly helps your chances of winning every week. I'm not saying drop Eric Gordon to stream a spot all week; I'm pointing at the bottom guy(s) on your bench, which in some shallower leagues may be too talented of a player to drop. In those cases, I often recommend that you give two players in a two-for-one trade where you get a very nice upgrade to one player. In that scenario, you'd know you have the nice upgraded player plus a new stream spot.
So, let's look at a breakdown of a solid player who you'd have four days a week versus a set stream average for seven days a week. I will make the streamer average 7.0 points, 5.0 rebounds, 1.5 assists, 0.75 steals and 0.75 blocks. I feel that's a very realistic weekly average which will some times be even better if you target your streamers' match-ups and situations right. For instance, if you saw that Deron Williams was out and Shaun Livingston was starting you'd grab him and get a very nice stream starter for that day.
| | | | | | |
| --- | --- | --- | --- | --- | --- |
| Player | Points | Rebounds | Assists | Steals | Blocks |
| Player A | 36 | 28 | 5 | 4 | 4 |
| Stream Avg | 49 | 35 | 10 | 5 | 5 |
As you see in the above case, "Player A" had a solid four game week, but the stream average still helped more in all categories. Player A was actually 84% owned Amir Johnson's stats for a four game week at his season averages thus far. I'm not saying run straight to your team and cut Amir, but I wanted to show that a highly owned player four games a week can definitely be out produced by a daily stream spot. Now of course you can see your match-up every week and know if you should target big men to win rebounds and blocks or guards to win assists and threes. If you play the spot right, it is a big benefit to your team every week. In leagues that don't have a transaction limit, often times I will stream with two spots until maybe I find a diamond in the rough that I think may keep it up. Last year in a twelve team league, I streamed two spots until I added Larry Sanders, which paid off big long-term.
Follow me on Twitter @BigZack44 for recommendations of daily stream plays that I like to have nice games. Now let's delve into some good waiver targets that may be available in your leagues.
Terrence Jones (owned in 43% of leagues) – Jones is a guy I almost wrote about last week, and in hindsight, I obviously missed out on a nice early breakout call. The Rockets needed one of their power forwards to step up and take that starting gig, and Jones was who they really wanted it to be. Since Jones has begun starting the last two weeks, he has posted averages of 13.2 points, 8.7 rebounds, 2.0 blocks and almost one trey per game. He's doing terrific on both ends of the floor and playing great next to Dwight. He's the real deal and should be owned in all league sizes and formats.
Trey Burke (53%) – Burke made his NBA debut on Wednesday night and played twelve minutes, which should steadily rise over the next week or so until he's playing mega minutes. I liked what I saw from Burke even in limited minutes. He oozed confidence and showed no fear going to the rack. I think he's a nice fit in this young Jazz offense and should put up nice numbers the rest of the way. If I had to put projections on him, I'd say he's capable of attaining averages of around 12.0 points, 3.0 rebounds, 5.0 assists, 1.5 threes, and 1.0 steal. He'll surely be inconsistent and hit some growing pains, but I like the kid and his situation in Utah a lot.
Jared Sullinger (14.6%) – Sulli is a late round forward I really liked coming into this season knowing the Celtics were going to be in a rebuilding phase. Sullinger showed flashes last year that he could be a very nice fantasy player when given the opportunity. He's more of a Zach Randolph-lite type in the sense that he's not going to do a whole lot statistically besides points, rebounds and good percentages. He has averaged 0.5 blocks and 0.5 threes the last two weeks which isn't anything to celebrate but better than nothing. So, if you're in need of a forward who you can rely on for points and boards, Sulli is a safe target. He started for the first time this season on Wednesday at the Spurs and delivered big with 19 points and 17 rebounds, so more starts should be in the books for him.
Rodney Stuckey (11%) – The 50 Cent look-alike was placed on a lot of owners "don't bother" lists this offseason as he had a really rough time last year between injuries and inconsistency. He just didn't do anything worth holding onto and much of the same was expected this year, but one key factor was overlooked… It's a contract year. Stuckey has that motivation to play for another multi-year deal and the Pistons likely want to showcase him to contenders who may want to trade for the scoring sixth man at some point. I wish Stuckey was better from three, but 0.7 is better than none. His 14.6 points a game with a couple rebounds, assists and a steal are worth owning. He's also a really nice FT% helper while not killing your FG% at all.
Josh McRoberts (4.2%) – McBob has quietly been putting up some really nice lines for the Bobcats this year. His scoring has been inconsistent and FG% could certainly use some improvement, but his 5.6 rebounds, 5.3 assists and 1.9 threes is a nice trio of stats to get from a low end guy like he is perceived. He's done fine with and without Al Jefferson in the lineup, so that injury isn't the tell-all for why he's done so well. If you want a guy who helps you a bit in those categories, you can do a lot worse than McRoberts.
Jarrett Jack (31.4%) – I'm really unsure as to why Jack gets overlooked in leagues. He's a pure vet and knows his role and how to get it done. I guess people now see Kyrie and Waiters in Cleveland and figure Jack won't hold value behind them. Last year he did it behind Curry and Klay, so that's not a good case. He's a quality sixth man, contributes nicely to your points, assists, steals and threes and is a fine guard addition to any team.
Shaun Livingston (3.9%) – Shaun's value highly depends on the status of Deron Williams. While Deron was out, he put up a few really impressive stat lines. Williams attempted to return on Wednesday and tweaked the ankle again, opening the door for Shaun to step back up. Look for him to continue to put up very respectable numbers while back starting at PG for the Nets.
Tobias Harris (55%) – Harris was a guy I liked a lot coming into this season off of a really strong finish to last year after being dealt to the Magic. He's nearing a return and very worth a stash if he's available in your league. At just 21 years old Tobias has immense upside and can fill the stat sheet totally. I believe the Magic have kept him out an extended period just to make sure he's totally 100% because they've no reason to rush back a big piece of their future. He'll be back soon and if you don't grab him now, he'll be gone and you'll regret it.
Digging a little deeper, here's a few names that can help those in 12+ team leagues out.
Mike Dunleavy (4.0%) – Dunleavy will be starting most games while Jimmy Butler (out 2-3 weeks) is nursing his injury. Dunleavy doesn't do a whole lot but can score decently and hit some nice three balls. He was already doing halfway decent but add around 10 minutes per game and he can do even better.
DeMarre Carroll (2.7%) – The other DMC is a high energy guy for the Hawks this year. His game isn't the prettiest but he hustles every minute he's on the court and has been working hard to put up pretty surprising numbers. When a guy can get you over ten points, seven boards, a steal and a three per game it gets your attention. As long as he keeps getting 30 minutes a night he's worth an add in 12+ team leagues and a nice stream target in shallower leagues.
Shane Larkin (0.4%) – OK, I'll admit it this one has a lot of bias involved. I watched Barry Larkin's son play in high school numerous times here in central Florida and always enjoyed watching him play. Honestly, I never thought he'd make it to the NBA as he was undersized and showed below average court vision. He improved greatly from his freshman to sophomore year at the University of Miami and wisely chose to enter the draft this past year instead of waiting another year when it's a much stronger draft class. Coming back from injury he's immediately stepped in to fifteen minutes and has looked pretty good especially on the defensive end. As of now he's likely a 14+ team league add but I'd keep a close eye on him and if Calderon were to get hurt he could step up huge. He's a great fit for the Mavs pick-n-roll offense.
All Percentages owned were gathered from ESPN.com