Fantasy Basketball 2013-14: In The Bonus – Waiver Targets Week 7 – Happy Hour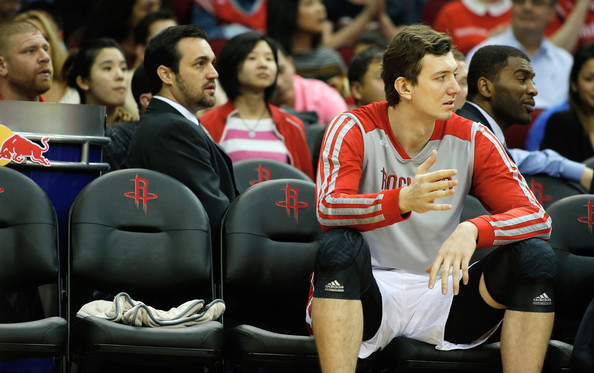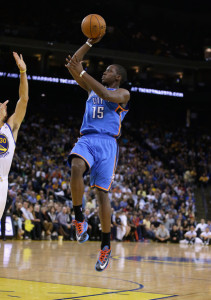 Who doesn't love the feeling of adding a player off of the waiver wire and then watching them excel beyond our expectations? Often times, fantasy GMs make the mistake of tabbing that player as their found treasure and then clinging to it. Yes, occasionally there is a wire addition that will continue balling all season long, but more often than not, they do well for a bit and then start to tail off. They get to that low point and you know that you've tapped the well dry, but you hate to let them go without getting anything in return. The only time to not give serious consideration to leading these types out to pasture is when it's a player whose role permanently changed, i.e., if a team's top point guard tears their ACL, and the backup seems likely to be the team's starter the rest of the way.
You always have to look at the bigger picture and try to turn your top performers into better performers, while working the wire to make sure your lesser players are still solid contributors. You always want to try and gain more higher tier players. A single top-40 player is more valuable than a top-80 plus a top-100 for your team. Odds are that a top-100+ player isn't putting up much more than you could get from a hot hand off the wire and/or using the spot to stream. My columns are intended to help you find the sizzling wire guys, but after that, it's up to you to use them wisely.
Looking back at my past columns, they're littered with solid talent and as well as some players who have already tailed off after their brief relevance. If you can take one of your decent players (along the lines of George Hill or Jose Calderon), pair them with a currently productive wire guy (such as Glen "Big Baby" Davis) and turn it into a significant upgrade for one player, you make that deal. Davis is doing really well right now, but odds are that when Tobias Harris returns and gets back to form, Davis will drop back down to pedestrian numbers and lose all trade value. Sometimes you have to risk selling high, especially if you can identify the reason they're overachieving and can anticipate a cause for decline.
So, say you have Jose Calderon, who has performed decently since returning from injury but isn't giving you the assists we all had hoped for, and "Big Baby" Davis, who you added off of the wire a couple weeks back. That's a pretty quality pair of players that should hold reasonable value to a potential buyer in your league. In a two-for-one deal in which you're getting the "one", you always have the advantage. Make it known that you're giving up "more" stats than they are in the deal, never mentioning that they should be factoring in what they lose with who they are forced to drop. Most owners overlook that part of the equation, to your benefit. You, on the other hand, have to always keep in mind that you'll be getting a nice upgrade over one player, and also adding another solid contributor you'll find here in my column. Just remember to be realistic and don't be "that guy" who is constantly offering Calderon and Davis for Russell Westbrook, or any other lofty talent. That offer will never fly, and will likely make an owner so irritated that they don't even want to attempt to work with you later.
You can still start out with expectations that are a bit high and use the above package to go after point guards like Mike Conley, Brandon Jennings or if you're a mega-fan like me, Isaiah Thomas. (If you follow me on Twitter, you're well aware of my love for the newly freed Isaiah Thomas, but you can also read my colleague Sam's latest piece, which delves into Isaiah's expanded role. With no competition behind him now he will build on to his already impressive numbers the rest of the way.) If you can upgrade Calderon to one of these higher level players simply by including a replaceable guy like Big Baby, it's basically a free upgrade for you.
You may be thinking, "no one in my league would go for that," and in some cases, that's true. You can't just offer a top team in your league a two-for-one trade and hope they accept it. You need to find a team who lacks big man stats and could use a guy like Davis to boost their team in that department. It's always good to send the owner a comment with the trade offer or an email explaining why the deal makes sense for them. Tell them that your team is loaded with big men and you noticed that they needed help there. All you want is a little bit of an upgrade at PG in return. Don't assume they'll look into Davis' numbers, do the work for them and put his recent numbers in the comment. "Davis' name may not grab your attention, but look at his past week after getting to 100% health and conditioning: 13.8 points, 9.0 rebounds, two assists and a steal and block per game. You add that to what you're already getting with Calderon and you get a big step up for your team." Make sure to come across as nice and positive, not aggressive and pushy, and read it again before you send it to make sure the tone seems right.
You can do 'Happy Hour' (two-for-one) deals for top tier players like Carmelo Anthony, John Wall, DeMarcus Cousins, etc., but usually owners are so proud of their drafting of a player doing that well that they won't even consider looking at an offer. I personally try to stay lower keel and go for the mid-range targets that don't seem as major. In the end, they're still huge upgrades for your team. If you're in first place it doesn't mean you sit stationary. You should always be trying to improve your team until the very end, prevent defense only lets others catch up to you. Don't ever let them get even a glimmer of hope.
Now for this week's waiver finds:
Omer Asik (Owned in 40.3% of leagues) – Speaking of trading, Asik is a great example of being ahead of the curve. You look at his current stats and think he's basically useless even in deeper leagues, but there's a lot more to this than the cover gives away. The Rockets have stated that they will be trading Asik between December 15th and 19th. There's very little chance that he lands in a role near as bad as his current, and a quite good chance that he can land a starting gig somewhere. Omer had a really productive season last year starting for the Rockets averaging a double-double (10.1ppg/11.7rpg) and over a block a game. That'd be a nice addition to your fantasy team for free off the wire if he's available in yours and does land a nice situation for himself. In my opinion he's worth stashing on your bench for a week to see how it plays out and if it goes poorly you drop him, no biggie.
Reggie Jackson (30.1%) – RJax has really become a spark off of the Thunder's bench as of late. They love him in the sixth man role there and even when Thabo Sefolosha misses games he still stays in his off the bench role, just with added minutes. The Thunder also blow their opponents out on a decent basis where RJax would also be getting increased minutes, but that's just a plus on something that doesn't even need it to be owned in most leagues. Jackson has been fantastic the last two weeks with averages of 14.9 points, 3.6 boards, 2.9 assists, 1.1 trey per game and he hasn't missed a free throw in his last ten games and he's 36/38 from the FT line on the season. We'd all like to see him get his steals up to a more consistent number but that's just being greedy at this point.
Amar'e Stoudemire (16.8%) – Not too often to you find a veteran like this on a waiver list. Amar'e has burnt just about every fantasy owner at one time or another but in this case there's no true risk involved. He's scored in double digits each of his last four games, and just for the first time played in a back to back and did well in both. He played a good bit of minutes in these last three games as well (27 and then 30 minutes twice) and that should stay if he continues to feel good. His field goal percentage has been amazing and he's solid for a big man as always around 70% from the charity stripe. He's not a run and add but he's definitely worth keeping an eye on in standard leagues and probably worth a flier in 12+ team leagues, stranger things have happened. Note that Tyson Chandler should be back in the next week or so but I'd think Amar'e could still stay around 30 minutes a game if healthy and playing well.
Terrence Ross (0.6%) – The Raptors are rebuilding from the ground up and made the big trade ridding of Rudy Gay for a few expiring players and vets this week. The move opens up the Raptors starting SF spot and you have to think that the Raptors will continue to put Ross there to expedite his growth as a player. Ross has started three games since the deal happened and he's averaged 16.3 points, four rebounds, one steal and over three treys. Obviously we'd like to see him boost up a bit in rebounds and assists but he's never really been a starter before. He started twice all of last season and he's still adapting to being more of a focal point in the offense with no Rudy around. His first game with no Rudy he took nine shots, second he took 13 and third he took 16. As he gets more comfortable he'll shoot more and even better from the field while becoming a reliable source for points and threes if nothing else. He's worth an add in twelve team leagues and up and at least worth monitoring in ten teamers or a grab if you're in need of trifectas.
Jon Leuer (2.3%) – This guy came out of nowhere and has been a force to be reckoned with in December. The Grizzlies were in need of an offensive upgrade since Marc Gasol has been out. Leuer got his shot and has not looked back, being a relentless hustler on the glass and aggressor on offense. Not only has he done well in the low post but he's also stepped beyond the arc and knocked down some threes, too. He's hit four treys in his last three games to show he's a legit threat from deep. In his last four games he's averaged 16.8 points, 8.0 rebounds, 0.5 blocks, one trey and over one steal with good percentages as well. Leuer is the ideal grab and use until he cools off type. With his hustle, low post game and offensive efficiency, this could run on for a decent bit. He's worth adding in all leagues until he cools off.
Injury news/notes:
There comes a time when you have to be willing to lose a roster spot for a little bit to be rewarded nicely when it comes to currently injured players. Jimmy Butler (46.5%) made his return Friday night and already started his first game back. He should be owned in all leagues and should improve on his already fine numbers now with Derrick Rose out the rest of the season. Butler will be a great source of points, threes, steals and even blocks for a guard. No hesitation here, go add him now if available in your league. Tobias Harris (43.7%) just came back for the Magic Friday as well, and he will be eased back in but should very soon be back to playing fully and putting up really nice stats across the board. Harris should also be owned in all leagues.
Here's a few more guys that are in need of your close watch that are legit big helpers when healthy floating on too many wires considering their returns are within sight. Larry Sanders (24.3%) just got cleared for basketball activities and with his injury being a thumb, I'd assume he's still in fair basketball shape. He's not a jump shooter so the thumb wont be causing his shot to be off the mark at the beginning either. It seems he'll be back in the lineup by the end of the year and I'd advise adding him now and waiting for his return. There's never going to be another time you can add a ten rebound with three blocks per game player off the wire, do it before another league member beats you to it and you kick yourself the rest of the year for it. Tyson Chandler (39.5%) is nearing a return from a broken leg although he admitted it would take him some time to get his conditioning where it needs to be. Chandler isn't going to get you a lot of points but a superb rebound and blocker also that can help you out if that's an area of need. I wouldn't drop anybody real good for him but if you have a bum on the end of your bench, he's worth waiting out. Brandan Wright (0.1%) isn't a big name but everyone quickly forgot how good of an option he was down the stretch last season for the Mavs and our fantasy teams. The last month and a half of last season, when he got a minutes boost, Wright averaged 11.5 points, 6.1 rebounds and 1.5 blocks with a great FG%. He will be activated by the Mavs on Saturday night to make his season debut. The Mavs paid him more money than Samuel Dalembert and Dejuan Blair for a reason, he'll soon be getting the bulk of the minutes of that time split in my opinion. He's a for sure grab in twelve team and deeper leagues for those needing a boost in big man categories.
All percentages were gathered from ESPN.com
If you don't already, give me a follow on twitter @BigZack44 for more NBA analysis and any questions you may have.