Fantasy Basketball 2013-14: Kobe Bryant Takes a Knee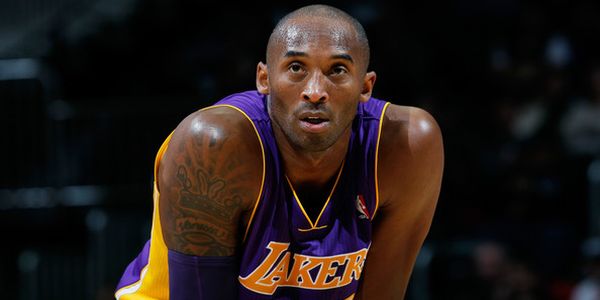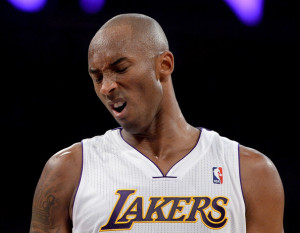 Right when you start to think, "Hey, the Lakers may be getting closer to being a decent team this season" more bad news comes their way. Kobe Bryant has a fracture of his lateral tibial plateau in his left knee and is expected to miss six weeks. Kobe had been very up and down since his return from his previous ankle injury but was coming off of his most well rounded performance of the season, where he posted 21 points, five rebounds, four assists, a steal and a block. In that game, the 'Mamba' got tangled up with Tony Allen and fell to the floor, grabbing his left knee in pain. He did however return to the game but obviously had it checked out later and found out this awful news.
The Lakers are in some deep trouble already missing Steve Blake, Jordan Farmar and Steve Nash aka all of their point guards. Now Kobe, who was handling the ball a good bit for them (albeit in poor fashion piling up the turnovers) also goes down.
Those who drafted Kobe hoping he'd return quickly likely waited longer than they had wished and now must feel devastated by this latest injury news. You of course don't drop Kobe as six weeks is a painful chunk of time but it's also going to have Kobe back in your lineup likely before the all-star break. Kobe is definitely causing his owners a lot of agony but dropping him and later seeing him ball out for one of your opponents would only amplify that feeling. Of course we're all worried seeing the always made of iron Kobe having another significant injury, and it's obvious his age is catching up to him and he's more fragile than ever before. You just can't afford to give up on him now. It's basically ride or die for Kobe owners everywhere and hoping he'll reward them in the second half of the season to make up for this horrendous start. So, hold on to him and just find a suitable substitution for your roster by looking at any of my past waiver target articles or newest that are published every Saturday afternoon. Now let's take a glance at the ripple effect caused by Kobe's absence for L.A.
Look for Xavier Henry to step in and get the majority of the Lakers point guard minutes as of now. Farmar should be back in a week and when he does return he should put up some pretty relevant numbers for fantasy owners. Xavier is worth an add at least in 12 team leagues for now and worth monitoring in shallower leagues. He's shown some flashes this season that he can deliver quality fantasy lines for his owners and now shouldn't be any different. Henry isn't, and never has been, a real point guard even in college, but he has good enough handles to suffice for the short handed 'Lake Show.' Henry will be more of an attacking and scoring point guard than a dishing one. I wouldn't think he'd get above three or four dimes a game at most unless he finds a hidden talent for finding the open man out of the blue. He could really up his fantasy value if he could get consistent from behind the arc, but he's just struggling lately with a poor 1/12 from deep the last five games. Maybe getting a more set role and carved out minutes will help him find his stroke.
With Kobe out again, Nick Young should assume an even bigger role than he has lately, seeing an uptick in his minutes and shots. Young is currently owned in 65% of fantasy leagues but that needs to be 100% and if he's available in yours, I'd advise you to add him. Young will pile up the points and threes mostly with small chip-ins in other categories but can be a nuisance to your field goal percentage. He's actually been a little better than 100% owned Kevin Martin the last month overall even with Kobe playing the past six games. There's no reason to believe that 'Swaggy P' can't continue his fantastic season.
Two others that should see a reasonable boost with Kobe missing more time are Wesley Johnson and Jodie Meeks. Neither is going to be a must grab by even a 12-team owner but both are worthy of your attention for certain while Kobe and the other Laker guards are out. Johnson hasn't been much of an offensive threat this year but they could look for him to take a few more shots (likely three pointers) to help the team keep the opposing defense honest to the perimeter and not just let them easily collapse on Pau and the other Laker big men. As I have mentioned in a past article, Wes isn't going to wow you in any one area but he does a little of everything averaging 1.5 treys, 1.4 steals and 1.2 blocks in the last month. Meeks, who was starting to see his minutes drop by close to ten per game, should get back to over 30 a night again. He, like Henry, will be looked at to take on some point guard minutes. Meeks doesn't do a whole lot for his owners besides decent scoring and threes with a steal per night, but depending how well Henry handles the point reigns, Meeks could end up taking the starting point guard spot until Farmar returns. Even if he does, it will not result in him being a standard size league target but he could be in twelve team and deeper if he gets hot.
The Lakers are likely going to try and lean on big men Pau Gasol and Jordan Hill as much as possible at least until Farmar and Blake get back onto the court. Pau really has been quietly putting up excellent numbers for those who own him. Early in the season he was trying to force a lot and his FG% was taking a beating, but over the last month or so he has turned that around immensely shooting just under 48% from the field. Pau has been delivering the goods across the stat sheet already and that should maintain for the foreseeable future. Jordan Hill went from steaming hot and starting, to coming off the bench and struggling a bit, to rejoining the starting lineup and looking strong again. Hill got up to around 80% owned in leagues but now is back down to 18% owned and that is way too low. Excluding the last game vs the Grizzlies where he had foul trouble, Hill really has been a suitable fantasy option. We of course want to see his blocks take a jump up again though and I believe he can do that going forward.
If you don't already, please give me a follow on twitter @BigZack44 for my fantasy hoops analysis and to answer any questions you may have for me.