Fantasy Basketball 2013: Guard Prognostications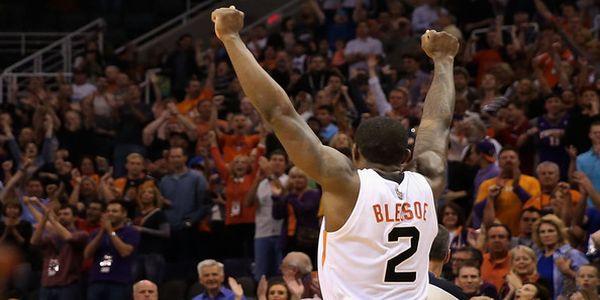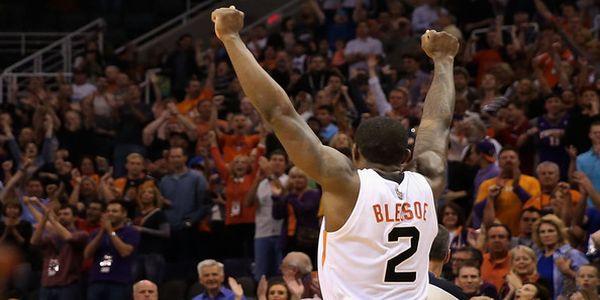 This piece was assembled by Sam Macey, the newest member of the Fix hoops team. It will run in two segments: guards and frontcourt options. 
The key addition to the Phoenix Suns' offseason, Bledsoe has been called many things in his young career, ranging from 'Mini-LeBron' to 'athletic freak' and even 'overrated' by some. What he will be this year, is a fantasy force as a combo guard for the uptempo system new Coach Jeff Hornacek is hoping to run. Bledsoe has been handed the keys – or half of them at least, sharing with Goran Dragic – to the Suns' new fast-breaking youth movement. Pairing with Dragic in the back-court, Bledsoe qualifies at both PG and SG, and is already racking up some massive numbers in key counting stats like assists and steals. The scoring and shooting percentages will fluctuate on this likely lottery team, but Bledsoe's overall line should be enough to get him into the top 30 fantasy players this season. His first few games in the Suns uniform including a somewhat erratic preseason is likely an indication of his regular season, with many peaks and valleys but a very productive overall line when you factor in that he'll likely play upwards of 35 minutes per night.
The rebuilding Suns have already shipped out a laundry list line of veterans, so don't be surprised if Goran Dragic is next out, which clears the path for Bledsoe to really take the reins and show what he can do running a team on his own. He's a defensive terror who racks up blocks at an unusual position and his stealing this season will put Wynona Ryder to shame. After his huge start to the season, he will be extremely difficult to trade for considering he basically has fantasy gold tattooed to his tank-like frame. If you can find a manager who's not too experienced you might be able to flip a bigger name like Chris Bosh or Tony Parker for him – both of whom will be rested at times over the second half of the season, whereas Bledsoe will be playing for his next contract.
| | | | | | | | | | | | |
| --- | --- | --- | --- | --- | --- | --- | --- | --- | --- | --- | --- |
| Projected stats | G | MIN | PTS | REB | ASST | STL | BLK | 3s | FG% | FT% | TO |
| | 78 | 35.5 | 18 | 5.6 | 6.8 | 2.4 | 0.8 | 1.2 | 0.445 | 0.785 | 2.9 |
So much was said about Waiters going into last year's draft – his workouts were non-existent, he was a reserve in college for Syracuse and nobody knew if he was a point guard or off-guard, or whether he was going to be able to defend either position. After a solid rookie fantasy season where he was available in most leagues post draft, Waiters was expected to be the number two or three option behind Kyrie Irving or Andrew Bynum (if he ever plays more than 20 minutes in a game) going into this season. Waiters is a peculiar fantasy creature, a shooting guard who doesn't make enough threes or free throws, dish enough assists, or steal enough possessions to warrant taking him in the first 75 picks. What does warrant your attention from a fantasy perspective is when he did get minutes last season, he produced solid lines for a late pick.
We have to assume he's going to play at least two-thirds of each game, so 32 minutes should be the 'base' when assessing his stats. In 19 games of 31 minutes or more last season, Waiters produced 17.3 points, 3 rebounds, 3.6 assists and 1.6 threes. The downside of those stats was the poor 41% field goal and 75% free throw shooting, and despite going through the USA mini-camp (impressing his coaches along the way), his preseason has been relatively disappointing. I think Waiters may be a fantasy basketball enigma; a better-in-reality-than-fantasy player that just doesn't do enough of anything to scream value. You can probably get Waiters on the cheap, as he's ranked low in many forms of the game and again, his poor start to the season should see him end up on waivers sooner rather than later. It's anyone's guess whether he's going to fully develop next to Kyrie Irving, but he may end up having a Reggie Jackson or Manu Ginobili type role off the bench as a sparkplug in the second unit for the Cavs.
| | | | | | | | | | | | |
| --- | --- | --- | --- | --- | --- | --- | --- | --- | --- | --- | --- |
| Projected stats | G | MIN | PTS | REB | ASST | STL | BLK | 3s | FG% | FT% | TO |
| | 70 | 31.5 | 15.8 | 3.2 | 3.4 | 1.1 | 0.2 | 1.3 | 0.43 | 0.775 | 2.1 |
The gleam to Wade's fantasy game has been slightly dented recently due to poor health, declining three-pointers and blocks, and because he's simply playing less minutes during the regular season. He had a tremendous preseason, shooting a red-hot 52.5% from the floor and 81% from the line and scoring 16 points a night in just 26 minutes. There's no doubting his competitive spirit and class as a player, but because the Heat have some decent depth this year Wade won't be playing more than 30-32 minutes a night, which severely diminishes his value. He'll be effective, undoubtedly, but he'll be like the Spurs with Tim Duncan and Manu Ginobili – saved from the rigors of an 82 game season to be used more heavily in the playoffs. The Heat will blow a lot of teams out, and like last year Wade will find himself 'rested' for unnecessary games down the stretch.
Wade's name carries more than his fantasy game this year and if you did end up with him, he would be perfect to deal around the All Star break after maximizing his usage. Let him be someone else's question mark during March and April. More proof to be fearful of counting on him as a key cog of your fantasy team? He shot just 65% from the free throw line and shot 2-13 from three point range after the All Star break last season. In the playoffs he averaged just 15.9 points, didn't make a single three pointer in 22 games, shot 45.7% from the field and 75% from the line, despite playing more than 35 minutes a game. We know the Heat will rely heavily on Wade come the postseason, which means he likely only plays around 70 games this season – that's something that can kill you in head to head leagues as you'll have no advanced notice to set your line-up in weekly leagues.
| | | | | | | | | | | | |
| --- | --- | --- | --- | --- | --- | --- | --- | --- | --- | --- | --- |
| Projected stats | G | MIN | PTS | REB | ASST | STL | BLK | 3s | FG% | FT% | TO |
| | 68 | 32 | 20.2 | 4.1 | 4.2 | 1.6 | 0.9 | 0.4 | 0.505 | 0.755 | 2.7 |
Evan Turner was vastly underrated going into this season in terms of fantasy value. While he doesn't shoot threes or hit his free throws at a particularly good clip, he puts up enough stats across the board to be considered a bargain if you either got him late, or traded for him on the cheap. Turner isn't going to knock down threes or get you steals, but what he will do is score 16-18 points per night with enough rebounds and assists to make him an asset. He could approach 20 points a night, but as teams adjust to the 76ers and the rag-tag bunch they've assembled, it is more likely Thaddeus Young emerges as their leading scorer.
Turner's strength lies in his passing and rebounding, as he should handle the ball a lot playing alongside rookie point guard (and first NBA game phenomenon) Michael Carter-Williams. He's always been a good rebounder; he was great in college for Ohio State pulling down 9.2 per game and his passing will be needed for a team devoid of veterans or a go to player. He's definitely someone to target via trade, especially if you're heavy in threes and free throw percentage, because he's going to hurt rather than help you there. Turner's going to play big minutes, somewhere in the 36-38 range every night, and minutes are a fantasy player's best friend. Last season he played 35 games of 37 minutes or more, in which he produced averages of 17.1 points, 7.4 rebounds, 5.2 assists, one three per game along with respectable percentages of 45% field goals and 76.9% from the line – those are Paul George level numbers minus the threes and steals.
| | | | | | | | | | | | |
| --- | --- | --- | --- | --- | --- | --- | --- | --- | --- | --- | --- |
| Projected stats | G | MIN | PTS | REB | ASST | STL | BLK | 3s | FG% | FT% | TO |
| | 80 | 35.5 | 18.2 | 6.3 | 4.8 | 0.9 | 0.3 | 1.1 | 0.45 | 0.77 | 2.8 |