Fantasy Basketball Rookie Report Card: John Henson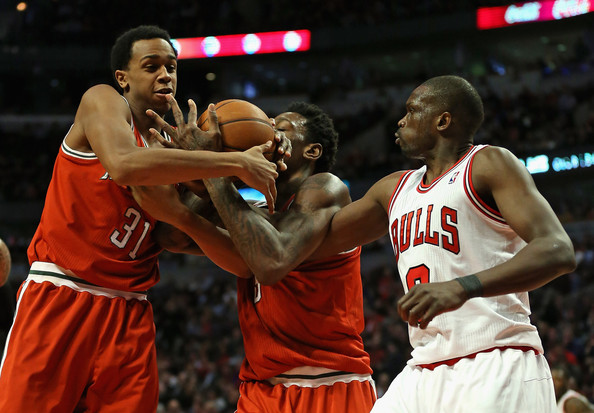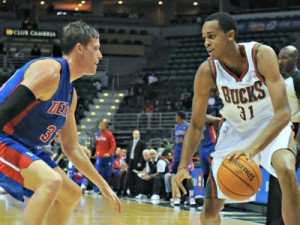 John Henson, PF Milwaukee
Despite possessing incredible length and a wide array of skills at 6'11, Henson has never been able to shake the 'project' tag. Why? His body type doesn't necessarily lend itself to athletics. His legs are pronated, he's duck footed and his awkward gait prevents him from completing fluid lateral movements. In terms of strength, he's muscled up to 220 pounds, but that's likely the extent of what his lanky frame can handle.  Now put all that aside, because production is the great equalizer. Henson has developed into a force at every level, with his positive physical gifts consistently overwhelming his at times unattractive style. His first 39 games in the NBA sing a familiar tune: slow, but steady progress with explosions of massive potential.
The 14th pick in the 2012 draft is capitalizing on erratic minutes, averaging six points, four rebounds (1.7 offensive) and 0.6 blocks per game. When stretched out over 48 minutes those numbers swell to 21 points, 13 rebounds and 1.7 blocks. Henson played the most dynamic game of his young career against the porous interior of Miami on November 21st, scoring 17 points (7/12 FG) and grabbing 18 rebounds (eight offensive) in just 27 minutes. Indeed, that equates to 0.66 rebounds per minute.
Henson chose the league's second big dog, San Antonio, to orchestrate his most efficient outing. He scored 20 points on 10/11 shooting, snatched nine boards (three off.), dished out three assists and added a blocked shot; this against a Spurs team with Tim Duncan in the lineup. His pick and roll defense was exposed and critiqued by former head coach Scott Skiles, but lateral quickness and backpedaling will never be strengths.
To further clarify that the efforts above were not single-game aberrations: In a four-game stretch to open January (2nd-8th), during which he received significant run, Henson averaged 12 points, 12 rebounds (accumulated 16 total offensive rebounds), 1.7 blocks and shot 59% from the floor. In the nine games that Henson has seen 19+ minutes, he has either scored or rebounded in double figures in every single one of them.
According to Vorped.com player shot charts, Henson is light-years more effective when dwelling within a few feet of the rim:
| | | | |
| --- | --- | --- | --- |
| Location | Shot Attempts | % of Total Shots | Field Goal % |
| Inside Paint | 155 | 73% | 56% |
| Mid-Range | 54 | 25% | 26% |
Henson is converting 50% on hook shots (or varieties thereof), 55% on layups, 67% on tip-ins and he's 14/14 on dunk attempts. What do these shot types all have in common? They are all deep paint opportunities. He'd be better served minimizing jump shots at this stage and focusing on areas of substance. His jump shot has been a mental battle dating back to high school, particularly at the free throw line, as there is no identifiable flaw in his form. Until he irons out those issues, layups and comfort post-moves are his friend.
The Bucks seem to bringing Henson along in a similar fashion to former 2010 first-round pick Larry Sanders. However, the 22-year old has advanced ball skills, an innate feel for the game and faced a higher level of collegiate competition which should result in an accelerated learning curve. Henson is already wreaking havoc on the offensive glass thanks to a 9'3.5" standing reach and quick leaping ability. His game changing shot alteration/shot swatting has not taken to the forefront yet, but it will with time; adjustment time and playing time.
Grade: A-
Second-Year Player to Watch
Alec Burks, SG Utah
The statistics on Burks aren't particularly alluring. He's shooting 39% from the field, 33% from three-point range and scoring a quiet six points per game. But there's a lot to like in his recent form. Burks is averaging 26 minutes per game during February on the injury riddled Jazz, scoring 10 points on 45% FG, 53% 3PT (one make per), 3.5 rebounds and three assists. At 6'6 205 he's got the prototypical off-guard frame. He has the size and elevation to get his shot off without hindrance, and unselfish habits dating back to his spot point guard play at Colorado. When the game slows down for him and he adds some polish, there will be huge upside in owning Mr. Burks. In fact, there already is. He's a must stash in keeper/dynasty formats.
Follow on twitter @AdamGaneles