2015-16 Fantasy Basketball: Week 8 Preview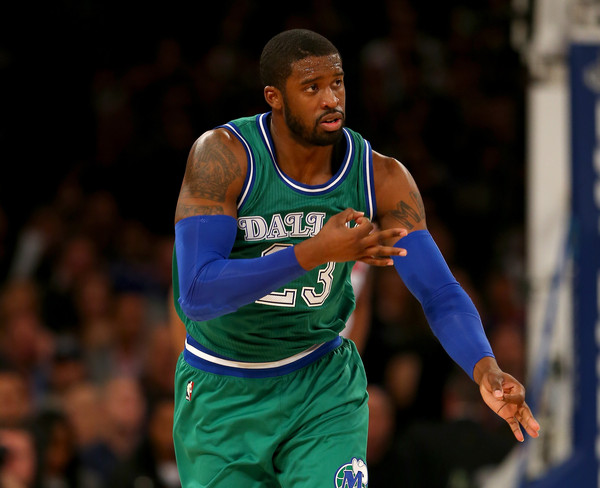 4 Games: ATL, BKN, CHI, DEN, HOU, IND, LAC, MEM, MIA, MIL, MIN, NO, ORL, PHI, PHO, POR, TOR
3 Games: BOS, CHA, CLE, DAL, DET, LAL, OKC, SAC, SA, UTA, WSH
2 Games: GSW, NYK
Undoubtedly, the biggest headline in the NBA this season has been the Golden State Warriors. The defending NBA champs started the season with a 24-0 record, winning 28 in a row if you include the end of last season. That winning streak came to and end on Saturday night in Milwaukee, who oddly enough, ended the Lakers 33 game winning streak back in 1971-72. Every team in the NBA now has a loss, which can be said for the first time this late in the season in the history of the league.
ON FIRE
John Wall – PG – Washington Wizards
John Wall has been on an absolute tear since the beginning of December, and now that Bradley Beal is out for at least two weeks, he will carry even more of a load. Wall is averaging 26.4 points, 11.4 assists, shooting 55% from the field and just over 90% from the free throw line. He is also chipping in with 5.2 rebounds per game and 2.2 steals and has been the number one player on the fantasy player rater in the last week. Wall started the season on a massive slump for his standards, but he has snapped out of it in a big way, now playing better than anyone in the NBA from a fantasy perspective. He doesn't block many shots, but he contributes in just about every other category in a big way, and your time to buy low has come to a screeching halt. Congrats to anyone that was able to take advantage on get him while he was struggling, as he is back to his normal first round talent and one of the best overall fantasy players in basketball. Wall and the Wizards play just three games this week, but he is still a must start in all formats, and he is a fantastic DFS play until he gets up into the Curry and Westbrook price range for a point guard.
Wesley Matthews – SG – Dallas Mavericks
It was a very difficult start for Matthews and his fantasy owners, as he is still averaging just 13.2 points on the year and shooting 44% on the season. Matthews has been on firs of late, however, posting a 28 and 36-point performances this week. Matthews does not provide much more than points and three pointers as a fantasy player, but when he is on he is as good of a shooter as there is from a fantasy perspective, and he demonstrated last week hitting 10 threes in one game against the Wizards. It is a tough position to be in for Matthews' owners because of the scoring options in Dallas, as they are going to be able to ride their hot hand on any given night. Matthews is just 77% owned, so if someone was frustrated in the beginning and dumped him off, it is time to pick him up. He has been a great defender of late as well, averaging two steals per game this past week.
ICE COLD
Kristaps Porzingis – PF – New York Knicks
It has been a great surprise thus far this season for Knicks fans as Kristaps Porzingis is the front-runner for NBA rookie of the year two months into the season. Despite scoring 28 points in the Knicks first game of last week, he followed it up with 17 points in the next three games combined. Not only has Porzingis gone ice cold from the field, but he has been unable to rebound the ball at the same rate that he was earlier in the season. Porzingis is still averaging 8.4 rebounds per game, but has yet to eclipse seven rebounds in the previous five games. Porzingis had been on an elite level tear the previous few weeks in New York, but he has reminded everyone that he is still a 20-year-old rookie playing in North America for the first time in his career. It is nothing to panic about if you are a Porzingis owner, but it is something to keep in mind when you are playing him in DFS once his price gets too high. It is difficult to pay up over $8,000 dollars for a player that is still trying to figure out how to play in the NBA. No reason to get rid of him or try to sell him in season long leagues, unless you think you can get someone to offer you the kitchen sink.
Stream Options
Alex Len – C – Phoenix Suns
The best news for Len owners is that he had 18 points, seven rebounds and three assists in 25 minutes even after Tyson Chandler returned to the lineup from his injury. Len is younger and more durable than the older Chandler, and Jon Leuer has been the choice for the primary power forward with Markieff Morris in the doghouse. The Suns play four games this week, and Len has had double-digit points in the last five games.
Iman Shumpert – SG – Cleveland Cavaliers
Shumpert scored 14 points in his return to the lineup in 25 minutes against the Magic, as he was 5-for-7 from the floor and had three rebounds to go along with it. Shumpert is known for his defensive skill more than his offense, but it was his offense that contributed in the Cavaliers blowout win over the Magic in Shumpert's first game back this season. The Cavaliers play just three games this week, and Kyrie Irving has a realistic chance to return to the lineup this week when the Cavs return home.
Games of the Week
Monday – Toronto Raptors @ Indiana Pacers
Kyle Lowry has emerged as one of the best players in the NBA to lead the Raptors to the second best record in the Eastern Conference. They will travel to Indiana to take on Paul George and the Pacers, who are currently sitting at fifth in the East, but tied with Toronto in the loss column.
Tuesdsay – Houston Rockets at Sacramento Kings
James Harden and the Houston Rockets seem to have figured things out lately, winning seven of their last ten games and moved up to .500 on the season, which is telling of how bad of a start this team had. They will travel to take on DeMarcus Cousins and the Sacramento Kings in a matchup of two teams that are still trying to get over the hump to get things going to try to make a run at the playoffs.
Wednesday – Memphis Grizzlies at Chicago Bulls
Anytime these two teams meet up, we know that we are in for a hard fought defensive battle. The Gasol brothers will face off down low and Jimmy Butler will battle Mike Conley outside in a matchup between two playoff bound teams.
Thursday – Oklahoma City Thunder at Cleveland Cavaliers
Kevin Durant, Russell Westbrook, LeBron James and hopefully, Kyrie Irving, highlight the night in what will hope to be Irving's first game of the season for the Cavs. It will be interesting to see how Irving's minutes are handled upon his return, but with the Thunder in town, it is going to be hard not to focus the attention around the league on this game.
Friday – Milwaukee Bucks at Golden State Warriors
If the Warriors would have knocked off the Bucks last week and would have remained perfect, I likely would not have this as the game of the night on Friday the 18th. However, The Warriors return home after a long road trip this week and will look for revenge against the team that ended their historic run to begin the season, showing why they are still the alpha of the NBA.
Saturday – Chicago Bulls at New York Knicks
It will be interesting to see Pau Gasol face off against Kristaps Porzingis down low, two European players that are at opposite end of their careers. It likely will show flashes of brilliance from Porzingis and flashes of the master teaching the young student how the game is supposed to be played. Not to mention Jimmy Butler, Derrick Rose and Carmelo Anthony to make for a great night at the world's most famous arena.
Sunday – Portland Trail Blazers at Miami Heat
Damian Lillard and Dwyane Wade highlight a matchup between two elite guards in the NBA, but it will be interesting to see how Chris Bosh and Hassan Whiteside fare against the young and inexperienced frontcourt of the Blazers.