Friday's DFS NBA 3/28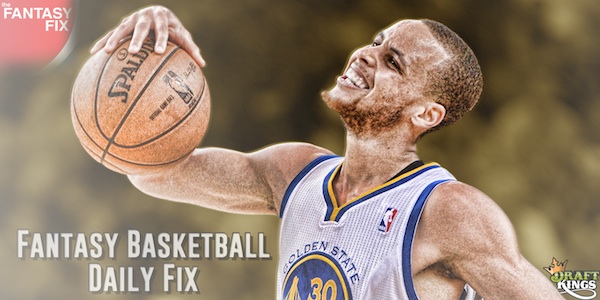 Hopefully we had some readers cash in Draftstreet's 150K Tournament on Wednesday, but if not let's get back on the board tonight. We have plenty of games to choose from (12), so jump back on the horse tonight. I took the day off on the four game slate yesterday, but the largeness of tonight excites me. Here are today's plays!
Guards
Mike Conley ($13,689) is one guard I can't stop considering this week. The guy has been as consistent as can be lately and has done well for us. His rebounds were down in his last game, but he still managed 19 points and six assists. In his last six games, he has scored 18+ points in five of them. Tonight he faces the Warriors, a team that he has averaged 17/3/4/2 against this season in three games. He's shooting 50% from the field in those games, which he has also done in his last three regular season games.
Dion Waiters ($13,156) is a guy that takes a ton of shots each game, but is making enough of them right now to hit value. Waiters has played tons of minutes since the Kyrie Irving injury and has also picked up the slack by consistently shooting the rock a ton. In his last six games he has taken 120 shots. Waiters has also made 46% of them. After looking at those numbers, you're not surprised to see he is averaging 23/4/6/1 during that time. I love his price tonight against the Nets.
Kendall Marshall ($8,839) gets the matchup against the Timberwolves and Ricky Rubio that I love. He is getting no more than 30 minutes lately, but he hasn't gone under 23 minutes in six straight games. In his last five games, Marshall is averaging 6/2/6/1 in 26 minutes per game. I think he can do better than that with the matchup he has tonight.
Forwards
Tim Duncan ($16,273) should be on everyone's GPP squad tonight without a doubt. He has put up unbelievable numbers against Denver this season and just recently dominated them. Just last game, Duncan faced the Nuggets and went for 29/13/5/2/2 and shot 60% from the field. You never really know with Popovich coaching, but Duncan could easily go for 30/12/3 tonight.
Jordan Hill ($12,457) has made me feel some type of way lately with the way he has been playing. Hill has seen 27+ minutes in three of his last four games and in each of them he had at least 13 rebounds. In two of those games, he went for 28 real points. The guy is playing great and although he faces the Timberwolves and two big guys who can rebound, he has dominated recently for a reason.
Kevin Love ($21,379) is an obvious pick with the way the Lakers have played against him and every other big man in the NBA. Love had a down game his last time out against the Hawks, but still managed 14/12/4. Tonight against the Lakers, he is going up against a team that has given up an average of 27/14/3/1/1 against him in three games. Love has 60 point potential tonight.
Centers
Marc Gasol ($14,274) has owned the Warriors tonight and that's why I like combining him with Conley as a solid Grizzlies duo. Gasol is not a huge scorer (14ppg on the season), but against Golden State, he's averaging 18 a game. He has also added nine rebounds, three assists, one steal, and three blocks per game against them. Gasol has scored at least 14 points per game in four of his last five games.
Gorgui Deng ($14,259) is tough to pass on tonight against the Lakers. If you're not using Love then you need to be using Deng. This "cheaper" Timberwolves option has been red hot lately and is primed for another huge night. The Hawks have been bad against big men and Deng exploded for 15/15/2. The same could be done tonight against the Lakers. He has 11+ rebounds in five of his last six games, but has also gone for 15+ rebounds in three of his last four.