Friday's DFS NBA 4/4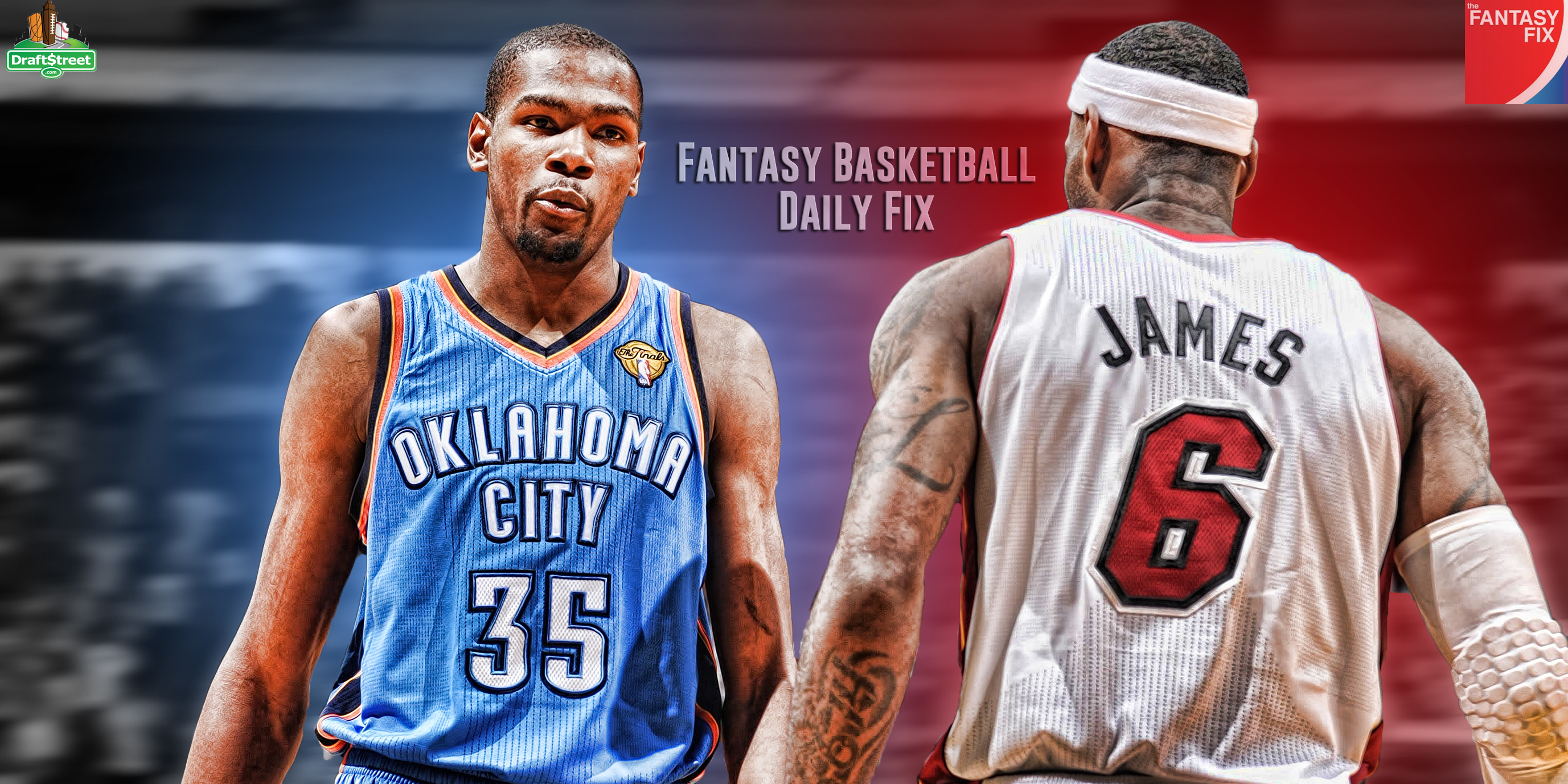 Friday's NBA picks could not come at a better time. There are 14 games tonight and this is the time of year when extra research goes a long way. With the amount of DFS MLB that is being played, the talent gets a little thinner in DFS NBA. It's time to capitalize on this and make big bucks on Draftstreet.
Guards
Reggie Jackson ($10,570) will be starting with Russell Westbrook not playing in tonight's game against the Rockets. He's underpriced if you ask me and it's not because of minutes. He has played 30+ minutes in his last four games and has been great because of it. This is pretty awesome for us as he has averaged 30 fantasy points in his last five games. In those games with 30+ minutes, Westbrook is averaging 16 points, 6 rebounds, 6 assists, and 1 steal per game.
Dion Waiters ($11,365) has slid over to the shooting guard position with the return of Kyrie Irving, but it shouldn't impact his fantasy value too much. Sure, he'll probably not do much in the assist department, but being a second shooting option might actually be beneficial. With Irving back last game, Waiters still took 15 shots and scored 26 points. He added three assists and as long as he doesn't shoot for a bad FG% against the Hawks, I can see him doing very well for his price.
John Wall ($17,112) has the advantage of playing at MSG tonight and I think that boosts his stock tonight. It sounds corny, but the better players seem to play better on the bigger stage. When Wall went to MSG earlier this season, he went for 20/6/8/2. The other time Wall played the Knicks, he scored 31 points. This is a great matchup for Wall and I like it more because it's on the road.
Forwards
Greg Monroe ($14,528) has been a very good player since the coaching change. And more recently, he's been great against some very good teams. Just last game, Monroe went for 17/16/2/3/1. Those numbers are well worthy of the 14.5k price tag. Tonight he'll play the Nets who he has averaged 17/10/2/1. While those numbers don't hit value, Monroe should be able to get a bit more with the recent hot streak he is on. He has 65 points and 40 rebounds in his last three games.
Amar'e Stoudemire ($9,647) played just 21 minutes last game and he still did very well for us. He put up a stat line of 13/6/2/0/2 and only missed two shots. It's nights like that that make me feel more comfortable about using him especially at this price. His splits against the Wizards aren't great (8/4/1/0/2), but those are with just 20 minutes per game. He'll likely need 25-30 minutes to reach value. If you think that's a strong possibility like me then use him tonight.
Kenneth Faried ($15,734) is probably coming off his best game of the season and there is no better time to use him than tonight. He has a decently tough matchup against the Grizzlies, but he has faired decently with just 24 minutes a game. In those minutes he has averaged 12/5/1/1/1. In his last five games, not only is he averaged 21/11/2/2/1, but he's also averaging 29 minutes a game. This is a nice increase from the three times Faried has played the Grizzlies.
Centers
DeMarcus Cousins ($20,152) should have a very good game against the Warriors tonight coming off a 20/10 game his last time out, against the Lakers, in just 21 minutes. DMC has had trouble staying on the floor due to some mid-game injuries, so I'm hoping that's why he has only played 19 minutes per game in his two contests against Golden State. In those games, he's averaging 16/6/1/3. Those are some pretty sweet stats for just 19 minutes.
Al Jefferson ($18,375) has been great in his last four games averaging 38 minutes per game and 25/11/1/1. During this time, he's shooting 53% from the field and averaging only one turnover per game. He's limiting the negatives, which is huge on a site like Draftstreet. He goes up against a group of big men in Orlando that haven't been able to contain him this year. I really like him and you should to with the way he has played against them averaging 20/12/2/3/1 in three games against them.