Monday's DFS NBA 3/17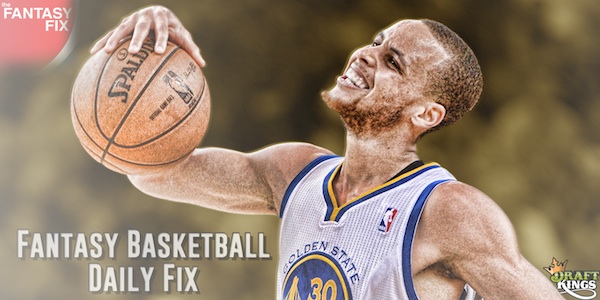 After a weekend of no NBA for me, I'm back and ready to give out some options for tonight's seven-game slate. Once again, we're kicking it on Draftstreet, so please give it a look if you're looking for NBA action tonight.
Guards
Michael Carter-Williams ($14,426) plays the Pacers tonight and just went up against them two games ago. He posted an almost triple double scoring 12 points, bringing down 9 rebounds, and dishing out 8 assists. He's shooting 43% against them on the season, so I'm not too worried about his shot tonight. The Pacers aren't strong against point guards and he's been successful against them this season.
George Hill ($11,185) clearly gets a boost when he faces the 76ers tonight. Just the other day he posted a line of 14/6/9/2. Against them in two games this season, he's averaging 12/6/7/1, which is much better than his season averages of 11/4/3/1. Hill made three 3s against them the other day, and I think he does it again with the way the 76ers play defense.
Trey Burke ($10,038) is in a bit of a hot streak right now, so I'm going to consider him a strong play tonight. He only scored 13 points in his last game but he shot 50% from the field. Burke In three of his last four games, he has scored 18+ points. Now, he faces the Rockets tonight, a team that he went for 21/3/6/1 against earlier in the season.
Forwards
Kenneth Faried (13,971) is a different kind of man right now. He's averaging 23/10/1/1 in his last 15 days and doesn't look to be slowing down. He has weak numbers against the Clippers on the season (15/5/2/1/1), but he's only averaging 17 minutes against them! He'll get at least 27 minutes tonight, something he has done in each of his last nine games.
DeMarre Carroll ($10,641) faces the Bobcats tonight and is coming off a double double in his last game. He has 11+ points in four straight games and has always been a guy that adds the other stats. He is hot from three right now, making at least three in four straight games.
Blake Griffin ($19,113) is my choice of high-priced players tonight. He faces the Nuggets tonight, a team that he is averaging 30/13/4/1 against in two games this season. He has posted two double doubles in his last three games and has done that with 20+ points in ten straight games. Griffin against the Nuggets seems like one of the safest picks of the night to at least come close to value.
Centers
Kris Humphries ($10, 951) has somehow started to be a good player again this season and tonight I'm digging his prospects. He has two straight double doubles and has done it in 25 and 31 minutes. Against the Mavericks tonight, I think he'll get close to 30 minutes and with that a solid performance. He's shooting 58% from the field in his last six games.
DeAndre Jordan ($15,762) is a cash game player for me tonight, but I'd refrain from using him in GPPs. His scoring potential is limited due to his limited shot attempts per game, but he brings down tons of rebounds. In his last 15 days, he's averaging 11/1/13/1/2. Those are some great numbers and although he probably will only get right around value, he has that potential pretty easily against a team like the Nuggets.