Monday's DFS NBA 3/24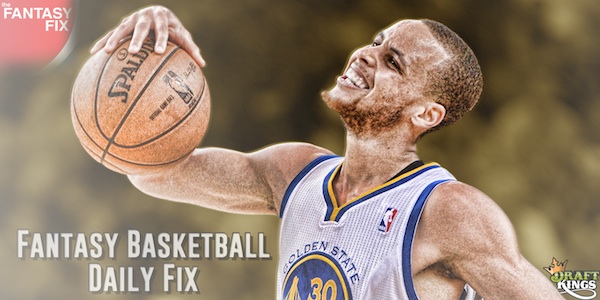 After taking the weekend off to fulfill other writing duties, I'm back at it with the NBA picks. We have ten games to choose from this Monday and I'm in love with one forward who isn't named Kevin Durant, but priced about the same. Let's take a look at my NBA plays for Draftstreet.
Guards
Jamal Crawford ($10,120) is back to being a sixth man, but that doesn't mean he won't get continue to get 30+ minutes and tons of shot attempts. He shot 13 times in his first game back as a bench player and did fairly well overall. He ended the night with 9/4/4/1 in 34 minutes. He faces the Bucks tonight, a team he went 5-9 for against earlier in the season in just 23 minutes.
Tony Parker ($11,190) has big potential against he 76ers tonight. They're just awful since the start of the new calendar year. Parker hasn't blown up against them this season, but he has that potential tonight. He has averaged 17/2/5 in his last five games. What I like most about Parker right now is that he has 15+ shots in each of his last three and has shot 53% from the field.
Mike Conley ($13,955) doesn't have the sexiest price tonight, but I love how he has done against the Timberwolves this season. He's averaging 20/4/5/1/1 in two games against them and could do more tonight. He has had a few tough matchups in his last five yet is averaging 16/4/5/1 and is shooting 46% from the field. Conley has scored 18+ real points in three of his last four games.
Forwards
Anthony Davis ($23,152) is so good right now that he's on another planet. In his last six games, he's averaging 33/2/13/1/3. He's doing this while shooting 58% from the field and 87% from the free throw line. Davis has a great matchup tonight against the Nets who are without Brook Lopez, one of their best bigs. Earlier this season he put up 24/9/2/3/1 in 38 minutes.
Derrick Favors ($13,558) has a great matchup tonight against the Pistons. His same matchup was one he went for 8/11/0/0/2 against in just 21 minutes. I think he'll get more than that especially since he's been averaging 30 minutes in his last five games. In the last three games that he has played 30+ minutes, Favors has gone for 11/12/3/0/5, 28/10/1/3, and 18/9/1.
Kyle Singler ($7,229) is definitely an odd choice tonight, but I think he can rebound nicely from his last game. He saw his minutes be lower due to Jonas Jerebko's success, but that shouldn't happen tonight. Singler had played 26+ minutes in nine straight games. Even with Singler's low minutes in his last game, he's averaging 10/6/1 with just one turnover per game.
Centers
Pero Antic ($8,022) should be a fine play tonight with the minutes he has been getting. He's played mid 20s pretty much in each of his last eight games and sometimes more. When he's hot from the floor he has the potential to put up a line of 14/6/3 like he did two games ago or even 11/10/2/1 like he did against the Bobcats four games ago. In his last five games, he's averaging 11/6/2, which is about at value for his salary.
Chris Bosh ($12,294) was pretty fired up about how poorly the Heat have played recently and he should use that for greater good on Monday night. He's playing pretty well in his last six games averaging 13/7/1/1/1, but its' the matchup that should spark him to greatness. With Wade likely out, Bosh is primed to repeat how great he did against the Trail Blazers the last time they faced each other. In that game, Bosh went for 37/10/1/2.