Monday's DFS NBA 3/3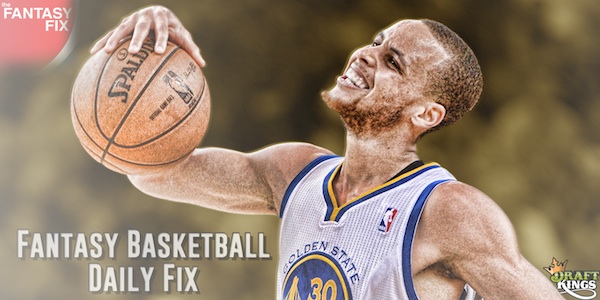 Yep. It's definitely Monday. I'm having a case of them, but maybe some NBA can get me back on track. There are eight games tonight and some very good value players out there. While I'm not on many guys under 4k, there are a few studs that I feel are very underpriced on DraftKings. As usual, here are my favorite plays today sorted by salary.
$8,000 – Max Salary
DeMarcus Cousins (C – $9,200) always seems to be underpriced for how well he plays. Maybe it's because of his random duds due to fouls or ejection, but he's rarely around 10k. Against the Pelicans tonight, he has a prime matchup. In 59 minutes of action against them this season, DMC has put up over 115 fantasy points. He has been efficient from the field against them (13 for 25) and started a few block parties (three per game). DMC is coming off a 21/17/3/0/3 game just the other night against the Timberwolves.
LaMarcus Aldridge (PF/C – $8,900) is rarely under 9k, but that's where he is tonight. In his first game back from injury, Aldridge played 30 minutes and recorded a line of 16/7/3/1/1. He was solid from the field making 7 of 15 shots, but that is under his usual shot attempt mark. The Lakers pose a great matchup for him because of their lack of dominant big men. Aldridge recorded 27 points and 9 rebounds against them earlier this season.
$6,000 – $7,900
Ricky Rubio (PG – $7,000) doesn't dominate most fantasy leagues, but he has dominated the Nuggets this season. Ty Lawson is likely to return from his rib injury, so it'll be the same face he has played great against this season. He's averaging 39 fantasy points against them and it's probably because of the stat stuffing he has done. He's averaging 9/5/12/4 against them on the season. Rubio has a shot at a huge game tonight if he would shoot more than his usual 5-8 shots. I think he'll be towards the end of that average and put up seven or eight shots tonight, which is right on par for his average against the Nuggets.
Marc Gasol (C – $7,500) was a guy I thought could go for a double double against the Cavs the other night, but he didn't prove me right. He played great though putting up 22/8/6 and 42 fantasy points. Those numbers were very nice, but expected due to the matchup. I think this is another matchup he could fare very well in as the Wizards are thin down low without Nene and the recent nagging injury to Kevin Seraphin. Gasol had 18 points and 7 rebounds against them earlier this season in 34 minutes.
Bradley Beal (SG – $6,400) is a strong GPP candidate tonight due to his shooting ability and how well he shot against the Grizzlies earlier this season. He shot 62% from the field and made 5 threes on his way to a 37 point game. He ended that game with 47-fantasy points and certainly has that potential tonight. Beal is averaging only 14 shots per game in his last five, so he'll have to chuck it up a bit more tonight to get to 30+ real points.
$5,900 – $4,500
Rodney Stuckey (PG/SG – $4,500) is a prime candidate to own the Knicks tonight. In one game this season against them, Stuckey scored 21 real points and made 57% of his shots from the field. He has started to turn it up in his last two games scoring 20 a game, but hasn't added much other than that. Against the Knicks anything is possible and a big scoring night from his wouldn't be surprising.
Jimmy Butler (SG/SF – $5,400) is not going to win you a GPP tonight, but he will lock in 30+ fantasy points against the Nets. He is averaging 33 a game against them on the season and has 31 or more fantasy points in three straight games. Butler logs a ton of minutes for the Bulls, so he's one of the safest plays every night out. He's averaging 18 points a game in his last three with 5 rebounds and 3 assists in each as well.
The Rest
Kyle Singler (SG/SF – $4,200) only saw 24 minutes in his last game and subsequently he only put up 12 fantasy points. I don't expect that to happen again and he should easily see 30+ minutes. He has taken eight shots or more in nine straight games, so he should easily bounce back from the four he took against the Rockets in that last game. The matchup against the Knicks is exciting and he should be a safe 22+ point player tonight.
Kent Bazemore (SG/SF – $3,900) has continued to make owners proud with his recent performances. Bazemore has been solid for 21+ fantasy points in five straight games and it's all because of his scoring. He's averaging 16/3/2/2 during that stretch and he's taking enough shots to continue that against the Trail Blazers tonight. He has taken nine or more shots in five straight games.