Week 21: Making the Most of What's Left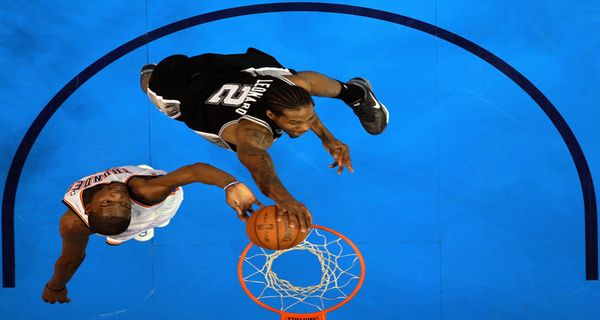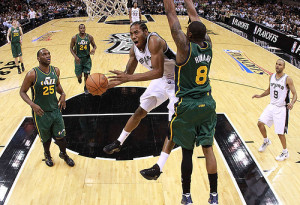 It is too early to say that Cavalier's owner Dan Gilbert struck gold the summer of 2011? Landing top pick Kyrie Irving seems an assured victory in Cleveland but it's just now that Gilbert's draft haul is beginning to truly take shape as a resounding success despite a climb in the standings.
A large part of Cleveland's bright future hinges on Tristian Thompson, who turned 22 last week, and who has taken full advantage of the added minutes he's seen since Anderson Varejao went down with a season ending knee contusion on December 18th.  Thompson has started every game this season compared to just 25 last year but the added playing time isn't the only aspect of his game that has teams taking notice.
As a rookie last year it was apparent that Cleveland's 4th overall pick was out of sync offensively which lead to  a litany of nightly forced and uncomfortable shots (43.9 FG% in '11-'12). His sophomore season has shown that he's a much more reliable post threat and multitalented scorer. Since the All-Star break Thompson is a nightly double-double (11.2 PPG & 10.2 RPG).
Moving forward Cleveland will likely add another scoring and shot blocking threat to compliment Thompson on the block. This summer Anderson Varejao will most certainly be packing his bags for free agency pay day. With that in mind plus the present  state of the team, the Cavaliers are currently tied with New York for last in the NBA in BPG at 3.8, a statistical category that Thompson provides little help in (0.8 BPG in 2012-2013). Even without the shot blocking prowess of other young big men, he still looks the part of a promising young star in the East that will challenge for a playoff spot in the near future.
Thompson isn't the only member of last year's draft class to take a meteoric step forward. San Antonio's Kawiah Leonard, selected 11 spots after Thompson, 15th overall, the Spurs young forward has seen a season high 12.7 shot attempts per contest since Tony Parker's injury. Should Leonard continue to develop and attack the rim, he should see his production evolve even further considering his elite level efficiency at the free throw line (94% thus far in March, 85% on the year).
This month continues to be a showcase for the former San Diego State Aztek star. Entering week 21 Leonard is posting an impressive statistical line to the tune of 15.9 PPG and 6.6 RPG. All things considered, the Spurs are 5-2 since the Parker injury and still maintain a narrow 1.5 game lead over Oklahoma City for the top spot in the Western Conference in large part due to the growth of their gifted wing man.
Greg Poppovich's Spurs clinched yet another playoff spot earlier this month but for former San Antonio assistant Jacque Vaughn and his Orlando Magic it may be several years until the team enjoys the same winning tradition established at the Alamo.
Orlando currently owns the second worst record in the league, trailing only Charlotte in the race towards futility. In what appears to be one of the weakest draft classes in recent memory, the Magic won't take solace in knowing they could land a Andrew Wiggins, Jabari Parker, or Noah Vonleh. Instead the team is all in on one of the most exciting young stars in the game who currently resides on their roster right now: Mo Harkless.
Harkless turns 20 in May. That being said, the Orlando has perhaps one of the league's brightest stars on their hands who continues to improve now that there is a clear route to floor time with the departure of J.J. Redick. Since January 28th the former St. John's standout has started every game and with his coach's vote of confidence Harkless is shooting the ball brilliantly.
On the year he's shot a gaudy 48% from the floor and is shooting better than 40% from three-point land. Aside from the highlight-reel dunks Harkless has played favorable defense for lottery-bound Magic. In eight games through March he's averaging better than 2 steals per night and has been handed some of the toughest defensive assignments the team has seen since Redick was dealt to Milwaukee.
Most recently, Harkless went off for  a season-high 23 points vs. Redick's Buck's in a 115-109 loss Sunday.
In a season that has long been unmoored, the Magic will continue to allocate minutes to young players like Harkless and Tobias Harris in an effort to explore a sundry of lineup changes before Orlando calls it a season. It will be several years before this current Orlando roster resembles anything close to a contender. In the meantime the greater North-Florida fan base may have no choice other than to decathlete from what will be a painful transition back to relevance.