2013 Fantasy Football: Giovani Bernard is Dressed to Impress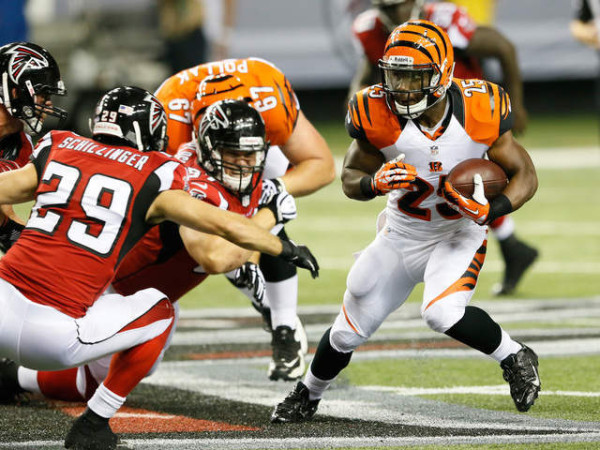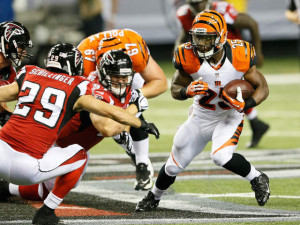 Having already taken an investigative look at one-half of the Green Bay/Cincinnati rookie running back battle from week 3 (Johnathan Franklin), next up is Giovani Bernard.
After breaking the seal for running backs in the 2013 NFL Draft (37th overall), there was considerable hype surrounding Bernard, both in fantasy circles and around the league, leading into introductory his professional football campaign. Despite his diminutive standing at 5'8 (maybe 5'9 on a good day), "Gio" attacks the interior of lines with fearlessness and attitude, always finishing off runs. Additionally, his spin-o-rama became "famous" in Chapel Hill along with his sublime hop cuts, a la LeSean McCoy. While the coaching staff is clearly taking a gradual approach to letting Bernard loose, he already has Bengals fans oohing and aahing every time he touches the football. I can't imagine why.
Play Breakdown
[am4show have='p3;p7;p9;' guest_error='Front Office' user_error='Front Office' ]
For Bernard, week one against Chicago was an opportunity to test the waters. He played on just 37% of snaps, carrying the ball four times for 22 yards. His freakish cutting abilities were on display on this 14-yard run, albeit the play was called back by holding: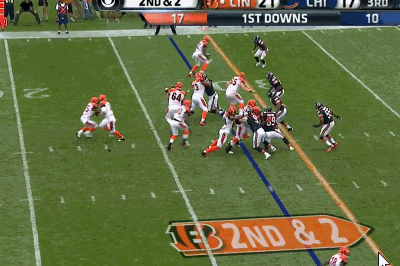 He played on 34.5% of the snaps in week two versus Pittsburgh, as the Bengals used the steady hand of Ben-Jarvus Green Ellis to salt away the clock. However, Bernard made the most of his limited on-field action by sniffing out the end zone. He rushed eight times for 38 yards and a score, also adding a 27-yard receiving touchdown in which he showcased his speed to the edge: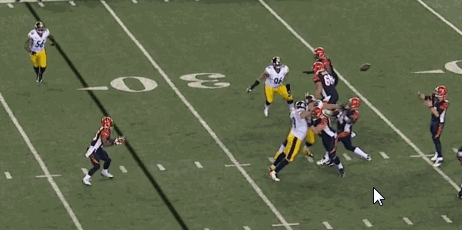 Week three versus Green Bay had all the fixings to pronounce it a breakout effort. Bernard's snap count jumped to 30 (53.6%) and he totaled 99 yards and a touchdown on 14 touches. His reckless enthusiasm was evident on multiple occasions: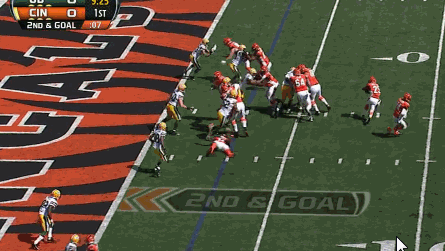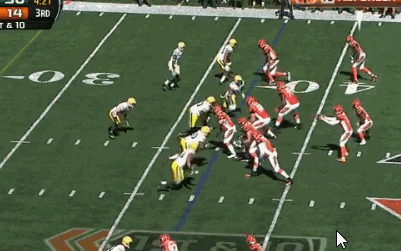 For a 5'8 200 pounder, Bernard repeatedly falls forward and pushes the pile. His style is even more incredible to behold when taking into account his torn ACL in 2010. With that being said, he does leave  himself open to take a pounding and his injury risk going forward is very real, particularly when his workload becomes heavier to bear.
Activity Log
Bernard is averaging 64.7 total yards per game and 5.0 yards per rush.
According to Pro Football Focus, he is the fifth highest rated RB with a grade of 4.1. He trails only LeSean McCoy, DeMarco Murray, Darren Sproles and the injured Shane Vereen.
He has been an eligible receiver/blocker on 40 snaps and carried the rock 22 times.
Bernard has only three 4th quarter rushing attempts in three games – with the lead in week two, BJGE racked up 13 carries in the final stanza. It should also be noted that the Bengals are prone to abandon the run when behind late.
ZERO negative plays. According to Advanced NFL Stats, his runs have a 51.5% Success Rate (plays resulting in positive expected value).
Surprisingly, Bernard has only been credited for breaking/escaping two tackles.
Bernard and co. will face off against Cleveland's 7th ranked rush defense in week four. On the season the Browns have limited opposing rushing attacks to 84.3 YPG, 2.8 YPC and a long run of 14 yards. Last week at Minnesota they held Adrian Peterson to 88 yards on 25 carries (3.8) with a long of 9. He remains a viable flex option due to explosive potential and versatility, but certainly this battle in the trenches is no safe bet.
*Premium Stats provided by ProFootballFocus.com*
*Advanced NFL Stats provided by wp.advancednflstats.com*
Follow Adam on twitter @AdamGaneles for NFL analytics and breakdowns
[/am4show]