2012 Fantasy Football End of Season Awards, Part 2: Alfred Morris Rookie of the Year?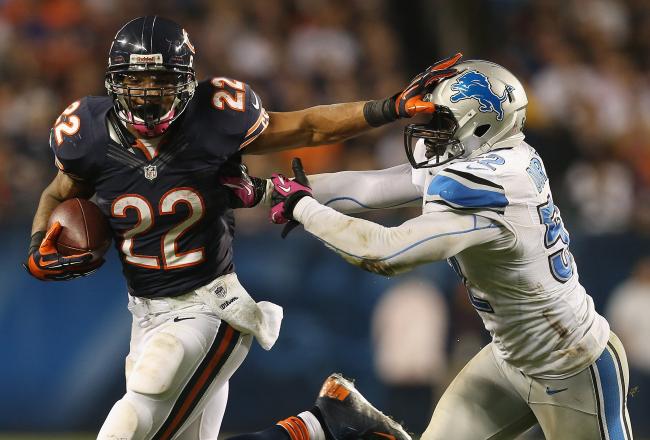 Now that the fake football season has come to an end, the team here at the Fix chimes in with our annual "End of Season Awards"
In part one, we looked at the biggest bust, waiver wire pickup of the year, biggest injury and "Mr. Reliable."
Here in part two, we will name the "biggest tease", "rookie of the year", "MVP" and an early top ten for 2013. 
Biggest Tease by Brett Talley
Coming off their Week 4 bye, the Steelers were bringing back Rashard Mendenhall from injury.  Mendenhall was a big waiver wire pickup heading into week 5, and he delivered with 15 fantasy points.  As a result, he was added in most all leagues in which he wasn't added the week before.  At something close to full ownership, Mendenhall proceeded to produce one of the lowest fantasy point totals for someone owned in that many leagues.  An injury limited him to one point in week 6 and kept him out the next four weeks. He also missed weeks 13, 14, and 15, and produced just eight fantasy points from week 6 on.
Rookie of the Year by Alan Harrison
The easy — and most popular — answer to this question is probably Robert Griffin III, or even Doug Martin. Both RG III and Martin deserve to be a finalist for this award, but the award goes to the rookie who earned the most value for his fantasy owners, Alfred Morris of the Washington Redskins.
The rookie out of Florida Atlantic entered the 2012 fantasy football season with an average draft position of 101.3, behind guys like Roy Helu, Peyton Hillis, Ben Tate, Kevin Smith and Cedric Benson, just to name a few. If he were drafted at all, Morris was a late-round flyer for those who saw his 107 yard, one touchdown effort against the Colts in the Redskins' third preseason game. But Morris' absence from the Skins' fourth preseason game and Mike Shanahan's history of shuffling running backs scared most potential suitors in another direction.
Fast forward through week 16 and Morris has rushed for 100 or more yards in six contests and less than 75 yards just twice. Morris' 94.2 yards per game ranks him fourth best in the NFL behind the likes of Adrian Peterson, Marshawn Lynch and Jamaal Charles. Morris is also third in the league in yards after contact (895), behind just Adrian Peterson and fellow rookie Doug Martin. Oh, and he landed in the endzone 10 times. Not bad, eh?
Sure your argument for Robert Griffin III and/or Doug Martin will be valid. But Alfred Morris will have the greatest fantasy gains of any player in 2012 — going from an ADP of 100+ to a likely first-round pick in 2013, potentially ahead of one or both of his fellow finalists.
Most Valuable Player by Alan Harrison
On December 26, 2011, Adrian Peterson landed on injured reserve after suffering a torn ACL and MCL in a Vikings victory over the Redskins. Most reall football heads — and to a lesser extent, fake football heads — had no clue how one would be walking in time for the upcoming season, let alone on the gridiron in pads, making cuts and playing at level higher than ever before. No analyst in football bet that AP would return in time for week one. 
Almost every fantasy analyst — including myself — suggested owners to pass on AP early on in their drafts due to the aforementioned injury. The uncertainties,  and the overwhelming agreement between analysts caused owners to shy away from Peterson, resulting in an ADP of 17.4.  
Boy were we wrong.
Through 15 games, Peterson has ripped off 11 touchdowns on 1,898 yards rushing while adding 215 yards receiving out of the backfield. "All Day" earned his fantasy owners 20+ points seven times this season, while finishing with less than double-digit fantasy points in just three starts (Indianapolis, Tennessee and Houston).
Peterson not only leads the league in rushing, but he's second to just C.J. Spiller in average yards per carry (6.0) and tied with Spiller in average yards gained after contact (3.9).
Some may argue that Arian Foster, Drew Brees, Tom Brady, Aaron Rodgers or Robert Griffin III earned consideration for the "fantasy"  MVP in 2012 — and their argument would likely be valid — but Adrian Peterson's incredible on-filed performance and consistency, parlayed with his average draft position make him the TheFantasyFix.com's MVP.
Top 10 for 2013 by Brett Talley
1.         Adrian Peterson
You wouldn't be wrong to worry about the fact that AD is 4th among active backs in career attempts.  But as he's proven this year, he's a freak of nature, and the normal concerns don't apply to him.
2.         C.J. Spiller
Assuming Fred Jackson isn't back in Buffalo, Spiller could have a monster 2013.  Almost no one has more talent than Spiller.  He trails only AD in yards gained after contact, and he forces more missed tackles per touch than anyone else in the league by a wide margin.  Without Jackson stealing goal line carries, Spiller could be a fantasy beast.
3.         Doug Martin
4.         Arian Foster
It may seem crazy to have Martin ranked ahead of Arian Foster, but it is simply a matter of workload.  The Texans have tried to pump the brakes late in the season on the Fostermobile, but he's still on pace for 350+ carries.  Martin is on pace or closer to 310.  So given the number of carries of each this season, and the fact that Martin is much younger, Martin should have the fresher legs in 2013.
5.         Calvin Johnson
6.         Aaron Rodgers
Running backs always dominate the tops of drafts simply because they're in short supply.  But the running back train stops here because of two guys whose consistency makes the more valuable than scarcity makes the remaining backs.  After being the leading point scorer in 2011, Rodgers will finish anywhere from first to fourth this season.  And if Megatron outscores Brandon Marshall in week 17, he'll be the first receiver to lead the league in fantasy points for consecutive seasons since Marvin Harrison did it almost a decade ago.

7.         Alfred Morris
8.         Trent Richardson
These rookie running backs deserve to be drafted in the first round over guys like Marshawn Lynch, Jamaal Charles, and Ray Rice simply because they are rookies.  Lynch and Rice have over 1,200 carries and are 9th and 11th among active backs in career attempts.  Charles doesn't have as many carries, but he wasn't great this year coming off his ACL injury as he didn't force many missed tackles and didn't get much yardage after contact.  Meanwhile, Morris and Richardson obviously have fewer career carries, and each was top ten in missed tackles forced per touch this year.
9.         Brandon Marshall
10.       A.J. Green
These guys have proven that you don't need another good receiver on the team to take some of the pressure and allow you to put up fantasy points.  The next best receiver for the Bears (Alshon Jeffrey) has just 44 fantasy points this year.  And the next best guy on the Bengals (Andrew Hawkins) has only 70 fantasy points.  As long as these guys remain the only real options in their passing attacks, they are worthy of first round picks.
Agree or disagree with the above awards? Let us know who you would assign these awards to in the comments below!

Don't forget to check out part one of our "2012 Fantasy Football, End of Season Awards."
---