2013 Fantasy Football Daily Fix, October 1: Week 5 WR Daily Fantasy Strategy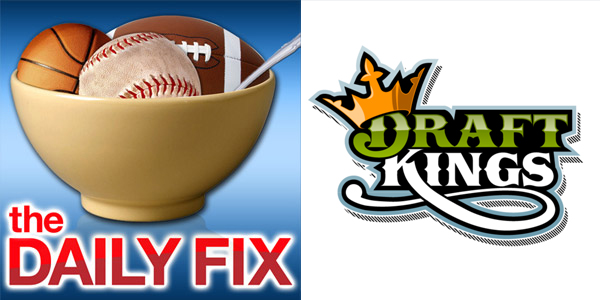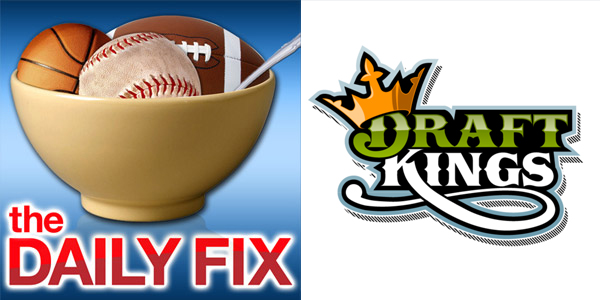 Coming up in today's fantasy football version of the daily fix, I've got some buy low and sell high candidates as well as some daily fantasy strategy with wide receiver recommendations for DraftKings daily fantasy contests this weekend.
News and Notes
Buy Low
DeSean Jackson – After two weeks, DJax was on pace for over 2,000 yards receiving and 16 touchdowns. That obviously wasn't going to happen. But if the last two weeks were his only games of the season, he'd be on pace for just 768 yards and no touchdowns. That's not going to be the pace he stays on either. Good games happen and bad games happen, but always remember that they average out to somewhere in between. This seems obvious, but DJax will have better days.
His upcoming schedule indicates those better days may come sooner rather than later. Aside from a matchup with Darrelle Revis in week 6, Jackson doesn't have another difficult matchup through Philly's bye in week 12. And it isn't just that Jackson will avoid the toughest matchups in the league; he'll be facing some of the worst pass defenses. Every other team he'll be facing was one of the ten worst teams in terms of fantasy points allowed to wide receivers prior to week 4.
Sell High
Trent Richardson – Thanks to a touchdown in each of his first two games with the Colts, you might still be able to sell Richardson as the top ten back he was drafted as. But those two touchdowns are masking some issues. For starters, Richardson is averaging just 3.4 yards per carry for the season and is averaging less than three yards per carry in his two games with the Colts. Richardson didn't average a lot of yards per carry last year (3.6), but he made up for it by being the main goal line back and adding 367 yards in the air on 51 catches. But it's hard to say that Richardson is going to get all the goal line work when Ahmad Bradshaw is healthy. And Richardson has not been a part of the Indianapolis pass game so far with just one catch in two games.
If you want to trade Richardson straight up for another back, here are some guys I think you could get for him (in no particular order):
If you need a receiver, try to trade Richardson for these guys (in no particular order):
DraftKings Wide Receiver Recommendations
Week 4 is in the books and I have tripled my money as I cashed in a Triple Up! this weekend. But when week 16 rolls around I could have a chance to "millionaire up" when DraftKings hosts a contest with $3.1 million in prizes and a million dollar grand prize. Qualifiers for this insane contest are going on weekly.
Before we get to the recommendations, here are the rules for the various NFL games DraftKings offers and a quick look at how wide receivers score points:
10 Receiving Yards = +1PT (+0.1PT per yard is awarded)
Reception = +1PT
Receiving TD = +6PTs
100+ Yard Receiving Game = +3PTs
Fumble Lost = -1PT
2 Point Conversion (Pass, Run, or Catch) = +2PTs
One way to find value in DraftKings contests is to take advantage of guys whose performance in week 4 really increased their value. The DraftKings pricing model doesn't take week 4 performance into account so that they can open contests very early in the week. So let's take a look at a few guys who saw a big increase in value last week and who might be too cheap this week as a result.
Kenbrell Thompkins, $4,500 – After two scores in week 3, a lot of people bought (back) in on Thompson. I, unfortunately, was not one of those people. The fact that he only caught three balls soured the two touchdown performance for me. But six catches on 11 targets for 127 yards and a score in week 4 is a much more impressive performance, one that makes him an easy top 30 receiver and probably a top 20 guy for a lot of people.
This week Thompkins and the Pats will face the Saints. The Saints defense certainly seems to be improved, but they still aren't too intimidating against the pass. They've handled Josh Freeman, Carson Palmer and Ryan Tannehill pretty well the last three weeks. But they've only faced one top tier quarterback this year in Matt Ryan, and Ryan was good enough to get Julio Jones 76 yards and a score and Harry Douglas 93 yards. It's not as good of a matchup as it was last year, but it's not that bad either. Thompkins is probably a top 20 guy this week, but he's only the 36th most expensive receiver on DraftKings.
The Pats actually play the Bengals this week. They won't face the Saints until week 6. But the Bengals have just been average in fantasy points allowed to receivers, so it's not a stay-away matchup.
The only caveat is that the possible return of Rob Gronkowski could hurt his value. If Gronk is a go this week, I might pass on Thompkins.
Robert Woods, $4,200 – With Stevie Johnson covered up last week, Woods thrived with four catches for 80 yards and a score. Buffalo faces Cleveland this week, and Joe Haden is likely to stick to Stevie just like he stuck to A.J. Green last week when he held him to 51 yards and kept him out of the end zone. This is good news for Woods because Cleveland's other corners are rated as below average in pass coverage by ProFootballFocus. Woods isn't super cheap, but he's outside the 40 most expensive receivers this week. He could easily be a top 30 guy in this matchup.
Another way to find value is to target guys who have under-performed so far this season. The DK pricing system may not factor week 4 performances into a player's price, but it does take weeks 1, 2 and 3 into account.
Justin Blackmon, $4,200 – Blackmon hasn't had the chance to perform this season thanks to his suspension, so the pricing model has him grouped in with some of the other hit-or-miss guys outside the top 40. But Blackmon has a good matchup in his first week back as he'll face the Rams who had allowed the sixth most fantasy points to WRs prior to last week. And they gave up 90 yards and a score to Anquan Boldin last week.