2013 Fantasy Football Daily Fix: October 19, 2013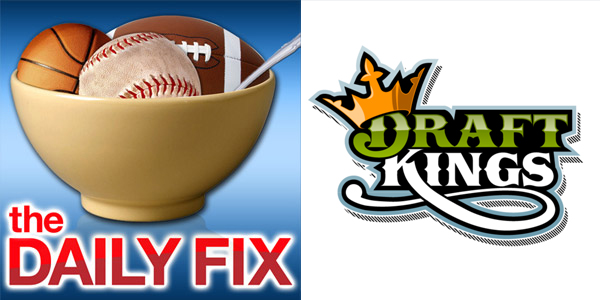 Saturday's Fantasy Football Fix delivers news, notes, and injury nuggets along with Week 7 QB recommendations for DraftKings NFL Fantasy Games.
News, Notes and Nuggets
Atlanta Falcons ruled out RB Steven Jackson (hamstring) and WR Roddy White (ankle, hamstring) for Week 7 vs. Tampa Bay. This puts an end to White's streak of 133 consecutive games without a miss. With WR Julio Jones (foot) done for the season, QB Matt Ryan will rely on TE Tony Gonzalez and WR Harry Douglas, and some combination of WRs Drew Davis and Kevin Cone to move the chains with help from RBs Jacquizz Rodgers and Jason Snelling. Ryan should get yards, but touchdowns could be harder to come by.
TE Rob Gronkowski's agent Drew Rosenhaus announced his client has been medically cleared by all doctors to return to action in Week 7 as the New England Patriots go on the road to take on the New York Jets. While officially listed as questionable on the team's injury report, Gronkowski (back, forearm) is expected to play. Unless you have Julius Thomas or Jordan Cameron on your roster, it's hard to imagine sitting Gronk after six weeks of "will he or won't he play?" speculation. WR Danny Amendola (concussion) is out. His replacement, Julian Edelman is nursing a thigh injury, but will play and should see a boatload of targets.
 Jacksonville Jaguars WR Cecil Shorts (shoulder) said his condition is improving and he intends to play versus the San Diego Chargers. While Shorts is a gamer, one hard hit could spell the end of his day. Consider sitting Shorts if you have other startable options and/or want to mitigate risk.
The Cleveland Browns announced QB Brian Hoyer underwent surgery on Friday to repair his torn right ACL.
QB Josh Freeman will get his first start under center for the Minnesota Vikings. He gets a favorable matchup against the winless New York Giants.
Tennessee Titans QB Jake Locker (hip, knee) practiced all week and took the majority of first-team reps on Friday. He's listed as questionable on the latest injury report. Reports indicate that Locker wants to play this Sunday versus the San Francisco 49ers, however head coach Mike Munchak was non-committal about his status.  It's likely the team will hold Locker out until after the Week 8 bye.
DraftKings Quarterback Recommendations
If you haven't already registered for DraftKings, be sure to take advantage of an exciting offer currently available to first-time depositors. When you sign up and make a deposit you receive a 100 percent deposit bonus PLUS a free entry into a DraftKings Millionaire Grand Final qualifier, even if you make the minimum $2 deposit. After you've claimed your free entry, be sure to check out the wide variety of other contests available through DraftKings.
 Let's take a quick look at the rules for the different NFL games DraftKings offers, and the basic way that quarterbacks score points:
Passing TD = +4PTs
25 Passing Yards = +1PT (+0.04PT/ per yard is awarded)
300+ Yard Passing Game = +3PTs
Interception = -1PT
10 Rushing Yards = +1PT (+0.1PT per yard is awarded)
Rushing TD = +6PTs
100+ Yard Rushing Game = +3PTs
Here are my Week 7 QB recommendations from three different tiers—expensive, midrange, and bargain values.
Expensive
Tony Romo, Dallas Cowboys ($9,200) @ Philadelphia Eagles—Romo let us down in a big way last week, throwing for just 170 yards and one touchdown against the Washington Redskins. The good news is that he gets a chance to make amends on Sunday in a road game against the Philadelphia Eagles. Romo heads into Week 7 as fantasy's No. 4-ranked quarterback and he is well-positioned to secure his spot among this season's elite QB1 numbers in a matchup tastier than a Philly cheesesteak. The Eagles have yielded an average of 327.5 passing yards and multiple passing scores to opposing quarterbacks in five out of six games. In his second pro start, Bucs QB Mike Glennon hit up the Eagles for just shy of 275 yards and two scores and that was without WR Mike Williams.  It's hard to imagine Philly has a defender who can handle Dez Bryant one-on-one, and if they sell out to contain him, then Romo can do some damage with Jason Witten and Terrance Williams. If you want to spend a little more on your quarterback this week, Romo should pay dividends. 
Jay Cutler, Chicago Bears ($7,700) @ Washington Redskins—The Redskins weren't the cupcake matchup many of us expected for Tony Romo and the Cowboys in Week 6, but don't let that stop you from using the red-hot Cutler this week. Fantasy's seventh-ranked quarterback has completed 64 of his last 89 pass attempts for 759 yards, six touchdowns and two successful two-point conversions. He also had his first turnover-free game of the season in last week's win over the New York Giants. It's hard not to like Cutler and his trio of pass-catchers Brandon Marshall, Alshon Jeffery and Martellus Bennett against a Washington secondary that allows an average of 293 passing yards, two touchdowns and the 10th-most fantasy points to opposing quarterbacks over five games. Not only has Cutler emerged as a reliable fantasy starter in Marc Trestman's offense, he grades out as a high-end QB1 this week.
Midrange
Nick Foles, Philadelphia Eagles ($7,000) vs. Dallas Cowboys—With Michael Vick (hamstring) almost certainly ruled out, Foles will get his second start in a plus matchup at home versus the Dallas Cowboys. Foles had a nearly flawless game last week against the Tampa Bay Buccaneers, completing 22-of-31 passes for 296 yards, three passing touchdowns and a four-yard rushing score on a draw. The Cowboys defense is depleted and vulnerable, and lacks much of a pass rush. They've allowed an average of 329 passing yards per game, a total of 14 passing touchdowns and the most fantasy points to opposing quarterbacks through six games. With Cowboys DE DeMarcus Ware (quadriceps) on the sideline, it's hard to imagine a scenario under which Foles is unable to exploit beatable matchups all over the field.  He is worth a look as an affordably priced option who can deliver QB1 production.
Eli Manning, New York Giants ($6,600) vs. Minnesota Vikings— Don't let the Giants 0-6 record and his 15 picks deter you from using one of the best values among all DraftKings quarterbacks in Week 7 at any price level. While Manning disappointed in Week 6 against a beatable Chicago defense, completing just 14-of 26 passes for 239 yards, one touchdown and three interceptions, he's capable of turning things around quickly and torching opponents for 400-plus yards and multiple touchdowns. It's also fair to say that the younger Manning has been a bit of a boom or bust proposition in 2013. He has the chance to be "boomy" this week when the G-Men host the Minnesota Vikings in a favorable Monday night contest. The Vikings already vulnerable secondary suffered another blow this week as standout safety Harrison Smith landed on Injured Reserved-Designated to Return with a turf toe injury. Eli certainly has the weapons to take advantage of a good matchup provided he and his talented pass-catchers are on the same page. Minnesota gives up an average of 319 passing yards, 2-plus passing scores and the fifth-most fantasy points to opposing quarterbacks over five games so the opportunity for redemption should be knocking at Eli's door.
Bargains
Chad Henne, Jacksonville Jaguars ($5,500) vs. San Diego Chargers— You wouldn't know it by looking at Andrew Luck's underwhelming stat line or his fantasy point total from Week 6, but the San Diego Chargers have a pretty wretched—in fact, the third-worst pass defense in the NFL. That bodes well for Henne and the dynamic pass-catching duo of Justin Blackmon and Cecil Shorts, who is expected to play through a sprained shoulder joint.  Henne's cost-per-fantasy point price tag ($337) is a bargain for those looking to spend salary cap dollars elsewhere in their lineups. While the Jags aren't the 28-point underdogs they were against Denver last week, you have to hope Philip Rivers and the Chargers put points on the board so Henne can go into garbage time mode. Be sure to check on Shorts' gameday status if you plan to use Henne. While Mike Brown stepped up after Shorts made an early exit last week, Henne is a less attractive option if Cecil is a no-go.
Mike Glennon, Tampa Bay Buccaneers ($5,400) @ Atlanta Falcons—Glennon posted solid numbers in Week 6, throwing for 273 yards, two scores and a pick in a losing effort against the Philadelphia Eagles. He demonstrated the common sense and the ability to get the ball to Vincent Jackson, targeting him 14 times and great chemistry with emerging tight end Tim Wright.  With No. 2 wide receiver Mike Williams expected to return from a hamstring injury this week, the rookie signal caller has a good shot to improve on his previous performance as the Buccaneers take a short road trip to Atlanta for a meeting with the injury-depleted Falcons.  While I think this could be a game where the Buccaneers feed Doug Martin the rock, Glennon should have sufficient opportunities to make some big plays.