2013 Fantasy Football Daily Fix, October 22nd: Week 8 WR Daily Fantasy Strategy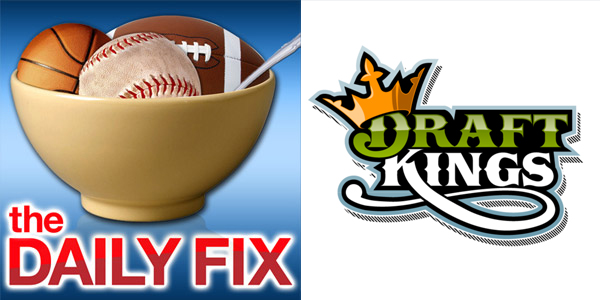 News and Notes
In a strange development, Chris Ivory got 34 carries this week after getting that many combined in his first five games. Ivory and Bilal Powell essentially split the workload in the first two weeks of the season, but Powell seemed to assume the lead role when he got 27 carries in week 3. And then he once again got all the work in week 4 when Ivory was out with injury. Things got murky in week 5 when Ivory returned as did Mike Goodson. But Powell still got more touches in both week 5 and week 6 than Ivory and Goodson combined. When Goodson went down for the year after week 6 it seemed likely that Powell and Ivory would go back to splitting the work but that Powell would be the more prominent back. But it was the exact opposite as Ivory got 34 carries to Powell's three. I recite this history of the 2013 Jets backfield to highlight the fact that it's been very hard to trust any Jets back in any week. I wouldn't go spending a bunch of FAAB dollars to acquire Ivory.
Ryan Mathews got 20+ carries and topped 100 yards for the second consecutive week. The ovious analysis is to tell you to sell high before the fragile and often underperforming back can disappoint you once again. But I think I might wait a couple of  weeks to sell high. Mathews has a bye this week, so if you need a RB for this week I can see trying to sell high now. But I might wait until after week 9 when he plays Washington. After getting torched by Matt Forte on Sunday, I believe that Washington has allowed the most fantasy points per game to RBs. So there is a pretty good chance that Mathews value actually has a little more room to grow.
It might be a good time to sell high on Justin Blackmon. I dealt him after his first game back when he caught five balls for 136 yards and a score. I just don't trust this offense enough to expect him to be consistent. But I admit that I was regretting dealing him away after he came back out and caught 14 balls for 190 yards the next week. He came back to earth a bit with just 58 yards in a good matchup with the Chargers this weekend, but that performance isn't why I'm selling high on Blackmon. No, the reason I'm selling is the upcoming schedule. The Jags get the Niners this week, a bye in week 9, and then this slate: Tennessee, Arizona, Houston, Cleveland, Houston, Buffalo, Tennessee and Indianapolis. The only good matchup in that entire group is Buffalo. The rest of those aren't even average matchups. Those are almost all top ten pass defenses.
DraftKings Wide Receiver Recommendations
Week 7 is in the books and I have tripled my money as I cashed in a Triple Up! this weekend. But when week 16 rolls around I could have a chance to "millionaire up" when DraftKings hosts a contest with $3.1 million in prizes and a million dollar grand prize. Qualifiers for this insane contest are going on weekly.
Before we get to the recommendations, here are the rules for the various NFL games DraftKings offers and a quick look at how wide receivers score points:
10 Receiving Yards = +1PT (+0.1PT per yard is awarded)
Reception = +1PT
Receiving TD = +6PTs
100+ Yard Receiving Game = +3PTs
Fumble Lost = -1PT
2 Point Conversion (Pass, Run, or Catch) = +2PTs
Below I've got options in several different price ranges. This will allow you some flexibility when building your team depending on what you would like to do at other positions.
Luxury Options
Take your pick. Seriously, just take whoever you like up there. Each one of the seven guys who cost seven grand or more are all great receivers with amazing matchups. The opponents that group will face are Dallas, Detroit, the Jets, Washington and Philadelphia. All of those are below average in terms of fantasy points allowed to receivers. So take your pick.
Reasonable Options
Pierre Garcon, $6,200 – Garcon is about as steady as they come. He has at least seven targets and five catches in each game this year, and he's seventh among receivers in targets despite already having his bye week. With it being a near certainty that Garcon will get plenty of looks, he's almost a must play against a Broncos defense that has been pretty awful. Coming into the week they had allowed the third most fantasy points per game to receivers, and it is quite possible that they will be without Champ Bailey this week.
Marques Colston, $5,200 – Colston has been a complete non-factor in the Saints last two games with just three catches. He was pretty consistent in the four games before that with at least 60 yards in each game, but it's not like he was setting the world on fire. I know, I'm not making such a  convincing case for picking Colston this week. But this is just a gut feeling that they get him back involved this week against a Bills teams that had allowed the second most fantasy points per game to receivers coming into the week. With Colston being only the 24th most expensive receiver this week, there is a ton of value potential here.
Cheap Options
Terrance Williams, $4,900 – We're at the point where we can safely say that Williams is the new #2 receiver in Dallas. He was easily more involved than Miles Austin this week as he played more snaps, ran more routes and received more targets. It seems like the Cowboys passing game is going through a never ending stretch of good matchups lately, and that will continue against Detroit this week. It's an especially good macthup for Williams because the Lions have been eaten up by several second option receivers like James Jones and Alshon Jeffery. Hell, even Santana Moss and Jerome Simpson had big days against the Lions.
Michael Floyd, $4,700 – Floyd has at least six targets over the last five games and 39 targets total over that time frame. He also has a sweet matchup this week against the Falcons who had allowed the fifth most fantasy points per game to receivers coming into the week  prior to getting torched by Vincent Jackson this week.
Cheapest Guys I Can Recommend
Kenbrell Thompkins, $3,000 – It wasn't a surprise to see Gronk reclaim his role as Brady's favorite receiver, but it was a little surprising to see him get 17 of the 41 available targets. But the other four receivers who played all got at least five targets, including Thompkins. Admittedly, the odds are that other guys will get more looks and that Gronk is much more likely to find the end zone. And I'll also admit that the matchup with the Dolphins isn't great, but Thompkins may be one of only two or three receivers going for the cheapest price of 3K with a decent chance to see five targets.
Marvin Jones, $3,000 – It's been a nice couple of weeks for Jones as he's seen 11 targets and had seven catches for 128 yards and two scores. There's a very good chance that this will easily be Jones' best two week stretch of the year. But there's also a decent chance that Jones is assuming the #2 receiver role in Cincinnati that I assumed would go to Mohamed Sanu in the preseason. If he really is taking on a bigger role, there's a good chance we'll see that continue this week in a good matchup with the Jets.