2013 Fantasy Football Daily Fix, October 29th: Week 9 WR Daily Fantasy Strategy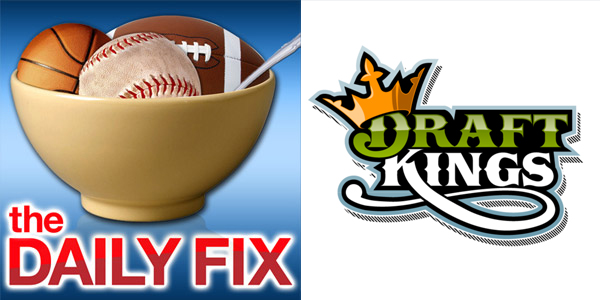 News and Notes
Tony Romo is not playing good football right now. I caught a little flack for suggesting as much last Thursday when I pointed out that he averaged just 10 fantasy points per game and about six yards per attempt in great matchups against Washington and Philly in weeks six and seven. I had him outside my top ten QBs last week as a result. And if you just look at his 20 fantasy points against the Lions, you'd think I was dead wrong on him. But I feel validated by Tony's performance. He had 206 yards and three touchdowns, but almost all of his success should be credited to his receivers. Of those 206 yards, 153 came after the catch meaning only about 26% of his yardage came pre-catch. Alex Smith has the lowest percentage of pre-catch yardage this year at 45%. In other words, the kind of success Romo had last week is unsustainable. The yards after catch also made the touchdowns possible as both Dez Bryant and Terrance Williams had big YAC plays for scores. Romo is only a borderline top ten QB for me. If I could get someone like Russell Wilson plus a usable RB/WR/TE piece to help with depth or Cam Newton straight up, I'd do that in a heartbeat.
There are several running backs who found the end zone last week who are sell high candidates as a result. Below is a list of RBs you should try to deal while other owners are still looking at a good result from their most recent game.
I'm a believer in Marvin Jones. I recommended him as a daily fantasy play in this space last week and was thrilled after he scored his first touchdown. I had absolutely no idea we'd seen him get another, much less three more. He now has 19 targets and 15 receptions in the last three weeks with at least 55 yards in each game with an average of 83 yards per game over that span. So he seems like the clear #2 option in Cincinnati, a position that has been waiting to be filled for some time. He won't score four TDs in a game again. Hell, he might not score four TDs the rest of the year. But let's say he was able to score three more. And let's say he was able to keep the yardage average close to where it's been the last three weeks, let's say 75 yards per game. If he could do that, he would average 9.75 fantasy points per game. Prior to last week, only 15 receivers were averaging more than 9.75 fantasy points per game. I'm not saying Jones is a top 20 receiver, but that's all he would have to do to be one.
DraftKings Wide Receiver Recommendations
Week 8 is in the books and I have tripled my money as I cashed in a Triple Up! this weekend. But when week 16 rolls around I could have a chance to "millionaire up" when DraftKings hosts a contest with $3.1 million in prizes and a million dollar grand prize. Qualifiers for this insane contest are going on weekly.
Before we get to the recommendations, here are the rules for the various NFL games DraftKings offers and a quick look at how wide receivers score points:
10 Receiving Yards = +1PT (+0.1PT per yard is awarded)
Reception = +1PT
Receiving TD = +6PTs
100+ Yard Receiving Game = +3PTs
Fumble Lost = -1PT
2 Point Conversion (Pass, Run, or Catch) = +2PTs
Below I've got options in several different price ranges. This will allow you some flexibility when building your team depending on what you would like to do at other positions.
Luxury Options
Jordy Nelson, $8,200 – I'd like to thank Jordy's preseason knee issue for allowing him to have an ADP of 66 with an average auction price of about 10 bucks. I took full advantage of that value and ended up with him on five of my eight teams. He has at least eight fantasy points in every game this year and is averaging 15 per game. He's had success when he's had to share targets with Jones and Cobb, and he's had success when he had to bear more attention when Cobb and Jones were out. He's been good no matter the situation, and the situation will be especially good this week when he faces the Bears who allow the most net yards gained per pass attempt in the league.
Josh Gordon, $6,500 – I was concerned about Gordon last week because I was concerned about Jason Campbell's ability to get him the ball. But that concern has been assuaged as Gordon caught five balls on ten targets for 132 yards and a score against a tough Kansas City defense last week. This week he'll face the Ravens who have had a slightly below average pass defense so far this year.
Reasonable Options
Pierre Garcon, $5,800 – The looks are there for Garcon. He has had at least seven targets in every game this year and is averaging about 9.5 per game. He has also caught at least five balls in each game. Prior to week seven, he was 22nd among receivers in Mike Clay's oTD stat which tells us how likely receivers are to score based on how close to the end zone they tend to be targeted. So he's getting used a lot, and he's getting used enough close to the end zone. A big week is coming for Garcon, and I wouldn't be surprised if it happened this week against the Chargers who have allowed the seventh most fantasy points per game to receivers and who allow the fourth most net yards gained per pass attempt.
Keenan Allen, $4,600 – In his last four games, Allen is averaging about six catches and 92 yards per game with two scores over that span for an average of 11.75 points per game. In PPR formats (which is the format used on DraftKings) he's averaging 17.5 points per game. Only seven of the active receivers this week are averaging more than 17.5 points per game in PPR this year. Allen looks like a major bargain as only the 32nd most expensive receiver.
Cheap Options
Marques Colston, $4,000 – Colston has exactly one fantasy point in each of his last three games. I feel like he's bound to rebound, but I don't have a good reason for that feeling other than the fact that this is a good offense in which he's been successful in the past. He's a big risk in a DraftKings contest because your lineup is made up of only seven skill position players. With so few players used, you can ill afford to take a zero at a slot. But at this price (only the 40th most expensive receiver), Colston could also be a huge reward.
Myles White, $3,400 – This recommendation is completely dependent upon James Jones being inactive again, which isn't something I expect to happen. But if Jones is out, White is an interesting play at this price. He had five catches for 35 yards on seven targets last week and was one of only three receivers to see a target. Anyone on the receiving end of five-plus Rodgers throws has a chance to produce.
Cheapest Guys I Can Recommend
Eddie Royal, $3,000 – It's hard to rely on Royal week-to-week, but he has 12-plus fantasy points in three out of seven games, so it's not like he's been just a one-hit wonder. The matchup with Washington is about as good as it gets with Washington allowing the fifth most fantasy points per game to receivers prior to last week.
Ted Ginn, Jr., $3,000 –  This is obviously another long shot, but Ginn has at least displayed some level of consistency this year as he has seven or more fantasy points in four of his seven games this year. He also has a great matchup, better than Royal's in fact, as the Falcons had allowed the fourth most fantasy points per game to receivers prior to last week.