2013 Fantasy Football Daily Fix, September 25, 2013 – Week 4 – Tight Ends and Kickers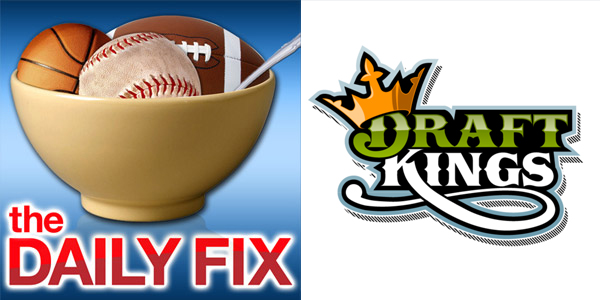 I'm back with Week 4 DraftKings recommendations for Tight Ends and Kickers. But, first a note about DraftKings. New depositors will get a free ticket into a Millionaire Grand Final qualifier.  So you can get a free game with any deposit you make.  What are you waiting for?
News and Notes
Week 4 starts bye weeks for the NFL as the Green Bay Packers and Carolina Panthers take week 4 off. We lose Greg Olsen and Jermichael Finley at the tight end position. The Packers backfield will likely be fully healthy after the bye so it will be a fantasy quagmire that you'll want to stay out of. Aaron Rodgers and Cam Newton owners will be shuffling off to the waiver wire to fill in for this early bye – Alex Smith makes a sneaky play this week against a dreadful Giants' team that cannot put pressure on the QB.
Le'veon Bell looks like he could be the starter in the Pittsburgh backfield on Sunday against the Vikings. He's a must own in all leagues and could help to balance the offensive attack.
Speaking of Pittsburgh and Minnesota remember that this game is played in London so no home field advantage for anyone.
Speaking of injured running backs returning, Jonathan Stewart is due back for the Panthers in week 7. This makes DeAngelo Williams much less attractive as Stewart (and the rookie Kenjon Barner) will likely cut into his carries. If someone is willing to pay full value for Williams, I'd take that offer today.
Ryan Broyles moves up the ladder in Detroit as Nate Burleson will miss the next six to eight weeks while he heals up from breaking his arm while trying to save a pizza. Really. Broyles has a chance to be a solid WR2/3 in PPR leagues if he can stay healthy. He has yet to stay healthy in his pro career so he's more of a lottery ticket at this point.
Terrelle Pryor may miss this weekend's game against a porous Washington defense. He was concussed near the end of last week's game, but there hasn't been much in the way of news on his current status. Check in later for practice reports as he could be another solid bye week fill-in.
DraftKings Tight End Recommendations
If you've never played on DraftKings before, you can get a deposit bonus by signing up. And there are different options to pick from at DraftKings for any skill level.
Did you know that you can qualify for a million dollar top prize starting with just a $2 investment? It's all right here at the DraftKings Millionaire Grand Final. Wait. Did I already mention that?
Finally, a gentle reminder on the scoring for Tight Ends – this is a PPR site so remember that when selecting players.
10 Receiving Yards = +1PT (+0.1PT per yard is awarded)
Reception = +1PT
Receiving TD = +6PTs
100+ Yard Receiving Game = +3PTs
Fumble Lost = -1PT
2 Point Conversion (Pass, Run, or Catch) = +2PTs
The full DraftKings scoring system is here.
Tight Ends can also be used in the flex position at DraftKings. However, with the entire world of RBs and WRs at your disposal, it would be unlikely you'd have to head to the TEs to pick up a flex play.
Let's take a look at a couple of options at each price point. I'll mention Football Outsiders a lot – the passes per game and yards per game stats I use are from Football Outsiders. Here is the link to Football Outsiders' 2012 stats. FO has updated their stats for 2013 and you can find them here.
The Jeffersons
The spread between Jimmy Graham ($7,600) and the rest of the luxury options is still wide with Jordan Cameron and Rob Gronkowski second in salary at $6,100. Graham is a stud and you get what you pay for. Gronk is still questionable for this week and even if he does play, I'd assume he'd be limited to less than a full workload.
Jimmy Graham | Saints | $7,600 – Adding Graham to your lineup is a must this week. He faces a Miami team giving up 10.9 passes per game to TEs and almost 72 yards per game. The Dolphins shut down Tony Gonzalez last week, but gave up over 100 yards and a TD to Jordan Cameron in Week 1.
Jason Witten | Cowboys | $5,500 – Witten is also a consideration in the high rent district. He faces off against a Chargers defense that has given up nearly eight passes and 72 yards per game to TEs. This should be a tight game between the Chargers and Cowboys and Romo could be without Miles Austin so he'll look even more for his security blanket.
All in the Family
Antonio Gates | Chargers | $4,800 – Gates has put up back to back 15+ points games on DraftKings. He heads home to face a Cowboys team that has given up five or more receptions in two of their three matchups this season. And the third game was against the Chiefs who don't have a TE worth mentioning. Gates could be a nice sneaky play in the middle of the pack.
Heath Miller | Steelers | $4,000 – Miller looked quite spry last week for a guy coming off major knee surgery. The Steelers' offense looked good in spurts against a tough Bears defense on Sunday night. He's probably still going to be limited this week, but he gets a great matchup (in London) against a Vikings team that gives up nearly 10 passes per game (fourth worst in the league) to TEs.
Good Times
Scott Chandler | Bills | $3,300 – Chandler broke out last week as he picked up five catches for 79 yards and a touchdown. Chandler is the only TE on the Bills and E.J. Manuel seems to be getting more comfortable with him. The Bills face the Ravens who have struggled on defense in general and rank near the bottom against TEs this season.
Nate Byham | Buccaneers | $3,000 – I like to give one Hail Mary option each week and Byham is that this week. He goes up against a Cardinals team which has given up 111 yards per game to TEs and just lost two more LBs this week. If you need someone who has a little bit of upside and is the cheapest option you can find, Byham is your man.
DraftKings Kicker Recommendations
Your weekly update on this guy is that he's still not on a roster. Sadly.
A reminder of the DraftKings scoring is below.
There are distance-based bonuses for kickers and no penalties for misses so you can take on risk without penalty.
Extra Point = +1PT
Field Goal 0-39 Yards = +3 PTs
Field Goal 40-49 Yards = +4PTs
Field Goal 50+ Yards = +5PTs
The salary spread is almost non-existent this week as the top dogs are $3,500 and the "bums" are $3,000. Again, I can't suggest paying too much for a kicker so we'll look at the options further down the line. There is one option that jumps out at me – he should be on your roster.
Dan Carpenter | Dolphins | $3,100 – Carpenter did nothing in Week 1. However, he's put up 13 points in back to back weeks and is undervalued. He's had four attempts in each of his last two games.  He faces off against a Ravens squad that gave up three field goal attempts to the Texans last week.