2013 Fantasy Football Daily Fix: Week 11 Running Back Recommendations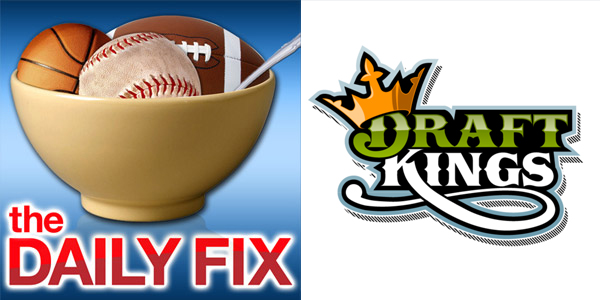 Today's Daily Fix updates you on injury news from Atlanta to the West coast while giving you quality Week 11 running back values for daily fantasy football at DraftKings.
News and Notes
Percy Harvin (hip) practiced fully Thursday for the first time this season, and he has a good chance of playing Sunday against Minnesota, according to ESPN. There's no word on whether or not Harvin will play limited snaps, but since the receiver hasn't been able to practice since undergoing hip surgery August 1 it's unlikely he'll play enough to contribute to your fantasy team. Unless you're in dire straights I'd lean toward keeping Harvin on the bench until he proves he's up to speed.
Oakland quarterback Terrelle Pryor (knee) returned to practice Thursday, but the Raiders still aren't sure if he'll play Sunday against Houston. Head Coach Dennis Allen said if Pryor will start if he's cleared to play, which could happen as soon as today. Houston has been pretty stingy against quarterbacks this year, and Pryor's thrown eight picks in his last four games. So just like with Harvin, it's best to go with someone else unless you have no other legitimate options.
Injuries have hurt the Atlanta Falcons this season, and it's no different in the A heading into Week 11. Tony Gonzalez missed practiced the last two days with a toe injury that he suffered Sunday. ESPN's Stephania Bell writes Gonzalez "appeared to be in serious discomfort" and "was visibly limping" after the game. We'll have to wait until Friday's practice wraps to see if the Falcons will update Gonzalez's status for Sunday's game, but in the past four games Gonzalez has only surpassed three catches and/or 30 yards in one game. His targets have fallen to six a game in his last four games from over nine a game in his first five games, too. If Gonzalez is limited Sunday I'd recommend starting another player, like John Carlson, Rob Housler or Brandon Pettigrew if they're available.
DraftKings Running Back Recommendations
If you've never played on DraftKings before, you can get a deposit bonus by signing up. And there are different options to pick from at DraftKings for any skill level.
At DraftKings you can qualify for the chance to win a million dollar prize starting with just a $2 investment. It's all right here at the DraftKings Millionaire Grand Final.
Here are the rules for the different NFL games DraftKings offers, and I'll go ahead and list the running back scoring settings here:
10 Rushing Yards = +1PT (+0.1PT per yard is awarded)
Rushing TD = +6PTs
100+ Yard Rushing Game = +3PTs
10 Receiving Yards = +1PT (+0.1PT per yard is awarded)
Reception = +1PT
Receiving TD = +6PTs
100+ Yard Receiving Game = +3PTs
Punt/Kickoff Return for TD = +6PTs
Fumble Lost = -1PT
2 Point Conversion (Pass, Run, or Catch) = +2PTs
Disclaimer: There aren't that many cheap running backs I'd recommend starting this week so most of the guys listed below are going to be fairly pricey. However, they have good matchups and/or will see a ton of touches.
LeSean McCoy – $8,200 – vs. Washington – Shady has been Shady Lite the past few weeks, surpassing 100 total yards for the first time in four weeks last week. But he's still seeing plenty of carries and catching three balls a game in his last five. And now he's playing the 31st-ranked Washington defense, which has given up 12 touchdowns and over 144 total yards a game to running backs in just nine games.
Reggie Bush – $7,500 – at Pittsburgh – Pittsburgh ranks in the bottom third against running backs, surrendering 12 total touchdowns to them throughout the season. Bush has at least 94 total yards in six of eight games and is catching over four passes a game, too. Pittsburgh's giving up 24 points a game so there will be plenty of opportunities for Bush to score.
Marshawn Lynch – $7,500 – vs. Minnesota – Lynch has over 100 total yards in six of 10 games while putting up at least 141 total yards in each of the last two games. He has at least 22 touches in four of the last five, and the Vikings are the sixth worst team against running backs, giving up over 147 total yards a game to running backs.
Eddie Lacy – $7,400 – at New York Giants – In his last six games Lacy has at least 22 touches and 84 total yards. The Giants are actually in the top half against running backs, but they're allowing over 122 total yards a game to backs this season.
Danny Woodhead – $6,400 – at Miami – The Dolphins rank 30th in fantasy points allowed to running backs, and surely you've seen or heard what the lowly Bucs did to Miami Monday night – 170 total yards and a touchdown to Tampa's running backs. Woodhead has at least 13 points a game at DraftKings in every week except Week 1, and only six other teams have given up more receiving yards to running backs than Miami has.
Ray Rice – $5,900 – at Chicago – If Rice can't break out of his season-long slump this week then it's going to be hard for him to regain fantasy owners' trust anytime soon. Chicago's allowed at least 123 rushing yards in each of its last four games and has six games this season where it's allowed over 100 rushing yards. The Bears are allowing 142 total yards to running backs weekly, and Rice is still active in the passing game catching over four passes a game in his past five. He's cheap enough to have him as an RB2 in hopes that he can take advantage of his good matchup.