2013 Fantasy Football Daily Fix: Week 12 Running Back Recommendations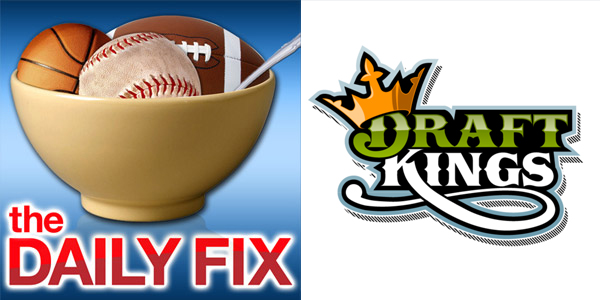 News and Notes
Wes Welker practiced on a limited basis Thursday and "is on track to play" Sunday night against New England, according to ESPN. Welker's recovering from a concussion suffered Sunday against the Chiefs, and as long as he doesn't suffer a setback between now and Sunday night he should be in your lineups. Possibly just to be safe you could pick up Aaron Dobson, Julian Edelman or Kenbrell Thompkins for the last spot on your bench just in case Welker doesn't suit up Sunday night.
Michael Crabtree also practiced Thursday, but the likelihood he's activated in the next couple weeks is very slim. ESPN's Bill Williamson writes:
It is not out of the question that Crabtree is activated in time for Monday's game, but it appears to be a long shot. Crabtree, who tore his Achilles in May, must be activated by Tuesday or be shelved for the rest of the season. The 49ers plan on activating Crabtree, even though he may not be ready to play right away.

By all accounts, Crabtree is making strides, but the team doesn't not want to rush him to the field. The 49ers want him at full strength for the final few weeks of the season.
Crabtree is definitely worth a stash on the end of your bench if he's available in your league.
DraftKings Running Back Recommendations
If you've never played on DraftKings before, you can get a deposit bonus by signing up. And there are different options to pick from at DraftKings for any skill level.
At DraftKings you can qualify for the chance to win a million dollar prize starting with just a $2 investment. It's all right here at the DraftKings Millionaire Grand Final.
Here are the rules for the different NFL games DraftKings offers, and I'll go ahead and list the running back scoring settings here:
10 Rushing Yards = +1PT (+0.1PT per yard is awarded)
Rushing TD = +6PTs
100+ Yard Rushing Game = +3PTs
10 Receiving Yards = +1PT (+0.1PT per yard is awarded)
Reception = +1PT
Receiving TD = +6PTs
100+ Yard Receiving Game = +3PTs
Punt/Kickoff Return for TD = +6PTs
Fumble Lost = -1PT
2 Point Conversion (Pass, Run, or Catch) = +2PTs
Matt Forte – $8,200 – at St. Louis – Even with a pretty good defense the Rams have yielded the third-most fantasy points on a per-game basis to running backs this year, and Forte will be one of the best they've seen. Forte's had at least 18 touches in all but one game this season, and he's catching almost five passes a game, which makes him so valuable in a PPR format like at DraftKings. The Rams are giving up 161 total yards a game to running backs, so expect a big day for Forte.
Eddie Lacy – $7,200 – vs. Minnesota – Lacy saw the fewest carries of the past eight weeks last week, but he still managed a touchdown and was active in the passing game. Minnesota's allowed 13 total touchdowns to running backs this season, and it's allowed the sixth most fantasy points to them. Expect Lacy to score at least once this week.
Frank Gore – $6,300 – at Washington – Gore struggled last week, rushing for just 48 yards, but that broke a streak of seven straight games with at least 70 rushing yards. But now he faces a defense that's basically tied for the easiest to score on for opposing running backs. Washington's allowing backs to accrue 148 total yards a game and it's also allowed 14 running back touchdowns this year.
Zac Stacy – $6,200 – vs. Chicago – Stacy should be on most if not all your teams this week as he's got one of the best matchups you could ask for. In addition to giving up 4.5 yards a carry to running backs on the season, the Bears have allowed running backs to rush for at least 123 yards in each of their last five games while surrendering eight touchdowns, too. Stacy's getting the rock on the ground and through the air, and he's also scored three times in his last two games.
Le'Veon Bell – $5,800 – at Cleveland – Bell's not rushing for a good average, but he's seeing a ton of carries as well as catching the ball (four receptions, 45 receiving yards a game in his last four).
Shane Vereen – $5,000 – vs. Denver – Vereen's price is a major value this week, as he led the Patriots in targets and catches last week, and he should see plenty of playing time this week in what figures to be a shootout. Vereen played only 34 snaps last week, but was targeted or touched the ball on 12 of those snaps, catching eight passes for 65 yards. The most likely scenario for this game sees the Pats fall behind sometime, which puts Vereen on the field far more often than Stevan Ridley or LeGarrette Blount.