2013 Fantasy Football Experts Round Table: These Players Will Finish In The Top Ten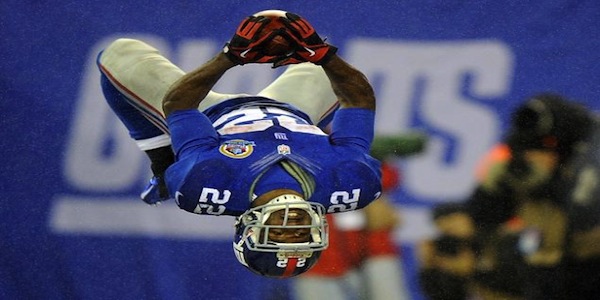 Fantasy Footballers are likely drafting their way through the three-day weekend, the last (!) weekend before the NFL season is finally here. Knowing such, we reached out to some of the best fantasy analysts in the business today to ask them the following question:
Name a player that you do not currently have ranked in the top ten at their position, but has the best chance to finish the season within the top ten at their respective position.
Here is what they said:
Ray Flowers | BaseballGuys.com | Chris Johnson
No one wants Chris Johnson. When you call out his name on draft day it's like – OK, I'll take Chris Johnson (followed by a sniffle as you put your head down). Folks, in a PPR set up, you better believe Johnson could be a top-10 option this year. I'd go so far as to say top-6 or 7 is pretty doable actually. Did you know that Johnson has been a top-12 runner each of the past three years in a PPR league? Charles hasn't done that. McCoy hasn't done that. Lynch hasn't done that. Spiller hasn't done that. Richardson and Martin obviously haven't done that either. Plus, while Charles, Richardson and Foster battle injury concerns, Johnson is completely healthy. Johnson may lose some short yardage work to Shonn Greene, and that's a concern, but if he loses 40 carries this year and picks up 20 extra receptions it will equate to much greater production in a PPR setup. Johnson still has the jets, the Titans' O-line is better than last year (not saying much), and though I've got CJ2K just outside of my top-10 back this year, like I noted, I wouldn't be at all shocked if he was well inside that group by the time the season is over.
Allie Fontana | FantasyFootballConfidential.com | David Wilson
That sound you heard at the end of the first half of the Giants preseason finale wasn't the snap, crackle, pop of Andre Brown's fractured left fibula, it was his teammate David Wilson knock, knock, knocking on the fantasy equivalent of Heaven's door—a potential top-10 finish or better among running backs you can draft as your RB2.  The explosive second-year back with breakaway speed has looked every bit a star-in-the-making this preseason—24 rushes for 179 yards (7.46 YPC), one eye-popping 84-yard touchdown run, and seven receptions for 31 yards. Brown's latest injury blows the door wide open to an increased workload for Wilson that includes third downs, short-yardage duties and additional goal-line carries. I've moved him up to RB13 in standard formats and RB16 in PPR.
He has the talent to capitalize on his golden opportunity, but he'll have to nail critical pass-pro assignments to retain third-down work should New York bring in a vet to shore up the backfield or when Brown returns. It's a risk I'm willing to take in light of all the potential rewards. While others ruminate over Wilson's much overblown fumbling problem, I'd confidently draft him as my RB2 as early as the mid-to-late second round. Doug Martin and Alfred Morris were fantasy difference-makers in their breakout 2012 campaigns, and Wilson is primed for a season in the sun of his own.
Jake Ciely | RotoExperts.com | Reggie Bush/Hakeem Nicks
It would be cheating to say David Wilson now, wouldn't it? Still he is outside the top-10 even after the Andre Brown injury. So, I'll give you two, Reggie Bush and Hakeem Nicks. Injury concerns follow both, more so Nicks, but both easily have top-10 potential. Bush will be the go-to RB in Detroit now, and is there any doubt (if healthy) that he's a lock for 60-70 catches… or more?! Even in a standard league, a healthy Bush could crack the top-10. As for Nicks, we've seen the top-10 results and from 2010-11, only Roddy White and Calvin Johnson had better numbers. Just like with Bush, if Nicks makes it 16 games, we have a top-10 player on our hands.
Brett Talley  | TheFantasyFix.com | Jordy Nelson
According to the consensus ADP compiled by FantasyPros.com, Jordy Nelson is the 19th wide receiver being taken on average. But we're only one year removed from him being the second best fantasy receiver in the league. He's not the 2nd best fantasy receiver, but he's also not the 19th best. What held Nelson back last year was health and and a reduced touchdown rate. I'm not a doctor, so I can't tell you how healthy he'll be. But he is expected to play week 1 which is good enough for me. And if he is healthy, the reduced touchdown rate isn't a huge concern. He scored on an absurd 16% of targets in 2011 and that percentage fell to 9.9% in 2012. But that was still the 8th best rate in the league. Every receiver in Green Bay outperformed their expected touchdown total last year because Aaron Rodgers is the man. Rodgers is still the man, and Nelson seems like a lock for double digit touchdowns as long he's on the field most of the year. How many other guys can you say that about? Not ten.
Jim Day | ProFootballFocus.com | Carson Palmer
When it comes to players who are currently outside the Top-10 at their position based on preseason ADP, the one guy who stands out to me is Carson Palmer. Palmer was traded in the offseason to Arizona and stepped into an instant upgrade at the wide receiver position. Larry Fitzgerald, Michael Floyd and Andre Roberts are definitely a better trio of receivers than Palmer had the chance to play with last season.
When you do look at last year, Palmer was a Top-12 quarterback through Week 14 until the offense imploded over the final weeks of the season. He finished the season with over 4,000 yards, one of only 11 quarterbacks to do that. He averaged over 292 passing yards a game over that stretch.
Not only does he now get a better receiver corps, but he also gets to work with Head Coach Bruce Arians, known for his love of letting his quarterback air out the ball. It is a perfect storm for Palmer and he could easily finish the year as a Top-10 quarterback.
Nicholas Minnix | KFFL.com | Ahmad Bradshaw
That kind of player is likeliest to come from the RB spot. The other positions are just stabler from year to year, obviously. I could pick any number of RBs this year, too — David Wilson, DeMarco Murray, Darren McFadden … for some dark horses, Giovani Bernard, Shane Vereen. I think a surprising choice — if not a great bet, considering his past health concerns — is Ahmad Bradshaw. His combination of skills as a runner, receiver and pass protector put him on the field all the time for an up-and-coming, exciting offense. In PPR leagues, Bradshaw may have ridiculous upside. Will he play 16 games? Probably not. But it's fun to consider. Otherwise, I choose Ben Tate, haha.
John Kerwin |  TheFakeFootball.com | Pierre Garcon
Each year when approaching our fantasy drafts we scour various articles by numerous experts deciphering which individuals have the potential of ascending into the Top 10 tier of positional rankings. There is one in particular I have been targeting across majority of my drafts: Pierre Garcon.
We are talking about a player that was able to accumulate 44 receptions, 633 yards, and 4 touchdowns despite missing six games due to a toe injury that hindered the most lethal aspect of his game, speed. His rapport with Robert Griffin III is unquestioned, and his talent is even more evident. A very reliable deep-threat who had a 70% catch rate last season, and a defensive nightmare finishing 23rd in the NFL with 321 YAC. His 2.94 YPRR – per PFF – was 2nd only to Andre Johnson last year. Ironically, Santana Moss recently stated he expects a monster season out of Garcon, because he will be filling the same "X" receiver position as Johnson in OC Kyle Shanahan's offense.
With Garcon healthy and shining throughout camp, and RGIII prepared to start Week 1, sky is the limit. Barring health, he is my pick to exceed preseason rankings and potentially burst into the Top 10 WR rankings come seasons end.
Alan Harrison | TheFantasyFix.com | Maurice Jones-Drew
Initially, Maurice Jones-Drew was labeled a bust in our draft kit because I was concerned with the running back's ability to bounce back from the dreaded Lisfranc injury. However, I'm beginning to reverse fields here and think he could very well finish as a top ten ball carrier — especially in points-per-reception formats — if indeed he stays healthy. The former Bruin eclipsed the 1,000 yard rushing mark in 2009, 2010, 2011 and was on pace to do so again last season until the foot injury left him sidelined for the remainder of the year. He's also a threat to catch the ball out of the backfield — MJD has just one full season in his career with less than 40 receptions — spiking his value in PPR formats. And in four-of-six complete seasons, he finished with double-digit touchdowns. Yes, I know he plays for the Jaguars, but with potentially his last contract on the line, I feel MJD has a little something left to prove and this has to be the year to do it.
Keep all of the above information in mind when drafting this weekend, these guys could be the ones to help you hoist your fantasy championship flags at the end of the 2013 season.
Thanks to all of the above analysts for taking their time to contribute. Thanks to FantasyPros.com for their ADP data and ProFootballFocus.com for their advanced NFL statistics.