2013 Fantasy Football: Gold Mine Week 9, Foles, Tolbert, McCulster, Miller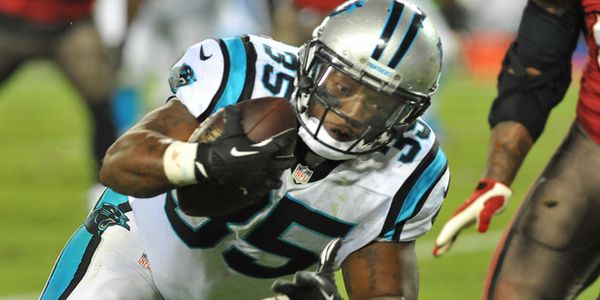 The NFL season is entering into the 3rd quarter of action and has been pretty hectic. I have never seen more up and down fantasy weeks from would be / should be first round talent. From Ray Rice (BAL) 245 yards rushing, to sophomore slumps by Doug Martin (TB) and Alfred Morris (WSH) among others.
But it hasn't just been from the first rounders but a handful of 2nd and 3rd rounders have been just as pathetic on your season. Hakeem Nicks (NYG) has been an absolute bust, and a top 5 QB like Tom Brady (NE) is barely cracking the top 20.
It's these players that are making the 2013 fantasy football season an extremely stressful year, and it has forced you to make some very hectic decisions week in and week out.
With the Broncos, Lions, Giants, and 9ers among others on their bye in week 9 scouring the waiver wire will be a critical step to keep your playoff hopes alive.
Check out these players owned in less than 25% of leagues that can step in for you as your superstars take a break.
Quarterbacks:
Nick Foles (PHI): Foles (11.2%) is making his way back onto the field after battling a concussion received at the hands of the Dallas Cowboys in week 7. Prior to being sidelined Foles, had two straight weeks of at least 19 fantasy points including nearly 500 yards passing a 5 scores combined. Foles certainly had a tough day against the Cowboys before going down but is now being resurrected as the starting QB for the Eagles week 9 match up vs. Oakland. Oakland comes in ranked 18th against opposing QBs and has given up at least 15 fantasy points in 5 of their 7 played games so far.
[am4show have='p3;p4;p7;p9;' guest_error='Front Office' user_error='Front Office' ]
Josh McCown (CHI): Much like Foles, McCown (0.7%) saw playing time when an injury occurred. In week 7, with the Bears battling the Redskins in a back and forth scoring juggernaut Jay Cutler (CHI) went down with a groin injury. In steps McCown who promptly threw for 204 yards and a score without a single turnover. What made McCown even better was his work on the ground as well grabbing 3 more fantasy points. In week 9, McCown and the Bears take on division rival Green Bay Packers who are ranked 20th against opposing QBs.
Running Backs:
James Starks (GB): It is clear the bell cow in Green Bay is Eddie Lacy (GB) but with how dynamic the Packers offense is both Starks (17.2%) and Jonathan Franklin (GB) are getting a piece of the pie. Starks took a carry for the first time since going down with an injury during his week 3 contest against the Bengals scoring a TD and gaining 57 yards on just 7 carries on Sunday. The Packers face the 26th ranked defense against the run in week 9 and despite how good the passing game is for the Packers they will continue to take advantage of the running game as well.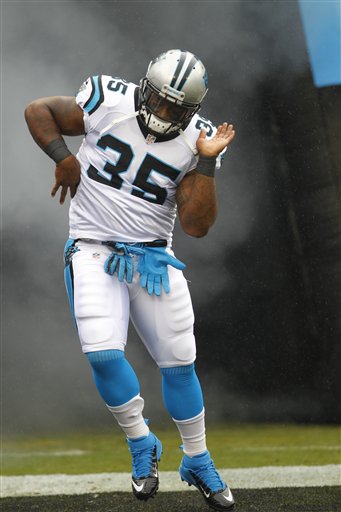 Mike Tolbert (CAR): Tolbert is one of those TD vultures you want on your fantasy team during bye weeks where you need a filler. He isn't very fast and he won't gain you many yards with a high of 36 yards rushing thus far. But, Tolbert (23.4%) has had double-digit fantasy points in 2 of the last three weeks whilst scoring 5 touchdowns in the last 5 games both on the ground and through the air. The match up isn't the best in the world with the 12th ranked defense against opposing HBs but the Falcons passing defense is terrible and the Panthers are going to move the ball and put Tolbert in the perfect position to grab a goal line TD or 2.
Wide Receivers:
Riley Cooper (PHI): I mentioned Riley Cooper (10.2%) last week and I was clearly wrong. His 2 catches for 13 yards didn't add up to much of anything and if you took my advice I apologize. Unfortunately I didn't predict that Michael Vick (PHI) was still injured but wasn't saying anything, or that Matt Barkley (PHI) would come in and be just as bad if not worse. This week Cooper gets his QB back in Foles who I mentioned before. With Nick Foles at QB Cooper caught 10 passes for 208 yards and a TD. The Eagles have another favorable match up with the 22nd ranked defense against opposing WRs. With teams taking advantage of the double team on Jackson, Cooper should be in the right place to score big.
Dexter McCluster (KC): McCluster hasn't been a world-beater thus far, but has been able to pour it on over the last few weeks with 30 total fantasy points. He has secured at least 4 passes and 67 yards in each of the last two with 7 for 67 and a score in week 8. The Chiefs are moving the ball both on the ground and in the air and the match up wasn't nearly as favorable last week as it is this week. The Bills are currently ranked 2nd worst in the league against opposing WRs giving up multiple touchdowns in 6 of the 8 games and no less than 30 fantasy points to wide outs in 2013. With Dwyane Bowe (KC) not playing like we'd all have hoped he would, look for McCluster to continue to get the targets he has been.
Tight Ends:
Jermaine Gresham (CIN): Gresham (10%) hasn't been the most impressive TE despite his size and athleticism that many people thought he would be coming out of Oklahoma (BOOOOMER!). However, he hasn't been terrible either. Gresham has reeled in at least 4 receptions in 5 of the 8 games so far with at least 35 yards in 4 contests. He hasn't found the end zone much but did record a TD in the dismantling of the Jets on Sunday. Gresham is big, strong, and athletic with all the makings of a very good TE but the Bengals offense has struggled at times to get him the ball in situations that would make him successful. In week 9 the Bengals face the 26th ranked defense against opposing tight ends in Miami. Miami has certainly played well against the TE over the last 3 games including stopping Gronk in week 8 but did give up double-digit fantasy points to tight ends in each of the first 4 games this year with at least one score in each.
Zach Miller (SEA): I really like Miller (12%) but I seem to be the only one. Miller has had a bit of an up and down career starting in Oakland where he had at least 44 receptions in each of the 4 seasons topping out at 66 in 2009. His three years in Seattle haven't been nearly as promising but you can't refute he has the talent to be a solid tight end option. Despite only having 15 receptions in 6 games he is averaging more than 8 yards per reception and is tied for the second most TDs of his career. The Seahawks love to move the ball and take chunks out of the air and the ground at a time. With Percy Harvin (SEA) still on the shelf and Sidney Rice (SEA) hitting the shelf with a season ending injury look for Russell Wilson (SEA) and company to get Miller involved. The Seahawks face the Bucs in week 9 whom haven't given up a ton to opposing tight ends but have been susceptible to giving up TDs.
There are only a few more weeks left in your fantasy regular season and with the large number of high volume offenses on byes over the next few weeks its going to be the small moves that keep you relevant heading into the playoffs.
All stats and percentages re from ESPN.com
Follow me on twitter @JustinMandaro and ask me your Sunday morning line up questions.
[/am4show]