2013 Fantasy Football Sleepers: Why Bilal Powell will be a Top 25 Running Back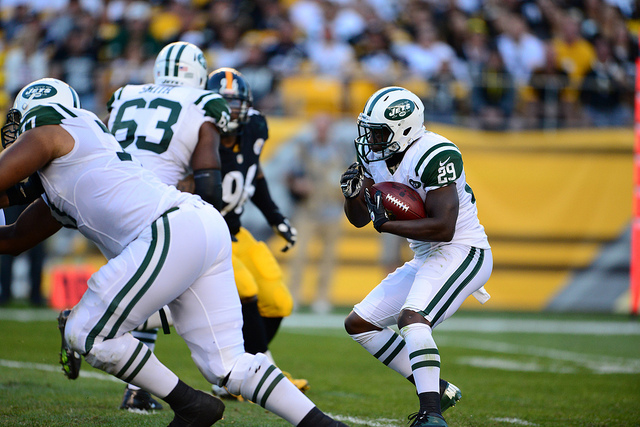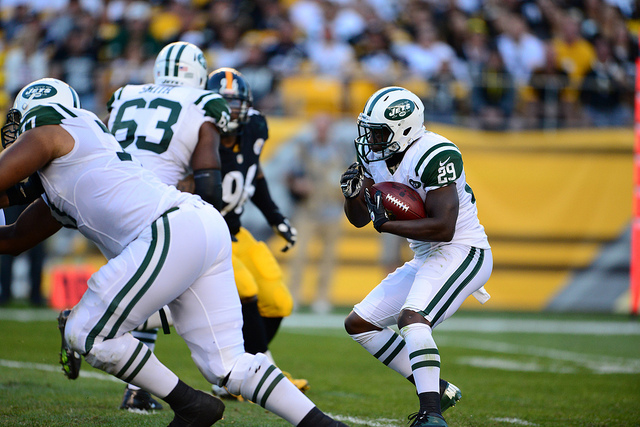 Bilal Powell will be a Top 25 fantasy running back this season.
He's being drafted 52nd among running backs and 145th overall. Sound like something you might be interested in?
Powell is perceived as an unproven backup on a crappy offense, but in reality, he's a very good running back, primed to grab a starting job… in a crappy offense, yes, but not one that will hold back his fantasy production.
The New York Jets are a bad football team, but by one measure, they've actually been one of the most efficient offenses in the NFL in recent years. Of course, because we all know what Mark Sanchez is capable of, that measure has absolutely nothing to do with quarterbacking.
Since Rex Ryan took over the team in 2009, the Jets have ranked in the top seven in the NFL in adjusted line yards, a Football Outsiders stat that basically measures an offensive line's ability to open up holes for running backs. As long as Nick Mangold is still anchoring the line, I couldn't care less who's playing quarterback; regardless of whether Sanchez or Geno Smith takes the first snap of the season, the Jets will be able to run the ball.
Still, they'll likely gain significantly fewer yards and score significantly fewer points than the average offense. But still, yards will be gained and points will be scored, and somebody's got to gain those yards and score those points. The recent past has proven that playing in a bad offense doesn't preclude a running back from scoring plenty of fantasy points.
Last season, nine of the Top 20 fantasy running backs came from the worst 12 offenses in the league; only seven of the Top 20 fantasy running backs came from the top 12 offenses in the league. Just last year, Shonn Greene fought back the chains of a terrible Jets offense to rank 15th among running backs.
Still, Powell has to get the carries to gain the yards and score the points, and though the Jets haven't formally declared a starter yet, they probably didn't bring Chris Ivory in for nothing. Yet, outside of the fact that the Jets chose to sign Ivory with Powell already on the roster, why should we believe that Ivory deserves the starting job? Ivory's hamstring injury has handed the gig to Powell for now, but I don't see much reason why that can't continue once Ivory is healthy.
Ivory had a great half-season in 2010, but he hasn't earned more than 79 carries in either of the last two seasons. He's fattened up his stat line on bad defenses through his three years in the league; Ivory gained at least 30 yards on the ground four times last season, but only once against a rush defense that ranked in the bottom half of the league, according to Football Outsiders' rankings. In 2011, two of his three biggest games came against the 30th and 32nd ranked rush defenses. During his breakout 2010 campaign, every single game in which Ivory eclipsed 50 yards came against defenses that ranked 17th or worse.
Powell toted the rock 110 times last season (though his workload could be attributed as much to the Jets' lack of options as to his talent) and performed exceptionally well, ranking tenth among running backs in DVOA and 17th in DYAR last season. His 5.6% DVOA ranked ten spots ahead of Arian Foster and 20 ahead of Reggie Bush. His average of 4.0 yards per carry is solid, if unspectacular, but it looks quite a bit better when we consider that half of the six games in which he ran for more than 40 yards came against rush defenses ranked in Football Outsiders' Top 10.
Drafting Powell is a risk, no doubt, but there's ample evidence to suggest that whatever running back starts for the Jets will rank among the Top 25 in fantasy leagues, and quite a bit of evidence to suggest that Powell will earn the starting nod over Chris Ivory. For me, that's enough to justify taking him at least 20 spots ahead of his ADP.
Check out my weekly fantasy baseball waiver wire column, 3×3, and follow me on Twitter @gerardowrites.