2013 Fantasy Football Team Profile: The Detroit Lions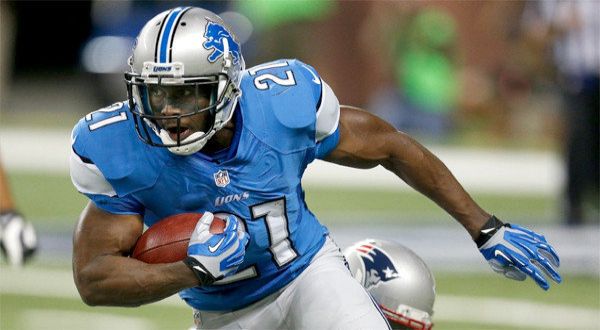 Note: This piece was originally written on July 14th by Davis Mattek and is one of many unique pieces that can be found in our 2013 fantasy football draft guide. None of this information has been updated since it was originally published.
The Lions were really, really good in 2011 and really, really bad in 2012. This, of course, is influencing how people think of their skill position players in 2013. Matthew Stafford followed up his outstanding 5,000 yard, 41 touchdown season with 4697 yards but only 20 touchdowns. The entire offense seemed stuck in traction with no consistent WR2 and plodder Mikel Leshoure hogging snaps from the more effective Joique Bell. Going into 2013 with Reggie Bush, a healing Ryan Broyles and some fresh blood in the 2nd tiers of their pass catchers, the offensive forecast for the Lions is looking up.
Quarterback: The lack of belief in Matthew Stafford as an NFL and fantasy quarterback really underlines a problem with how we as an audience process information; namely, that we let recency influence our perception. The truth is probably somewhere in between Stafford's wildly productive 2011 and mediocre 2012. The acquisition of Reggie Bush highlights the organization's realization that the Jahvid Best role was very important to Stafford and the Lions overall offensive scheme. Because I feel that streaming many of the worthy QB2s is the most optimal strategy, he probably won't end up on any of my squads. But I wouldn't quibble with the position that Stafford has the highest fantasy ceiling of anyone being drafted after Rodgers, Cam and Brees.
SEE MORE GREAT ARTICLES LIKE THIS IN OUR 2013 FANTASY FOOTBALL DRAFT GUIDE!
Running Back: When Jahvid Best wasn't suffering from continual concussions, he was a bona fide RB1. Reggie Bush has stayed healthy for two lead back seasons and is now in the best position of his career to succeed. The former Heisman winner is going to fill a role that the Detroit offense needs in order to succeed. In the last two years, the Lions have targeted running backs 260 times. If Bush gets half of Mikel Leshoure's 48 targets and half of Joique Bell's 69, we're probably looking at a 65 catch season in addition to the 175 odd carries that Bush gets. Bush is a capable and electric receiver out of the backfield that fits in perfectly with what the Lions want to do on offense.
Any concerns about Mikel Leshoure are unfounded. The team gave him the chance to tote the rock, and he responded with a 3.7 yards per carry average. Joique Bell will likely get to play on some passing downs, and he has earned that roll. In deeper PPR leagues, Bell is worth a pick up, as he will likely play more snaps that Leshoure will in 2013. In the event of a Bush injury, it is Bell that will fill the void and not Leshoure.
Wide Receivers: What can be said about Calvin Johnson that hasn't already been said? He is the best wide receiver since Jerry Rice, and despite only scoring five touchdowns last year, he was far and away the best receiver in fantasy.
Other than Johnson, the options at wide receiver are not particularly intriguing. We've already seen Ryan Broyles return from one midseason ACL tear and be productive, but asking him to rehab yet another knee injury and produce opposite Johnson will be difficult. Nate Burleson is who he is at this point; an aging possession receiver, who has no real fantasy upside. Patrick Edwards is an interesting name who has been brought up by Detroit beat writers early in the off season, but the point remains the same after Titus Young's departure: many of these options are unproven and will have their upsides limited by the sheer amount of targets that the RB's, TE's, and Calvin Johnson will demand for that offense to function. If any of these players break out to fantasy relevancy, it will likely be Broyles.
SEE MORE GREAT ARTICLES LIKE THIS IN OUR 2013 FANTASY FOOTBALL DRAFT GUIDE!
Tight End: Ugh. That's all I have to say to sum up the lack of inefficiency from Brandon Pettigrew and Tony Scheffler. Pettigrew in particular was one of the few tight ends to receive over 100 targets, and he still couldn't be a productive fantasy player. Scheffler had 69 targets and caught only 49.8% of them. Perhaps this influenced the coaching staff to sign Joseph Fauria, an undrafted free agent out of UCLA. Fauria has one elite skill; being big and catching touchdowns. He isn't fast and will likely never make an impact between the 20's for the Lions, but as a red zone option, the team could be doing worse.
Defense: Just don't. The Lions should be one of the least owned fantasy defenses. They have to play Aaron Rodgers, Marc Trestman's new high flying Bears, and the efficient (if not exciting) Vikings all twice. The Lions selected Ezekiel Ansah with the number five overall pick; that could end up paying dividends, but it will not do so this year. The best players on the defense are the two tackles; guys who don't rack up sacks or interceptions. Look elsewhere.
Player to Watch: Broyles. He's really the only guy one the team who has the potential to be a huge value. Obviously Stafford has the bounce back potential discussed above, but even if he reaches it, he wouldn't return the same amount of value as big season from Broyles would.
Key Stat: Five. That is the number of times Johnson was tackled on the one yard line in 2013, and that obviously impacted his fantasy production. Any sort of positive regression to the mean in 2013 could give Johnson a chance of posting the most impressive fantasy wide receiver season of all time.