2013 Fantasy Football: Week 11 Eliminator/Survivor Pools Picks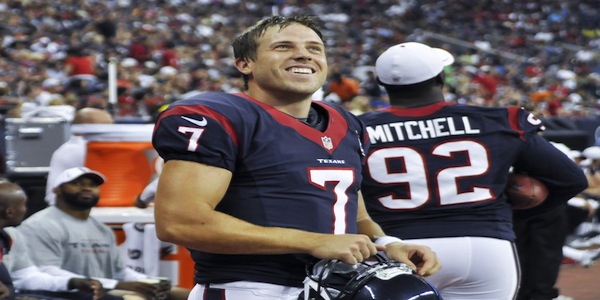 Week 10 will officially go down as Elimageddon. The Jags and the Rams (beating the Titans and Colts) sealed the fates of thousands of those who remained. Those of you still alive in this post-apocalyptic eliminator world, good luck. With the Week 11 games, you are going to need it.
SAFE PLAY: Seahawks- The debut of Percy Harvin has the 9-1 Seahawks buzzing again. Recent close games against Tennessee (20-13), St. Louis (14-9) and Tampa (27-24) started making doubters of even the most loyal 12th Man. Even without Harvin, Seattle has averaged 26.5 points per game. The 2-7 Vikings, with a questionable Christian Ponder (recovering from a dislocated shoulder), somehow manage to average 24.4 points per game. However, their D gives up 31 points per game. The Vikings haven't won on the road (0-4) and the Seahawks have lost at home (4-0). If you managed to make it out of Elimageddon and still have Seattle at your disposal, this is the week to use that bullet.
GET THEM OUT OF THE WAY PLAY: Texans- Hard to pick a 2-7 team, nonetheless a 2-7 team that has lost seven straight. However, since Case Keenum took over two weeks ago, the Texans have lost by only a field goal in each game. The Raiders might be without Terrelle Pryor (dealing with a knee injury) and Darren McFadden (dealing with a hamstring injury) which means Matthew McGloin and Rashad Jennings will be leading Oakland's offense (enough said). In a post-apocalyptic world would you rather trust a Texan? or a Raider?
MY PLAY: Lions- Many think of the Lions as typical high-octane offense that wins indoors/ loses outdoors but they are a modest 3-1 in outdoors games this season (averaging 22 points in outdoor games/ 26.4 points per game for the season). Traveling to Pittsburgh this week has elements of a ''something has to give'' game. The Lions are 3nd in the league in passing yards per game with 307 while the Steelers only allow 201 passing yards per game (tied for 4th fewest). The Lions only have 15 total sacks (29th in the league) while the Steelers have allowed 36 (2nd only to Miami). Matthew Stafford has 567 yards to just Calvin Johnson in their last three games (2-1 in that stretch). I'll take Megatron on my side to make it through this new world we live in, a world that has the Jags and Bucs with a win.
Other Notes: The Cardinals get to face the 1-8 Jags in Jacksonville. The Cardinals D is getting plenty of pub recently but their 298 rushing yards (201 vs Atlanta, 97 vs Houston) the last two weeks also are impressive. With that said, the Jags give up a league worst 153 rushing yards per game… San Diego has travel cross country to face Miami (2-2 at home). As evident of losing to the 0-8 Bucs, the Dolphins are in complete disarray making it a great time to travel to South Florida (and the fact it's 80 degrees in November).
Safe Play: 6-4
Out of the way Play: 6-4
My Play: 7-3