2013 Fantasy Football, Week 11 Aftermath and IDP Waiver Wire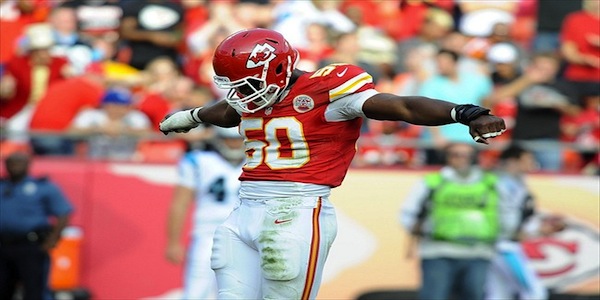 Week 11 is now all packed up and put on the side with all the great plays that were made over the weekend; we have Week 12 approaching right before our eyes but Seahawks, Bengals, Eagles and Bills won't be part of the party.  Sorry Kiko Alonso fans, you're going to have to finally sit him on the bench unless he's one of those LB's who'll give you points during their bye.  It has been an impressive week though for some standout IDP's and I'll chime in on that soon.  Sean Weatherspoon has made it back from his injury (mentioned that if his previous owner dropped him, now's the time to get him) and we're hitting the crucial week in Fantasy aren't we, especially those leagues that play up to week 16 which would mean playoffs start week 13 or 14 and for those who play their title game in week 17 can i ask why? Let's see some IDP top performers from week 11 shall we…
JULIUS PEPPERS, Bears (DL):  11 tackles (8 solo) 4TFL 2-Sacks

GERALD MCCOY, Bucs (DL):  5 tackles (4 solo) 3TFL 3-Sacks
VONTAZE BURFICT, Bengals (LB):  15 tackles (10 solo) 1FR 1FF 1TD 1PD
BRAD JONES, Packers (LB):  13 tackles (11 solo) 3TFL 1-Sack
PAUL WORRILOW, Falcons (LB):  16 tackles (13 solo)
NAVORRO BOWMAN, 49ers (LB): 15 tackles (13 solo)
THOMAS DAVIS, Panthers (LB):  17 tackles (10 solo)
WILL ALLEN, Steelers (DB):  9 tackles (7 solo) 1FF 1-int
JOE HADEN, Browns (DB):  2 assisted tackles 2-int 2PD 1TD
JAIRUS BYRD, Bills (DB):  4 tackles 2-int 1-sack
Some high scoring affairs huh? I wonder if those frustrated Julius Peppers owners sat him (i wouldn't have blamed you) because up to week 11 he hasn't really done anything to warrant a roster spot (if it has to go that far).  I'm not surprised by Burfict and what he's been able to do this season as he was one of my biggest sleepers and had him flirting with LB1 entering the season.  The kid is a beast and the Bengals have gotten a steal when they drafted him; with Atkins out Burfict will anchor that Bengals defense alongside with, you guessed it, Vincent Rey.  Since Rey has been inserted in the starting line-up he's been an animal, racking up tackles and taking names.  The legend that is Paul Worrilow continues into week 11, as he again racked up more than 15 tackles (16 total) and has been on a complete tear in that category, tackle heavy leaguers take notice and hope you grabbed him 3 weeks ago.  As for Jairus Byrd, if he was on waivers prior to his return i hope you went out and picked him up because he's a legit DB1 and has been showing why the last 2 weeks.  But, enough praising these ballers right here and lets go dig into some waiver wire pick-ups that could help you in week 12 so you can get that playoff spot you've been fighting for all season, unless you've already secured a spot and wanting depth to fill in for injured players.
Paul Worrilow, Falcons (LB):  He should be owned in all leagues after his 1st week blowup of 19 tackles, he'll help you during your playoff run as the only LB's I won't bench over Worrilow are the elite LB's.  

Cameron Heyward, Steelers (DL):  Cameron had another solid outing against the Lions and continues to showcase what he got.  Has a favorable matchup the next 3 weeks (CLE/BAL/MIA) and I'd start him as my DL2 with confidence.
Malik Jackson, Broncos (DL):  I've mentioned him before and i'll mention him again as he seems to be in the backfield a lot when i watch Denver games.  He's a lock for at least 1 QB sack and that's pretty much what we ask for from our DL, right?
Don Carey, Lions (DB):  Has been impressive the last couple weeks and getting praise from his coach.  Carey plays nickel CB and safety, if you need a fill-in for this week because you're an Earl Thomas owner then i'd take a look at Carey.
Zackary Bowman, Bears (DB):  looking like a Tillman fill-in and did a decent job in week 11.  If you like to stream DB's, Bowman is one to consider because he'll get his opportunities.  Faces Clemens and the Rams in week 12, wouldn't be shocked if he flirted with DB2 type numbers.
Vincent Rey, Bengals (LB):  looks like we got our answer in week 11 after his week 10 domination, looking like he's here to make his presence known and is he a mainstay? I hope you bought into him if you needed help or had an underperforming IDP (Zach Brown to name one).  Rey has vaulted into LB2 territory and like Worrilow has been racking up tackles.  He's another LB that should not be on waivers, should be owned.
Looking into week 12, I'm going to try something new here and insert who are my top 10 sneaky/must starts and 10 IDP's I wouldn't start.  (Will try and leave the elite's out of this since most are owned, going to lean the route of the wildcards)
10 MUST/SNEAKY STARTS
PAUL WORRILOW, FALCONS (LB)

DATONE JONES, PACKERS (DL)
DEMARIO DAVIS, JETS (LB)
SIO MOORE, RAIDERS (LB)
BRANDON CARR, COWBOYS (DB)
THOMAS DAVIS, PANTHERS (LB)
DON CAREY, LIONS (DB)
CAMERON HEYWARD, STEELERS (DL)
JOHN ABRAHAM, CARDINALS (LB)
MALIK JACKSON, BRONCOS (DL)
10 IDP's who could have a rough day at the office
Chandler Jones, Patriots (DL)
Brad Jones, Packers (LB)
Adrian Clayborn, Bucs (DL)
George Selvie, Cowboys (DL)
Craig Robertson, Browns (LB)
Rob Ninkovich, Patriots (DL)
Dontari Poe, Chiefs (DL)
Zach Brown, Titans (LB)