2013 Fantasy Football: Week 14 Daily Fantasy Football Strategy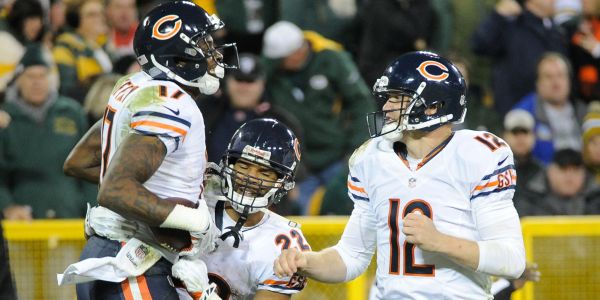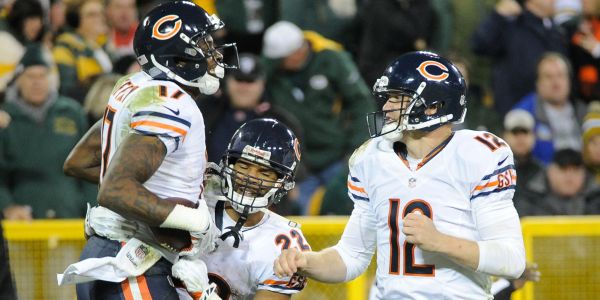 Below I've got what I think are the best plays for Week 14 DraftKings contests. But first I'd like to discuss how I think you should handle using multiple lineups and multiple contest entries.
I used to have this idea that I could pick "safer" teams to use in 50/50 contests where basically half of the entrants double their entry fee. And I would take more risks in top-heavy payout contests. But I've found that's not the case. My "safe" lineups often turn out to be my most productive lineups. So now I enter all my lineups in both types of contests.
I like to get about two-thirds of my money in 50/50s and the other third in top-heavy payout contests. I usually enter each lineup in one of each. If I enter a $10 50/50, then I'll throw that lineup in a $5 top-heavy payout contest.
Alright, to the picks. 
Remember, DraftKings uses a PPR format.
Of the three quarterbacks listed above, Josh McCown is by far my favorite play of the week. He's averaging 18.5 fantasy points per game over his four starts, which would place him fifth among quarterbacks in fantasy points per game if he had started enough games to qualify. He's also averaging 7.9 yards per attempt, which is seventh in the league and above the 7.5 cutoff for the elite in that statistic. So I'm buying McCown. And in this matchup with Dallas, he's an excellent play as Dallas allows the second most fantasy points to quarterbacks. As only the 13th most expensive quarterback, he's also an excellent value play.
The reason I've included a few other names is that, if you're like me, you may want to construct multiple lineups. Matt Ryan and Eli Manning have good matchups and provide some value based on the difference in my ranking of them and their rank according to the DraftKings prices. I'd much prefer Ryan because a couple of his pass catchers are nice options with which to pair him in a lineup. But if you really want to save some coin to spend big elsewhere, Manning is a decent cheap option.
I never expected to see my #1 ranked player at a position to have the lowest cost per projected point at his position, but that's what happened with Matt Forte this week. I mentioned that the Cowboys allow the second most fantasy points per game to quarterbacks, but they allow the most fantasy points per game to running backs. This is a great play anyway you slice it. About the only lineups I won't have Forte in are the ones where I stack McCown and a Bears receiver.
On Thursday I wrote about liking Lamar Miller and Montee Ball more than other experts this week, so I'm not surprised to see them show up as a value plays here. They're both more moderately priced options, but if you happen to have enough money to buy Forte and another big back, DeMarco Murray is a nice option. Or he would be a good option as your RB1 if you have a lineup with McCown and a Bears receiver in it. And if you need some one priced in between the elite guys and Miller/Ball, go with Ray Rice in an excellent matchup against the Vikings.
After compiling this list of the best receiver values, I'm pretty sure you'll be able to spend a bit on other positions. Only one of these guys ranks in the top ten salaries at the position and just one ranks in the top 20. As mentioned, I plan to stack McCown with a Bears receiver, and Alshon Jeffery is the receiver I prefer just because he's cheaper. Neither he or Brandon Marshall has been the clear #1 guy recently. They've basically been receiver 1a and 1b the last four weeks.
The only other receivers on the list above that cost more than $6,000 are Kendall Wright and Keenan Allen. Wright, who is seventh among receivers in receptions, is a PPR monster. Allen has at least six catches and over 100 yards in four of his last seven games. Of the two I prefer Wright just because his floor is much lower with his consistent production in receptions and because the Titans should be throwing a ton against Denver.
The other guys on the list, Harry Douglas, Reuben Randle and Kris Durham, make for excellent pairing options with their quarterback. I like Douglas and Randle a lot because both they and their quarterback showed up as some of the biggest values at their position. So those combos could really pay off big.
As for Durham, he has the lowest cost per projected point by a mile this week. I'm of the opinion that he's still the #2 receiver in Detroit and that he's more of a red zone threat than Nate Burleson. Detroit has a great matchup with Philadelphia, so Durham is the non-Megatron Lion I want on my team. I'll be using Durham in combination with Matthew Stafford in a few leagues, and I'll be using him as a cheap flex if I want to spend big at other positions.
The Arizona Cardinals are historically bad against the tight end. The number of points they have allowed to tight ends is more than three standard deviations above the mean. Jared Cook is only the 18th most expensive tight end, but just about any tight end going against the Cardinals has to be a top ten play. If you can't get on board with Cook (who hasn't done much since facing the Cards in week one), go with Tony Gonzalez as an alternative guy to pair with Ryan or just go with Rob Gronkowski in a good matchup against the Browns.