2013 Fantasy Football: Week 15 Start/Sit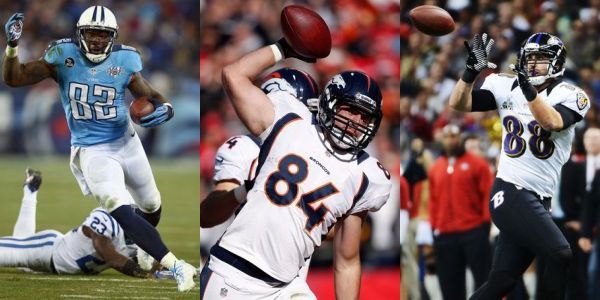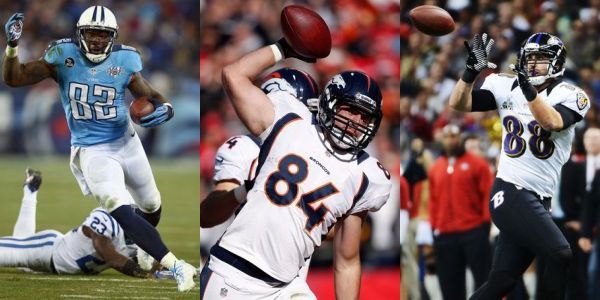 Below are the guys I like or dislike in week 15 compared to the other experts on FantasyPros.com. I'm focusing on guys that are actually on that start/sit bubble. There's no need to tell you I'm lower on DeSean Jackson when I have him ranked #15 and the expert consensus rank (ECR) has him ranked #10. Both rankings tell you to start him.
The names discussed below are Tom Brady, Fred Jackson, Toby Gerhart, Larry Fitzgerald, Marques Colston and potential Rob Gronkowski replacements.
Start 'Em
Fred Jackson / at Jacksonville / ECR: 25 / My rank: 17
Jackson's week-to-week value is pretty much dependent on him finding the end zone. He hasn't rushed for more than 87 yards in any game this year and is averaging just 49.6 rushing yards per game. So I get why the other rankers have him outside the top 20 at running back this week. But I would still start him because I think his chances of finding the end zone are quite good.
Mike Clay of ProFootballFocus has a stat called oTD which basically tells us how many touchdowns a player should have based primarily on the frequency of their usage and the proximity of that usage to the end zone. Prior to week 14, Jackson was third in oTD among running backs. They use him close to the end zone, and there's no reason that won't continue. And the matchup with the Jaguars is a good one as they've allowed the fourth most rushing touchdowns this year.
Marques Colston / at St. Louis / ECR: 20 / My rank: 16
Between weeks five and nine, Colston had a stretch of four games where he had just six catches and three fantasy points. But in the five games since he is averaging 5.8 catches per game and has two games with 100+ yards and at least one score. In two of the other three games he had tough matchups with San Francisco and Seattle. But this week's matchup isn't tough. Of the 111 cornerbacks that have played at least 25% of their team's snaps, the Rams don't have a cornerback in the top 80 of ProFootballFocus' coverage ratings. And Football Outsiders has St. Louis ranked as the worst team in the league against #1 receivers.
Delanie Walker / vs. Arizona / ECR: 10 / My rank: 6
Jacob Tamme / vs. San Diego / ECR: 15 /  My rank: 11
It sucks if you lost Rob Gronkowski in the playoffs, but the good news is that there are actually good replacements available this week. Walker, who is available in about 80% of ESPN.com leagues, has the best matchup possible for a tight end against the Cardinals who have allowed the most fantasy points to tight ends by a mile. And Tamme, who is available in about 99% of ESPN.com leagues, may have a big opportunity. Tamme was targeted five times last week, and all five targets came after Wes Welker left with an injury. With Welker out this week, Tamme should essentially replace him in the lineup. He may not see quite as many targets as Welker would, but he should see plenty.
Sit 'Em
Tom Brady / at Miami / ECR: 11 / My rank: 14
Brady started off slow this year but has really turned it on in the second half. He's got 20+ fantasy points in four of his last five games. So why do I have him in the sit section? Basically I think he's been taking advantage of some good matchups, and I think his matchup this week is a little tougher. When I'm determining good matchups for quarterbacks I look at fantasy points allowed to quarterbacks and the pass defense ratings of ProFootballFocus and Football Outsiders. Below is a chart showing the strength of Brady's matchup in the four recent good games and of his matchup with the Dolphins this weekend.
| Team | Fantasy Pts Allowed to QB | ProFootballFocus | Football Outsiders |
| --- | --- | --- | --- |
| Steelers | 13 | 17 | 17 |
| Broncos | 25 | 13 | 16 |
| Texans | 11 | 29 | 27 |
| Browns | 17 | 23 | 22 |
| Dolphins | 4 | 12 | 9 |
Toby Gerhart / vs. PHI / ECR: 19 / My rank: 26
There's a lot of uncertainty about the Minnesota backfield this week, but it seems like the most likely scenario is that Adrian Peterson sits and Gerhart plays. Assuming Gerhart is healthy enough to carry a full load, I'm still not interested because the Eagles run defense is actually pretty good. They're basically league average in terms of fantasy points allowed to running backs. But ProFootballFocus and Football Outsiders both have them rated as an above average run defense. PFF in particular likes them and have them as the sixth best run defense in the league.
Larry Fitzgerald / at Tennessee / ECR: 18 / My rank: 22
I get tired of typing out matchup data, but the analysis on Fitzgerald this week is totally matchup based. The Titans have two top 15 cover corners and, prior to last week against Denver, they had not allowed opposing receivers to score more than 13 fantasy points in a game since week two. And I don't mean they had not allowed a single receiver to top 13 fantasy  points in a game. I mean they had not let the receivers on a team combined top 13 fantasy points in a game.
Dennis Pitta / at Detroit / ECR: 11 / My rank: 16
I'm sure quite a few experts would recommend Pitta as a Gronk replacement this week over Walker and Tamme. And I would agree that Pitta would be a better long-term play. If you were going into the second week of playoff matchup this weekend and you were way ahead already, I might add Pitta to use in the championship in weeks 16 and 17. But if you need the best play for this week to help you advance, Pitta wouldn't be my choice. It just isn't a good matchup with the Lions. They've allowed the third fewest fantasy points to tight ends and have allowed just one touchdown to a tight end.