2013 Fantasy Football, Week 3 Monday Night Football Preview: Raiders at Broncos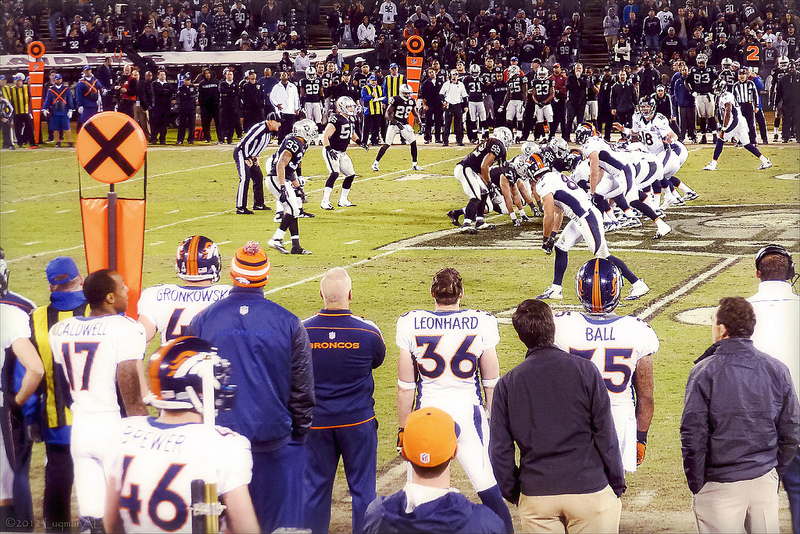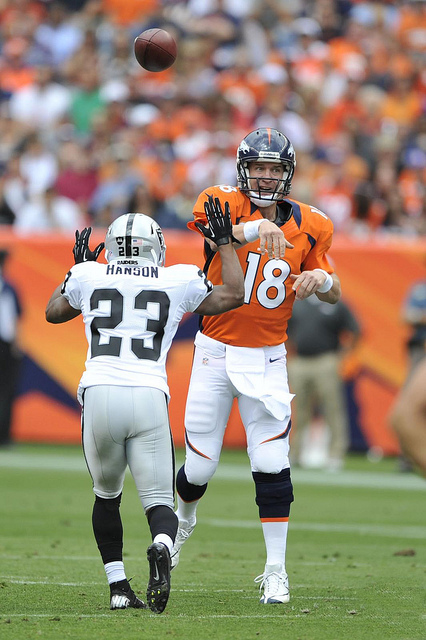 Monday Night Football for week 3 has the Oakland Raiders heading to Denver to take on the Broncos.  Sorry Raiders fans, but you may need to keep the rubber skull masks on for this one to not show face.  An awful Raiders secondary matched up against Peyton Manning and his arsenal of targets wont make for a good matchup. The bottom line here is to start your Broncos, and to not start (and possibly not own) your Oakland Raiders this week.  The Raiders pass rush may give Manning problems, especially with Broncos stud left tackle Ryan Clady out for the year.  Manning will hit quick passes, which boosts targets for Wes Welker, Eric Decker, Julius Thomas, and even running back Knowshon Moreno.  Demaryius Thomas could take a hit here, but I doubt it.  In addition to this, if the Broncos are trouncing them early enough, they will go to the running game to kill some clock, which will give Moreno a big boost in tack-on yards for your fantasy team.  Let's break down the positions and impact.
START: Manning, D. Thomas, J. Thomas, Decker, Welker, Moreno
SIT: All Raiders
QUARTERBACKS: Peyton Manning is going to turn the pumpkin that is the Raiders' secondary into a jack-o-lantern after he's done carving them up Monday night.  The Raiders secondary was bad with Tyvon Branch, and now that he's gone it is defenseless.  He will toy with them.  I'll give the Raiders this, their pass rush has succeeded as they are tied for the league lead with 9 sacks.  What's more is Manning's big time left tackle Ryan Clady is done for the season which makes Manning much more accessible and vulnerable from the left side.  Factoring all of this in I anticipate Eric Decker and Julius Thomas to see a lot of action from short quick passes for solid yardage after the catch.  Long story short, Manning is putting up big numbers for your fantasy team Monday night.
Terrelle Pryor should only be owned in 32 team fantasy leagues.  Do the math…………yup.
RUNNINGBACKS: If Knowshon Moreno looked in his rear view mirror really closely he will see Ronnie Hillman and Montee Ball.  After his showing against the Giants, Montee "Fum" Ball will see limited snaps on Monday against the Raiders and Hillman is all but forgotten at this point after seeing only two snaps last week.  Moreno has taken over and will take the carries and some targets on Monday night.  The Broncos will likely take it to the skies more often though due to the terrible Raiders secondary, so that could affect Moreno's fantasy points running the ball.  However if the Broncos are blowing this one out they will run the ball to kill the clock, offering Moreno plenty of carries for tack on yards.  He should be started regardless, at worst in your flex spot.
Darren McFadden is a no start this week.  The combination of the Broncos' defense and the fact that Manning is likely going to have the ball all game spells disaster for McFadden's fantasy points potential.
RECEIVERS/TIGHT ENDS: Fear not if you are down in your matchup going into Monday and you own Broncos.  All Denver receivers will see their share of targets and fantasy owners should see the points rack up Monday night.  Demaryius Thomas, Eric Decker, Wes Welker, and Julius Thomas are all must starts this week.  The Raiders may have the worst secondary in football this year and Manning will expose it more than anyone.  Oakland's pass rush does have 9 sacks, so expect quick passes for after-catch yards especially to Welker, Decker, and Julius Thomas.
The Raiders lone fantasy wolf for targets is Denarius Moore and he is becoming questionable as a fantasy option.  He is a no play this week against the Denver defense.  With the combination of a lack of supporting targets to compliment him and the ineffectiveness of quarterback Terrelle Pryor, Moore is finding himself on more waiver wires as each week passes.
DEFENSE: The Broncos defense racked up major points against the Giants last week. They will have no problem stopping Oakland's weak offense and will exceed their projected points total.  Their defense should be owned started this week.
The Raiders pass rush has given them 9 sacks early on, good for best in the league.  Keep in mind those were against the Colts and Jaguars, and although the Broncos' offensive line just took a major hit losing Ryan Clady for the season, Manning has little to worry about.  The Raiders defense is a non-factor in fantasy leagues.
BOTTOM LINE: The bottom line is this.  The Broncos should beat the Raiders easily, and I expect them to put up a lot of points on the scoreboard and for your fantasy lineup. The only thing Oakland will be raiding this week is their medicine cabinet for post-game aspirin.