2013 Fantasy Football, Week 3 Start/Sit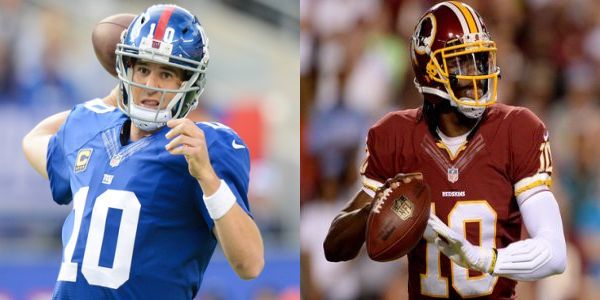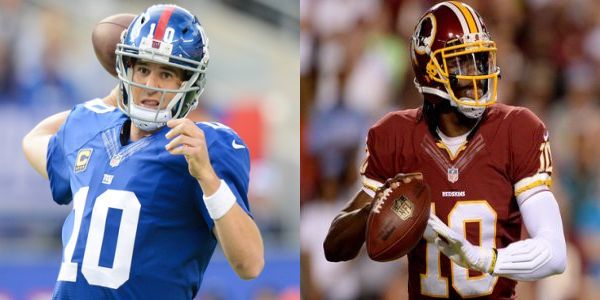 Below are players that I have ranked much differently than the expert consensus ranking (ECR) over on FantasyPros.com. I focus on players that are actually guys that you might be debating about whether to start or sit. For example, I have Randall Cobb ranked 14th at WR, which is quite a bit lower than the average expert rank of 8th. So yeah, I like Cobb less, but I still think you should start him just like the the other rankers do. Instead, I'm going to be talking about guys ranked in roughly the 8-15 range at QB/TE and the 15-30 range for RB/WR.
If you have additional start/sit questions, feel free to ask in the comments below or ask me on Twitter @TheRealTAL.
QB Start – Eli Manning / @ Carolina / ECR: 13 / My rank: 9
QB Sit – Robert Griffin III / vs. Detroit / ECR: 8 / My rank: 11
Originally I had planned on listing Tom Brady as my QB Sit. But if you own Brady, you should not have drafted a backup QB. And any backup you may have added since the season started (i.e. Philip Rivers) isn't worth starting over Brady this week. So even though I have Brady ranked as a sit in 12-team leagues (I have him 13), I can't envision a scenario where you own Brady and one of the twelve QBs I have ahead of him, so you're starting him if you own him.
However, I can envision you owning Eli and RG3. Because of the injury concern surrounding RG3, you should have drafted a backup quarterback if you drafted RG3. And Eli was going outside the top 12 at QB in the preseason, so it's entirely possible you ended up with him as your backup. If you ended up with any other backup, you're still rolling with RG3 because I don't necessarily dislike him this week. But I think Eli has a nice day against a Carolina defense whose secondary is really banged up. They'll certainly be without D.J. Moore, and they could be without a couple of other defensive backs as well.
RB Start
David Wilson / @ Carolina / ECR: 28 / My rank: 20
By listing Eli, Wilson, and a New York pass catcher (spoiler) as "starts" this week, it's clear that I think the Giants will win on the road in Carolina. To be honest, I think the guys in the passing game will do more damage than Wilson, but I have Wilson just inside start territory even though most others have him only as a borderline flex play. I just don't like the other RB options around Wilson. The six guys I have directly behind Wilson are Ridley, Mendenhall, Powell, Mathews, Daryl Richardson and Starks. Aside from Ridley, Mathews was the only one of those guys drafted as a top 30 back. And I also have Wilson a bit higher than most because I'm very low on Trent Richardson (more on him in a second) and MJD, both guys that would normally be ranked ahead of Wilson.
If you go look at my rankings right now, you'll see Wilson at 19. But he'll move down to 20 once I move up whoever turns out to be the starter in the Bush/Bell combo.
RB Sit
Trent Richardson / @ San Francisco / ECR: 20 / My rank: 32
Reasons not to start Richardson this week:
We can't be sure how much work he'll get having just been traded to a new team.

The 49ers run defense is about as bad as matchups get.
Are we sure Richardson is good?
To answer that question, I'd direct you to the Twitter feed of @MichaelSalfino. Michael has been pointing out issues with Richardson this year, and there's a legitimate question about his talent level in my mind. In addition to Michael's points, the fact that the Browns dealt him says something about their opinion of his talent. And TRich's "talent" numbers weren't very good last year. For example, he was 39th in yards after contact per attempt among the 48 backs who got 25%+ of their team's snaps. And only 12.8% of his yards came on runs of 15+ yards, which was 42nd of 48.
With all these factors going against him, I just can't see a scenario where I'd even start TRich at flex.
WR Start
Anquan Boldin / vs. Indianapolis / ECR: 20 / My rank: 9
Boldin is technically ranked as a starter by the consensus, but with a consensus rank of 20 he's on the start/sit bubble. It's possible that you own two other receivers and a flex option that are ranked higher than Boldin by the consensus. But I think Boldin is a sure-fire, no doubt start this week. He's not as good as he was in week one, and he's not as bad as he was in week 2. But if I had to pick which week is more indicative of what he'll do the rest of the year, I would pick week one.
This strikes me as an obvious situation where a player's usage is going to change from the previous year. Boldin was the #2 receiver option in Baltimore last year and one of four options for Flacco. But now he's the obvious #1 option, and the other options aren't as good. I fully expect him to see a high number of targets going forward. And I think he'll be able to do a lot with them against Indy who has an average pass defense at best.
Doug Baldwin / vs. Jacksonville / ECR: 61 / My rank: 39
This recommendation only applies to people who play in deeper leagues and people who play in daily contests. As I mentioned earlier this week, Baldwin is going for super cheap in daily contests and is playing against the Jags who were the worst team in the league against slot receivers last year according to Football Outsiders. Baldwin is the slot guy for Seattle as 73% of the routes he ran last year were from the slot.
WR Sit
Stevie Johnson / @ New York Jets / ECR: 26 / My rank: 33
Stevie is only ranked as a flex play by the consensus, so I'm not sticking my neck out too far by telling you to sit him. But I don't even think I'd consider him a flex play against a good Jets defense and specifically Antonio Cromartie. Unfortunately, my wide receiver rankings lined up fairly well with the consensus this week, so I don't have a bolder recommendation for you.
TE Start
Brandon Myers / @ Carolina / ECR: 13 / My rank: 5
What am I missing here? Why does the consensus have Myers ranked as a "sit" in twelve team leagues? Among tight ends so far this year, Myers is third in receptions, seventh in yards, third in targets, and sixth in percentage of team targets received. They're using him frequently, and usage is half the battle with tight ends. A lot of tight ends have talent, but the week-to-week usage isn't always there. That doesn't seem like it's going to be a concern for Myers this year. He also has a good matchup this week against the Panthers who gave up the 8th most fantasy points to opposing tight ends last year.
TE Sit
Jordan Cameron / @ Minnesota / ECR: 7 / My rank: 12
I wasn't a big Cameron believer in the preseason, but I must admit that he's been one of the two or three best tight ends through two weeks. However, I'm just not loving the idea of any pass catcher having a big day with Brian Hoyer throwing them the ball. I guess you could make the argument that Hoyer might look to Cameron a lot as a safety valve, but I'd prefer to see it before I believe it. I'll admit that this is a tenuous argument, but I'd play it safe here and look elsewhere.
D/ST Start
New York Jets D/ST / vs. Buffalo / ECR: 13 / My rank: 9
I actually prefer the Vikings going against the aforementioned Brian Hoyer, but they've already been added in a lot of leagues this week. The Vikes still only have a 25% ownership percentage in standard ESPN leagues, so grab them if they're there. But in deeper leagues they won't be quite as available. The Jets however are still available in 96% of ESPN standard leagues, and they've played some pretty damn good D so far. They had double digit fantasy points in week one and managed a respectable six points last week against the Pats. And Football Outsiders has them third in defensive DVOA through two weeks. The Bills have some talent on offense, but they're not a terrifying matchup.