2013 Fantasy Football, Week 5 Monday Night Football Preview: Jets at Falcons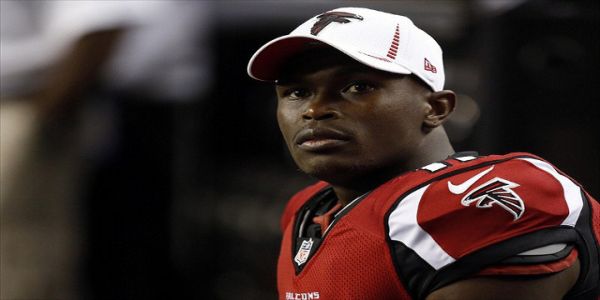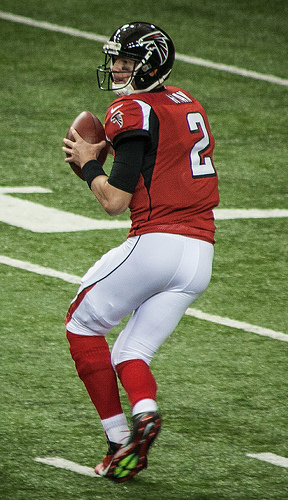 Monday Night Football week 5 is upon us, and we take it to the Georgia Dome as the New York Jets come in to ATL to take on the Falcons.  The Jets will try to establish the running game to own the clock, and also because it's going to be their only strength if receivers Holmes and Hill are still out of action.  If Falcons' quarterback Matt Ryan can establish his passing game early and fix his  red-zone woes with a  connection to Jones or Gonzalez, the Jets will be in serious trouble.  I have the Falcons taking this one down by two scores, and here is your fantasy break down by position!

QUARTERBACK: Matt Ryan is tied for second in the NFC with 8 touchdowns, has a passer rating of 97, and is averaging over 330 yards per game.  He is a top 5 fantasy quarterback in spite of the Falcons' well documented red-zone troubles this season.  The Jets have a very good defense and could stifle Ryan's passing attack if Atlanta's offensive line can't stop the pass rush, but Matt Ryan is an every week fantasy starter, he'll find you points. Consider the fact that the Jets gave up three touchdown passes to Jake Locker, giving up 38 points in total to the Titans.  Now I know Jake Locker was having a solid season before his injury, he's not in Matt Ryan's league.  Ryan will play well at home Monday night.
As far as Geno Smith goes, the rookie quarterback should just not be owned.  There is no fantasy option here at QB from The Jets.
RUNNING BACK: With Steven Jackson still out of action, Jacquizz Rodgers and Jason Snelling will be splitting the carries for Atlanta, which never bodes well for fantasy owners.  There is no determination of who will take the lead here.  The Jets stop running games quite well, giving up only 3 yards per carry, and only 1 rushing touchdown so far through four games this season.  I don't see either back being worth a gamble at FLEX this week.
Bilal Powell has been a pleasant surprise for the Jets, averaging over 130 yards per game over the last two weeks.  The Falcons' do a decent job holding the run but the Jets are limited in their passing attack due to injuries and Smith's turnover tendencies so they will look to establish their running game first.  This is good news for fantasy owners, but only if its effective of course.  If Matt Ryan and company start clicking and putting up points, they will force Rex Ryan's hand to take it to the air which could wipe out Powell's attempts running the ball.  He should be started either way.
WIDE RECEIVER/TIGHT END: Julio Jones is a must start Monday night.  You can bet the farm that the Jets will stick Cromartie on him, but that shouldn't deter you.  Jones will get his targets, especially if Roddy White isn't able to play.  White is currently listed as questionable for Monday night.  Harry Douglas would be getting additional targets in White's absence, but he is not a fantasy play.  Finally, of course, the veteran Tony Gonzalez is a must start as a TE-1. Last week, most of Jake Locker's touchdown passes against the Jets were short gains, as short as 1 yard.  You don't think the combination of Ryan/Gonzalez can carve them up just as easily if not better?  Expect the Falcon's red zone woes to hit pause this week, with Gonzalez being an optimal benefactor.
The Jets' receiving core is thin when healthy, and healthy they are not.  Santonio Holmes is not expected to play Monday, nursing a hamstring injury and a bad attitude.  Even if Holmes was healthy he only performed decently in week 3, otherwise he has been irrelevant.  He's not a reliable fantasy receiver.  The Jets second target Stephen Hill is also not expected to play Monday, out with a concussion.  This leaves Geno Smith with Jeremy Kerley, Clyde Gates, and tight end Kellen Winslow.  New York has only 4 receiving touchdowns this season, and that number will not be padded on Monday.  You can throw Kerley in at FLEX if you're desperate, but there are better options in most leagues.  There are really no fantasy players at wide receiver or tight end for the Jets this week.
DEFENSE: Atlanta's defense is not good, but it should perform well against the depleted Jets offense.  The Jets receiving team is decimated.  Add that to the combination of Geno Smith's inexperience and a raucous Georgia Dome crowd, and the Falcon's defense should perform well.  However, Bilal Powell may be a pest and there are certainly better options to choose from for your defense this week.
The Jets defense can be very good at times, but it is not worth a start against the potent Atlanta offense.  New York's defense is too unpredictable.  They held Brady (granted thanks to missed routes/catches) to 13 points, but gave up 38 to a Jake Locker/Ryan Fitzpatrick combo.  There are better defenses to start this week for your squad, even as a bye week fill-in.
THE BOTTOM LINE: The Falcons are winning this game.  I am thinking somewhere around 24-10.  Matt Ryan will establish the passing attack, which will eliminate the Jets running game, their only strength going into Monday night.  Falcons' running backs can potentially see garbage clock-killing yards late for points, but the meat here will go to Ryan, Jones, and Gonzalez.  After Monday night the Jets will look more like prop planes sputtering back to East Rutherford, New Jersey.