2013 Fantasy Football: Week 7 Start/Sit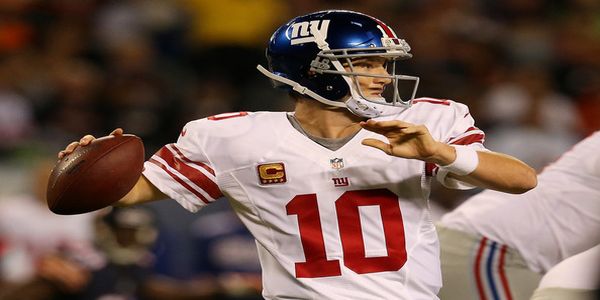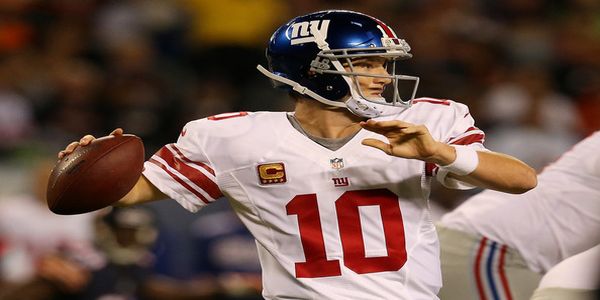 Here are the guys I like or dislike in week 7 compared to the other experts on FantasyPros.com. I focus on guys that are actually on that start/sit bubble. There's no need to tell you I'm a bit lower on Marshawn Lynch when I have him ranked #10 and the expert consensus rank (ECR) has him ranked #5. Both rankings tell you to start him.
Some of the names discussed below are Eli Manning, Nick Foles, Bilal Powell, Keenan Allen, Kyle Rudolph and several others.
If you have additional start/sit questions, feel free to ask in the comments below or ask me on Twitter @TheRealTAL.
QB Start
Eli Manning / vs. Minnesota / ECR: 14 / My rank: 8
Eli has been a complete train wreck this year. He is 23rd among quarterbacks in fantasy scoring, and he has a horrendous 9:15 TD:INT ratio. But those 15 picks have resulted in 6.6% INT% which is completely unsustainable. There is just absolutely no way that Eli continues to be that bad. When you consider his above average matchup with the Vikings, this week seems like a good time for the streak to end. The Vikings have allowed the sixth most fantasy points per game to quarterbacks and are the sixth worst in pass coverage according to ProFootballFocus. Eli is also still averaging 7.5 yards per attempt and 286 yards per game which are both above average marks.
QB Sit
Matthew Stafford / vs. Cincinnati / ECR: 8 / My rank: 12
This is a combination of a bad matchup and a concern about the Detroit offense when Calvin Johnson isn't 100%. As for the matchup, the Benagls are an above average pass defense according to fantasy points allowed to QBs and the ratings of ProFootballFocus and Football Outsiders. As for Megatron's health, it's every bit as likely that he's limited again as it is that he's close to fully healthy as of this writing.
Nick Foles / vs. Dallas / ECR: 9 / My rank: 13
Foles was admittedly great last week in a tough matchup against the Buccaneers. And he admittedly has a great matchup against the Cowboys this week. But I'm just a little hesitant to throw him in the top ten after one start. If you're missing Brees on his bye week, I'm totally fine with Foles as a bye week fill in. With this matchup he's about as good an option as bye week fill ins get. But I'm probably not sitting whoever I drafted as my starter in favor of Foles.
RB Start
Bilal Powell / vs. New England / ECR: 27 / My rank: 19
Powell started the season in basically a 50/50 split with Chris Ivory. But he had worked himself into a clear lead role by week 3 when he got 27 carries to Ivory's four. And then Ivory missed week 4 and Powell's grip on the lead back role seemed even tighter. But then Mike Goodson came back in week 5. Powell continued to lead the team in carries in weeks 5 and 6, but Goodson and Ivory each stole a few carries and limited Powell's load. But Goodson is now done for the season with a knee injury, and I expect this backfield to be Powell's once again. He's got a decent matchup this week with New England whose run D isn't the same without Vince Wilfork and Tommy Kelly.
RB Sit
Danny Woodhead / @ Jacksonville / ECR: 20 / My rank: 29
Woodhead will get some work on the ground, but he does almost all of his damage through the air. That's a problem with San Diego facing a Jags team against whom they shouldn't have to throw all that much. The Jags have also been pretty good against running backs as receivers. Football Outsiders has them rated as the best defense against running backs as receivers, and they've allowed the sixth fewest fantasy points to running backs through the air.
WR Start
Keenan Allen / @ Jacksonville / ECR: 21 / My rank: 17
The Jags are pretty good at stopping running backs against receivers, but they aren't nearly as good at stopping receivers as receivers. They're below average against receivers in terms of fantasy points allowed to WR, and both ProFootballFocus and Football Outsiders have them rated as a below average pass defense. But the main reason Allen is listed as a start doesn't have as much to do with his matchup as some of the other guys discussed here. Allen is mainly here because he's earned it. He has at least 80 receiving yards in each of the last three games and has topped 100 and added a score in his last two. And he seems to be the #1 option there now as he has been targeted more than Vincent Brown in the last two weeks with a 12-4 advantage in targets last week.
WR Sit
Andre Johnson / @ Kansas City / ECR: 17 / My rank: 26
Before we get into the matchup and the quarterback situation in Houston, I've got to point out that Johnson is wildly unlikely to score a touchdown this week. That's because he's unlikely to score a touchdown every week. He hasn't scored yet this year and has just six TDs in his last 29 games. He puts up yardage fairly consistently, but that's not as valuable when the guy doesn't add six fantasy points to his total at least semi-regularly. And yes, the matchup with the Chiefs is horrible, and he'll likely have a backup QB throwing to him.
TE Start
Kyle Rudolph / @ New York Giants / ECR: 12 / My rank: 8
Please do not rank my top ten ranking of Rudolph this week as any indication that I'm buying into his 9/97 performance from last week.  That was the first time Rudolph had even cracked 70 yards in a single game, so I'm still squarely of the opinion that he's one of the many TE2 options who are only valuable in a good matchup with the chance to find the end zone. And that's what Rudolph has against the Giants who allow the sixth most fantasy points per game to TEs and who have allowed the fourth most TDs to TEs.
TE Sit
Greg Olsen / vs. St. Louis / ECR: 9 / My rank: 13
Olsen was in a walking boot prior to last week's game, but it seems like his results were affected by the injury as he only had two catches for 19 yards in a choice matchup against the Vikings. He's still in the boot this week but expected to play again. The problem is that his matchup is much tougher this week against the Rams who allow the fifth fewest fantasy points per game to tight ends.