2013 Fantasy Football, Week Six Aftermath and IDP Waiver Wire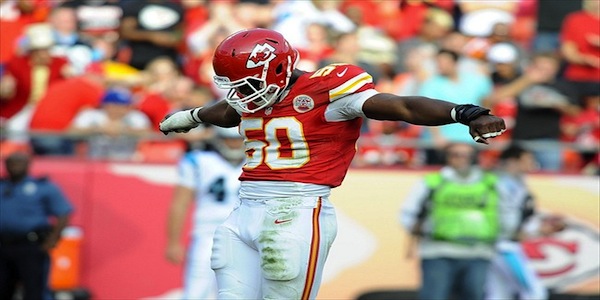 Week 6 in the NFL has come and gone and it was an up and down week for some IDP's, especially Watt owners wondering what happened (same can be said for Jimmy Graham owners on the offensive side).  The injury bug hit hard in week 6 too as a handful of household IDP names went down and will be out for quite some time; but i'll get into this towards the end.  Well, the 3-sacks performance by an IDP continues thru week 6 with Tamba Hali and AJ Hawk and my vote for it to continue thru week 7 is Cliff Avril as he faces the Cardinals on Thursday Night and my dark horse is Corey Lemonier of the 49ers as he'll go up against Fitzpatrick and the Titans.  Let's take a look at the top 5 performers from the IDP positions as we put week six to rest.
TOP 5 DL
MICHAEL BROCKERS (RAMS):  7 tackles / 3 TFL / 2-sacks

MALIK JACKSON (BRONCOS):  7 tackles / 3 TFL / 2 sacks / 1 PD
JASON HATCHER (COWBOYS):  6 tackles / 1TFL / 1FF / 2 sacks
CARLOS DUNLAP (BENGALS):  5 tackles / 2TFL / 1FF / 1 sack
COREY LEMONIER (49ers):  3 tackles / 1 TFL / 1 FF / 1 sack / 1 PD
TOP 5 LB
ALEC OGLETREE (RAMS):  10 tackles (7 solo) / 1 FF / 1INT / 1 PD / 1 TD 

AJ HAWK (PACKERS):  10 tackles (8 solo) / 5TFL / 3 sacks
PAUL POSLUSZNY (JAGUARS):  7 tackles / 1INT / 1PD / 1TD
KIKO ALONSO (BILLS):  22 tackles (9 solo) / 1 TFL
THOMAS DAVIS (PANTHERS):  9 tackles (8 solo) / 2TFL / 2 sacks / 1PD
TOP 5 DB
JASON MCCOURTY (TITANS):  9 tackles / 1TFL / 1FR / 1FF / 1TD

MICHAEL MITCHELL (PANTHERS):  7 tackles / 1TFL / 2INT / 1 sack / 2PD
DA'NORRIS SEARCY (BILLS):  16 tackles (13 solo) / 3TFL / 1 sack
TIM JENNINGS (BEARS):  1 tackle / 2INT / 4PD / 1TD
HUSAIN ABDULLAH (CHIEFS):  3 tackles / 1INT / 0.5 sack / 1 PD / 1 TD
Now, lets look at some of the injuries that hit players this week such as; DeMarcus Ware, Jerod Mayo, Harrison Smith, Chris Clemons, Jerrell Freeman, Calais Campbell and some highlighted IDP's who where inactive before kick-off like Charles Tillman, Bobby Wagner, Robert Ayers.  Your team that rosters either of these players probably took a hit but don't panic as there's replacements out there for you to grab so you can fill the void.  Lets take a look at who you can replace them with shall we…
Jason Hatcher (Cowboys):  Hatcher's been dominant even with Ware in line-up but if he's still sitting there on your waiver, its time to grab him.  
Brandon Spikes (Patriots):  Depends on how long or if Jerod Mayo misses anytime, Spikes gets a bump in value and can be a nice LB3 (surely nowhere near LB1 Mayo but he's the replacement).
Cliff Avril & Michael Bennett (Seahawks):  With Clemons out again, Avril and Bennett become viable as both were solid pass rushers before Clemons came back.  Avril has DL2 upside and Bennett can flirt with DL2 numbers.
Michael Mitchell (Panthers):  Mentioned Tashaun Gipson the past couple weeks and i hope you've grabbed him, now its Mitchell's turn as he had a heck of a game this weekend and it should only continue as he's pretty much the lone healthy safety on roster.  Intriguing DB2 rest of season.
Darnell Dockett (Cardinals):  He'll get an uptick in stats if Calais where to miss some time, but don't be surprised if numbers dip because he could face a bunch of double-teams.
Jon Bostic   (Bears):  with DJ Williams now out for the year, the door should be open for Bostic to man the middle and i'd definitely consider picking him up as he has LB2 potential in this defense but be cautious on who you're dropping for an unproven rookie.
AJ Hawk (Packers):  with injuries to Perry, Jones and Matthews all the tackles and sacks belong to Hawk and he didn't shy away on Sunday as he got to Flacco many times.  He's a definite top 20, possibly top 15 short term until the LB corps start to get healthy.
Looking forward to week 7 – Von Miller makes his return to the Denver Defense and opposing teams just have to pray.  Big question with this is where will Trevathan play now? He's filled in tremendously in Von's absence and I have to wonder if he'll take over the middle job and another possibility is moving over to Woodyard's spot because he's battling an injury himself.  Jon Beason had a nice debut with his new team (Giants) and although he's just 28 years old that could be just a one week showing or he could also prove me wrong but I'm not touching him in short bench leagues or leagues where i start 2 LB's.  Deep bench leagues in need of LB help i may consider picking up Beason if he's available.  Pat Angerer could be the beneficiary to Freeman's injury but we'd have to wait throughout the week how Freeman is feeling.  Keep riding the hot steak of Da'Norris Searcy until Byrd decides to come back because with Aaron Williams moving back to CB – look at the numbers Searcy put up.  DJ Williams (Bears) has also been declared out for the season and one has to wonder does this open the door for Jon Bostic, who showed flashes during pre-season what he's capable of.  As always if you have any questions feel free too shoot me a mention on twitter @IDPwithBEE_DSE and stay tuned for my week seven rankings.
IDP's that moved into must-start territory (if you didn't know)
Approaching Mid-Season already and I just thank you guys for the support & feedback, I'm here to help you bring home a championship and we'll get there one week at a time.