2013 Fantasy Football, Week Two Waiver Wire: Julian Edelman, Julius Thomas Top Priorities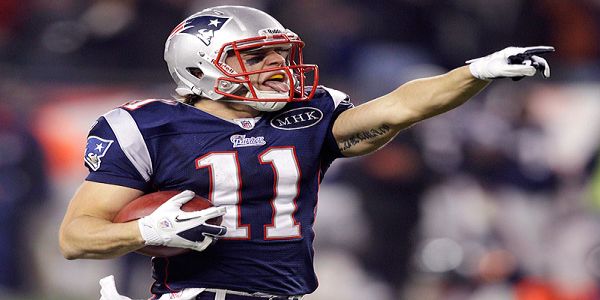 Just two Monday Night Football games remain, but for the most part week one has come and gone. Lots of fantasy footballers will react — or, overreact — to their players performances unjustly during this week's waiver wire period. Plenty of buzz and player recommendations will surface over the next day or two in preparation of your league's waiver period causing owners to make rash decisions and drop players they spent months researching. But if I had one recommendation at all, it would be to sit back, relax and let your league mates be the ones to overreact.
Before we get to this week's potential waiver wire pickups, it's important to note that I WOULD NOT spend my first or second waiver priority on any of the players listed below. Also, players listed below are in no particular order.

Julian Edelman | Patriots
Edelman could be this week's waiver wire gold, if you're willing to blow your priority slot on him. He hauled in seven passes on nine targets from Tom Brady, good enough for 79 yards and two touchdowns against the Bills.
Of the two times Edelman landed in the end zone, teammate Danny Amendola was on the field just once. Why am I mentioning this? Simply because I've seen/heard many folks suggesting that Julian was earning looks based on Danny's absence. However, that's not entirely the case. Brady and the Patriots did a pretty solid job of spreading the targets among their pass catchers — well, with the exception of Zach Sudfeld in week one — so, i'd be willing to be that Edelman will continue to get thrown at.
Edelman makes for a better play in points-per-reception formats, but could be a solid depth addition for your standard league squad as well. If Danny Amendola is a "no-go" on Thursday night, slide Edelman right into your lineups and kick your feet up.
Consider in leagues: 10-12 team
Waiver Priority Worthy: 3 or lower
Players I'd drop for him: Kendall Wright, Cordarelle Patterson, Darrius Heyward-Bey
Be a FRONT OFFICE member today to get access to more exclusive articles like this one!
Rueben Randle | Giants
When defenders have to keep a constant eye on Victor Cruz and Hakeem Nicks, there are bound to be some creases and open spaces for a third wide receiver like Rueben Randle to make some plays. And Randle did just that on Sunday night against the Dallas Cowboys, reeling in five passes on six targets for 101 yards.
Randle runs really clean routes and displays the quickness/elusiveness to make potential tacklers miss after the catch. Waiting to see what he will do with the ball once it's in his hands will leave you on the edge of your seat. The youngster should be targeted in both points-per-reception and standard formats for his high upside and his ability to make big plays with the ball in his hands. Randle is my favorite waiver wire add this week.
Consider in leagues: 12-team
Waiver Priority Worthy: 3 or lower
Players I'd drop for him: Kendall Wright, Ryan Broyles, Darrius Heyward-Bey
Andre Roberts | Cardinals
Arizona's offense appears to be back, well, their passing game does at least. Carson Palmer aired it out 40 times for 327 yards and two scores on Sunday against a Rams defense that some thought could shut the Cards down.
Palmer looked for Roberts on nine of his 40 attempts. They connected eight times for 97 yards — the longest of which went for a 19-yard gain. Roberts failed to get into the endzone, but that's partially because Larry Fitzgerald looks to be back to his old tricks. Although Fitz is back — from where, I don't know — and Michael Floyd is emerging as a legitimate downfield target, Andre Roberts has the making of a fine WR3 in leagues with 12 or more teams.
Consider in leagues: 12-teams and deeprr
Waiver Priority Worthy: 9 or lower
Players I'd drop for him: Ryan Broyles, Jacoby Jones, Aaron Dobson
Brian Hartline | Dolphins
Trusty 'ol Brian Hartline caught nine of 15 targets for 114 yards and a score versus a decent Cleveland Browns (run) defense on Sunday. He earned five more targets than the next closest Dolphins' pass catcher (Brandon Gibson, 10) and ten more targets than the newly acquired Mike Wallace — which he wasn't happy about, by the way. The chemistry between Ryan Tannehill and Brian Hartline seems reminissent of a Match.com first date, as opposed to Tanny and Wallace's "casual encounters" type of experience from week one.
Consider in leagues: 12-team
Waiver Priority Worthy: 6 or lower
Players I'd drop for him: Ryan Broyles, Jacoby Jones, Aaron Dobson
Kenny Stills | Saints
Quite a few analysts were high on the rookie out of Oklahoma entering the twenty-thirteen season and yesterday gave viewers a quick glimpse as to why. He caught two passes for 87 yards on five targets, with one of said receptions going for a 67 yard catch-and-run. The rookie's fantasy point total from Sunday was inflated due to the lengthy reception, so don't expect him to keep up that pace week-in and week-out. But he does have "All-World" quarterback Drew Brees at the helm and the Saints' wide receivers are a tad brittle, giving Stills the opportunity to be a WR3/4 in deeper leagues.
Consider in leagues: 14-team and deeper
Waiver Priority Worthy: n/a
Players I'd drop for him: Jacoby Jones, Santana Moss, Santonio Holmes
Julius Thomas | Broncos
Orange Julius took the fantasy football world by storm on NFL's opening night. Thomas hauled in five Peyton Manning passes on seven targets for 110 yards and two touchdowns. Peyton loves tight ends (insert joke here), tight ends love Peyton (and another here, if you choose) so I think this is a match made in heaven for the former college basketball player. This is just the beginning of the breakout for Thomas. There will always be other tight ends on the waiver wire if this doesn't pan out like I believe it will. Roll the dice.
Consider in leagues:10-team
Waiver Priority Worthy: 3 or lower
Players I'd drop for him: Martellus Bennet, Brandon Myers, Brandon Pettigrew
Joique Bell | Lions, Bryce Brown | Eagles and Fred Jackson | Bills
Bell was handed the ball just six times for 25 yards, but it's worth noting that the two of his resulted in touchdowns, from inside the five yard line. Bell also added five receptions on six targets for 65 yards, making him a fine add in points-per-reception leagues as well. He appears to be the "thunder" to Reggie Bush's "lightning." Both of said backs look to be in line for a big year — and we failed to mention Mikel LeShoure who was a healthy scratch on Sunday.
Bryce Brown is a must add for LeSean McCoy owners. Not, exactly breaking news, I know. For those who saw how impressive McCoy was in Chip Kelly's new offense last night understand that Bryce Brown could be one play away from taking on — and potentially producing — in the same role. I said last night on Twitter that I believe LeSean McCoy could be one of the most exciting players I've seen since Barry Sanders in that offense, but, I'd be lying if I told you his history of concussions didn't scare me. Insurance. Get it.
Like Brown above, Fred Jackson should be added by C.J. Spiller owners for insurance purposes, if he's somehow still available in your league. Or, spiteful owners can make the add and hold him for ransom from the Spiller owners. Jackson earned 17 touches against the Patriots for over 100 total yards from scrimmage. And this is with a healthy Spiller getting 22 touches.
Consider in leagues: 12-team
Waiver Priority Worthy: 4 or lower if you're a Bush/McCoy owner
Players I'd drop for him: Shonn Greene, Michael Bush, Jacquizz Rodgers
Terrelle Pryor | Raiders and EJ Manuel | Bills
Each of these young quarterbacks displayed flashes of brilliance on Sunday and earned their way to this list. Neither appear to be on the cusp of QB1 status quite yet, but there will definitely be opportunities to stream these slingers against weaker defenses this season.
Pryor completed 19-of-29 passes for 217 yards and a score, averaging just a meager 7.5 yards/completion. But the bulk of Pryor's fantasy value, however, came on the ground in the form of 113 yards rushing on 12 carries. He doesn't have the strongest arm out there, but he did show he can hit the receivers between the numbers or on the hands on a variety of different patterns both from in the pocket and when on the run.
Manuel went 18-for-27 for 150 yards and a pair of touchdown tosses from 18-yards out. And the rookie out of Florida State scampered for an additional 23 yards on three carries. Manuel can take the ball and run with it, but he's more likely to sit in the pocket to try and make plays with his arm.
Both of these guys are worth speculative adds in case they make the jump to QB1 status or to stream based on friendly matchups.
Consider in leagues: 12-team, 2-QB, Keeper
Waiver Priority Worthy: n/a
Players I'd drop for him: Jay Cutler, Josh Freeman, Ryan Tannehil