2014 Fantasy Football: All-Sophomore Team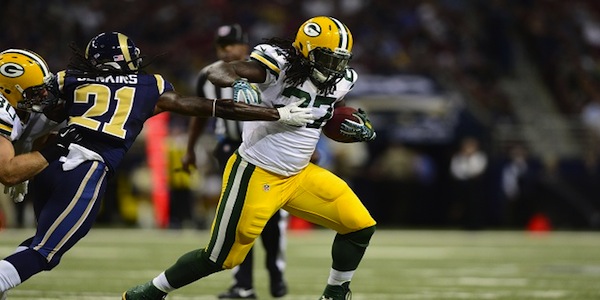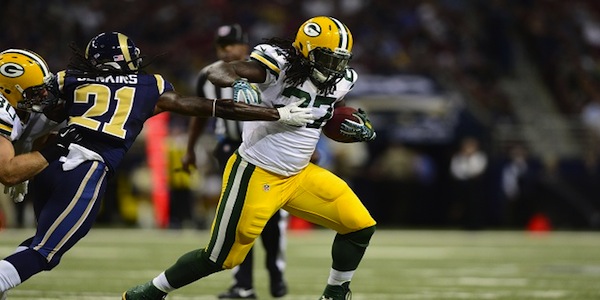 QB — E.J. Manuel
2013 was not exactly the year of the rookie QB. While there's a lot to like about Manuel, there really weren't any other options. Mike Glennon lost his starting job in Tampa, and Geno Smith is terrible. Manuel fought through injuries last season and had a pretty solid year. In just ten games he threw for 1,972 yards and accounted for 13 TDs. He had a respectable 58.8 CMP% and threw only nine interceptions. He showed enough last season to prove he has the potential to be the Bills QB of the future. If he can continue to progress and build off his rookie campaign, Manuel can be a star in this league. He also has the ability to run. He carried the ball 53 times last year for 186 yards and two TDs. While he's not exactly Colin Kaepernick or RG3, defenses still have to respect his ability to take off when he's forced out of the pocket.
RB — Eddie Lacy
Lacy is the prototypical power runner. When Lacy lowers his shoulder, he hits defenders with as much force as any back in the league. He has very impressive speed and explosiveness for a 230-pounder. He also had more of an impact in the passing game than many thought he could. He rushed for 1,178 yards and caught 35 passes for 257 yards. The former Alabama star also broke the plane 11 times last season. Double-digit TDs are something we may come to expect from Lacy. The scary part is he can still improve his game, his potential is limitless. As long as Lacy stays healthy he will have every opportunity to be an elite RB1 in Green Bay. Aaron Rodgers and the passing game only help his value by pulling players out of the box and opening holes. They know they are a better offense when they feed him. He brings something to the Packers they have been searching for. Expect Lacy to be utilized early and often this season and for years to come.
RB — Montee Ball
Last season Knowshon Moreno was No. 4 fantasy back in the league. Ball is younger and a much more talented back. His 4.7 YPC was more efficient than Moreno's 4.3 YPC, although he had half the amount of carries. Ball is versatile and has a knack for the end zone. He set the NCAA career TD record (83), including 39 in 2011. In his final two seasons at Wisconsin he totaled 3,753 rushing yards and 61 TDs.
Ball's greatest advantage is the fact that he has Peyton Manning as his QB. Manning loves throwing to his RBs; he always has going back to his days in Indy. He also gives a runner every advantage. The pressure Manning and his weapons put on a defense, coupled with his unmatched ability to dissect a defense and audible during pre-snap reads, makes it close to impossible for a defense to key in on a RB. Ball has a legitimate shot to be a top five RB this season and for as long as Manning is taking the snaps in Denver.
WR — Keenan Allen
Last season, Allen was the only rookie WR to finish ranked in the top 30 at his position. Allen was the No. 17 WR. He caught 71 passes for over 1,000 yards and eight TDs. After a rash of injuries hit the Chargers WR corps, Allen got his opportunity and made the most of it. He helped lead the way of the resurgence of both Phillip Rivers and the San Diego offense. The 6-foot-2 WR will be the top guy from week one this season. Last year, he actually got off to a slow start, which will not be the case this season. Look for him to improve on his rookie campaign and possibly vault himself in to elite WR1 status.
Patterson showed flashes of greatness late last year, and was even the top rookie receiver over the last four games of the season. He has big time play making skills, and is guaranteed to pass an aging Greg Jennings for the Vikings top spot on the depth chart. He had an extremely slow start last year, but expect him to be heavily involved right off the bat in 2014. He will be Minnesota's top receiver and their go to play maker. He is so dangerous in open space and is one of the most versatile players in the game. He will be involved on both screen passes and deep bombs. Patterson who had 12 rushing attempts for 158 yards and three TDs will also be involved in the running game. On top of all that, if your league gets points for return yards, it was announced this week he will be the Vikings return man. His incredible speed and elite quickness on his 6-foot-2, 220-pound frame is uncanny. Patterson is going to burst on to the fantasy scene in a major way in 2014.
WR — DeAndre Hopkins
All the writing is on the wall for Hopkins to be the 2014 breakout player of the year. In 2013, he had 52 receptions, 802 yards and two TDs. His drop rate of 1.89 ranks him as having the second best hands in the NFL behind only Larry Fitzgerald. Hopkins dropped only one of his 53 catchable targets. Expect him to receive a lot more targets this season. Andre Johnson is 33-years-old and most likely not in new head coach Bill O'Briens favor. The disgruntled future Hall-of-Famer did show up to camp, but he has had all types of issues with the Texans organization this offseason. Hopkins should at the very least take a major portion of Johnson's targets away. Also, new QB Ryan Fitzpatrick isn't exactly a superstar or even very good for that matter. He is however much better than anything Houston put on the field last season. Believe it or not, Fitzpatrick should help Hopkins' fantasy value. Don't be surprised if he emerges as a high-end WR2 this season. He has elite talent in an improving situation.
TE — Jordan Reed
Reed was off to a tremendous start to his rookie campaign. If not sidelined with post-concussion syndrome, the Redskins tight end may already be considered an elite TE1. Reed is unmistakably RG3's go to guy when he's in distress. I expect Reed to have an extremely high volume of passes thrown in his direction this season. With the exception of Jimmy Graham, he has the potential to have more targets than any tight end in the league, and the arrival of Desean Jackson in the nation's capital only increases his value. If he can stay healthy, Reed could be a top three TE. In just nine games last season, Reed had 45 receptions, 499 yards and three TDs. If he can increase his red zone targets, Reed will be an unstoppable force in fantasy football.
Flex — Le'Veon Bell
Bell is a workhorse back that is very versatile. He can run inside and outside, block and catch the ball. The Steelers drafted him to be a workhorse back, and that's what he'll do. They wanted an old school back that can carry the load with a new school ability to catch the ball out of the backfield. In 13 games Bell tallied 1,259 yards from scrimmage, caught 45 passes and scored eight TDs. Those numbers should only improve now that he is 100-percent healthy. He was hindered early last year with a foot injury, but he has proven to be durable over his college career. Expect a huge year out of the Michigan State product. LaGarrette Blount and rookie Dri Archer should not be considered a serious threat to Bell's value. The Steelers historically love this brand of back, and they have been searching for this player for a long time. Expect Bell to get Pittsburgh back to what they do best, ground-and-pound. Bell is a sure-fire RB1 in all formats.
K — Caleb Sturgis
Sturgis began his rookie season very strong, not missing a kick until his 11th attempt in week five. He struggled mightily after that (especially in big moments). Sturgis did however rebound late in the season. Sturgis has plenty of leg and optimistically the struggles were just due to inexperience. He was an outstanding kicker at Florida and showed a lot of potential in his rookie season. At the season's end, Sturgis ended up making 76.5% of his field goal attempts with a long of 54 yards.