2014 College Football: CFB DFS Week 9 — Early Only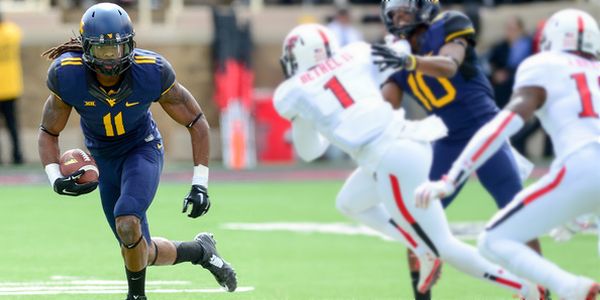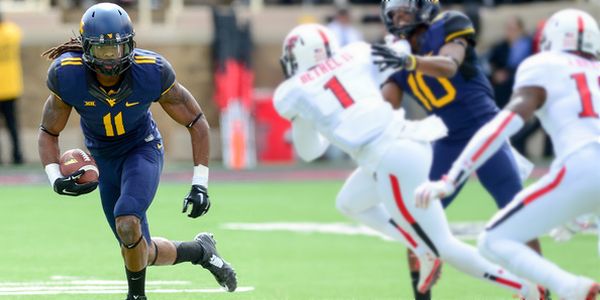 I friggin' love DFS, especially football DFS. I had a decent go of it in NFL DFS last year, and I've done alright so far this year as well. But I'm so addicted to the research and the lineup building that I've also really gotten in to college football DFS. I dabbled towards the end of last year, but I've been playing each week this year. As I've gotten more familiar with the names and figured out a way to do some of my own research on the topic, I figured it was time to start writing a post on the subject each week.
Every week I've been making my lineups based on the research and writing of Ben Pritchett (@naturalslugger) of FantasyInsiders.com and Chris Kay (@realestchriskay) of LuDawgs.com. I cannot recommend their work highly enough. They know the players and matchups better than anyone. You'll have to pay for their content, but it's worth it. This post is free, but I don't know what those guys know. Check them out if you're really serious about CFB DFS. The content below is modeled after their work.
Without further ado, here are my favorite plays from various price ranges at each position for this week's early contests on DraftKings. Within each price range, players are listed in the order in which I would prefer to roster them. This is going to be long, so strap in.
Quarterbacks
High (Priced over $8,000)
Rakeem Cato / Marshall / $8,600 / vs. Florida Atlantic
Cato ranks seventh among QBs in fantasy points this year. He's done that despite a below average number of opportunities (pass attempts plus rushes). In that respect he is similar to Marcus Mariota, J.T. Barrett and, to a lesser extent, Dak Prescott. However, that trio of studs runs the ball a little more and are a bit more efficient than Cato through the air, while Cato is a bit more efficient on the ground. To say Cato is just a cut below those guys is hardly an insult.
Cato is a great play this week because of price and matchup. He's the fourth most expensive QB on the slate despite being the second best QB on the slate in terms of fantasy points per opportunity this year. Forgive the gory math here, but my calculations tell me Cato has performed somewhere between 1.6-2 standard deviations better than the average QB this year, but his price is just 1.1 standard deviations above the mean for this group of QBs. There's value there.
Cato also has a nice matchup against FAU. Sports-reference.com has a method for rating team defenses against the run and pass while adjusting for strength of schedule. FAU is below average at 72nd of 128 against the pass. Meanwhile, Prescott, who averages just about seven more fantasy points per game than Cato but costs $2,600 more this week, will face Kentucky who is 13th best against the pass on a schedule-adjusted basis.
Clint Trickett / West Virginia / $8,300 / @ Oklahoma State
Trickett will get his best matchup of the season this week against Okie State. He's only played one other FBS team with a below average schedule-adjusted pass defense this year, but Oklahoma State is well below average in that department. The other below average defense he faced was Kansas, and he did not have a great day against them. West Virginia led Kansas by four scores at the half, so they didn't have much need to air it out in the second half. But they won't be able to put the game out of reach early against Oklahoma State. The Cowboys should at least be able to keep it close enough that Trickett is chucking it the whole game.
I also probably won't be able to stop myself from throwing Trevone Boykin ($9,900) in a lineup. The price is too high and not justified by his performance to date, but as a Texas Tech fan I fully expect him to thrash the Red Raider defense. But Cato and Trickett are better values.
Medium (Priced between $6,000 and $7,900)
Tommy Armstrong, Jr. / Nebraska / $7,000 / vs. Rutgers
Armstrong has basically the average price for QBs in this slate of games, but he has been safely above average this year in fantasy points and fantasy points per opportunity. His price is average despite above average performance because his performance has been below average in his last three games. He started the year with three touchdowns in each of his first three games against an FCS team, a below average pass defense and one of the worst pass defenses in the country, Fresno State. He has struggled in the four weeks since against pass defenses ranked 6th, 24th, 37th and 109th in the country.
The good news is the matchup is easier this week against the 99th-ranked Rutgers pass defense. And even though Armstrong has struggled recently, he still had at lease 10 carries in each of his last four games. He also totaled more than 50 yards on the ground in each game other than the game against Michigan State's top 10 run defense. Ameer Adbullah gets all the scores, which makes Armstrong not a great cash game play. But there's upside for this price in a GPP.
Paxton Lynch / Memphis / $6,800 / @ SMU
Lynch has been an average quarterback who has an average price. But he has a matchup this week against SMU that is far above average. SMU has yet to hold an opponent to less than 40 points, and they're allowing over 300 passing yards and 2.5 passing touchdowns per game. If you throw out Paxton's woeful performance against the top rated Mississippi defense, he's averaging 27.1 fantasy points per game, which is about what Marquise Williams is averaging per game this year. And Williams costs $2,500 more than Lynch this week. Betting against SMU is one of the safest plays you can make this year.
Low (Priced below $6,000)
P.J. Walker / Temple / $5,300 / @ Central Florida
Walker was pretty brutal against Houston last week completing just 41.4% of his passes and throwing three picks to just one touchdown. But Houston has a top 30 pass defense on a schedule-adjusted basis, so maybe Walker should get a bit of a pass. Walker has had at least two touchdowns in his five other games and threw for more than 200 yards in each of those except for Temple's 59-0 blowout of Delaware State. He has also been consistent on the ground with at least 4.9 fantasy points per game from rushing production in all but the Delaware State game where he didn't have a carry. Central Florida's pass defense is above average but not as good as Houston's, and Walker's price has been depressed because of his rough game against Houston. Hoping for a Walker bounce back game is a nice GPP play.
Running Backs
High (Priced above $6,500)
Devon Johnson / Marshall / $8,400 / vs. Florida Atlantic
Everything that was said about Cato above could somewhat apply to Johnson, and that's not just because they play on the same team. Like Cato, Johnson is at the back end of the top 10 at his position in fantasy points this year despite getting less usage than others in the top 10. I'm now realizing their usage problems are probably a result of each other. Most studs are the focus of their offense, but Cato and Johnson share the studliness for Marshall. And because they are on the same team, the matchup is great for both of them. Johnson has the best matchup of any stud RB in the early games other than Paul Perkins who is dealing with a wrist injury that has his availability in doubt.
Ameer Abdullah / Nebraska / $9,000 / Rutgers
I'll just keep listing running backs on the same team as a quarterback I already listed if that's alright. I mentioned that Armstrong Jr. is just a GPP play because all the scores go to Abdullah who has 16 touchdowns through seven games and 12 in his last four. It's almost impossible to envision a scenario where Abdullah doesn't score at least a couple more times against a Rutgers rush defense that ranks outside the top 100.  I actually think the price is reasonable for a guy that bankable.
To continue the theme of mentioning running backs on the same team as a quarterback already mentioned, I'll have to throw B.J. Catalon ($7,000) in a lineup against my Red Raiders. Tech's run defense is worse than it's pass defense, and Catalon's price is more in line with his production this year, so I like him more than Boykin if you want exposure to TCU.
Medium (Priced between $4,600 and $6,500)
James Conner / Pittsburgh / $6,000 / vs. Georgia Tech
Conner had at least 20 touches in the five games prior to last week's game where he only had 18 touches. It's possible Pitt is making an effort to lighten the load on the kid who already has 175 touches in seven games. But after a quick Google search I didn't find any news stories discussing any plan to lighten Conner's workload. Pitt QB Chad Voytik carried the ball 19 times last week after averaging eight carries per game in his previous five games, so maybe last week was an aberration. Assuming Conner's workload rebounds a bit, he's a pretty safe play for $6,000 against a below average Georgia Tech run defense. Conner should be a good cash game play.
Josh Ferguson / Illinois / $6,100 / vs. Minnesota
On a per opportunity basis, Ferguson is one of the best options in this slate of games, especially with his reasonable price tag. Ferguson is averaging 6.4 yards per touch and 1.25 fantasy points per touch, which is seventh best among running backs available for above minimum price. Unfortunately, Ferguson continues to get about two-thirds of the carries while Donovonn Young gets the other third despite Young averaging less than four yards per touch. If Illinois would let Ferguson shoulder more of the load, he could have a monster game. He has managed a couple of big games (one monster game) despite the timeshare but in matchups that were better than this one is with Minnesota. The upside may not be there, but he's a good cash game play.
If Paul Perkins misses this weekend for UCLA, Jordon James ($4,600) gets very interesting. He hasn't been super effective backing up Perkins, but you don't need to be Barry Sanders to have a day against Colorado. The Buffaloes have one of the worst run defenses in the county by almost any standard. James is a great option in all formats in Perkins is out.
Low (Priced under $4,500)
Charles Jones / Kansas State / $3,600 / vs. Texas
It's obviously not great that Jones' QB, Jake Waters, carries the ball a little more than he does and runs in plenty of scores. And it's also not great that Demarcus Robinson gets as much work as Jones does. And it's not great that Jones doesn't catch passes given DraftKings' PPR format. And the matchup with Texas isn't great. Is that enough bad stuff for you? Despite the very shared workload and the tough matchup, Jones is still a serious threat to score with eight touchdowns in six games. At this price, Jones is a guy you can throw in a GPP and hope he scores twice.
If you didn't end up with Cato or Johnson in a lineup, you could also go with backup RB Remi Watson ($3,100) to get some exposure to Marshall. They're favored by 26.5, and Watson has had 100 yards and at least one score in two of Marshall's blowouts. For $100 over minimum, it's worth taking a shot in a GPP that Watson does it a third time. Tony Zenon ($3,500) and Charles Perkins ($3,700) are interesting if Zach Laskey is out for Georgia Tech's triple option offense. Of the two I prefer Zenon as he's been more effective with his limited touches than Perkins.
Wide Receivers
High (Priced above $5,500)
Kevin White / West Virginia / $9,400 / @ Oklahoma State
White, Nelson Spruce and Rashard Higgins are the class of the wide receivers this year, and White and Spruce are available in this slate of games. White is $1,000 more expensive than Spruce, but I actually prefer the more expensive option. All other things being equal, the two should have the same price, but the matchup is not equal. As mentioned, West Virginia should be in a shootout with Oklahoma State, but Spruce will face UCLA's top 20 schedule-adjusted pass defense. It will be hard to swing a Trickett/White stack in a GPP, but you might want to see if you can make it work.
Tony Lippett / Michigan State / $6,400 / vs. Michigan
This is strange, but Lippett was $1,000 more expensive last week. And I paid that price to own him last week. He didn't score for the first time this season, but he did manage 19.3 fantasy points, which means he has topped 17.5 fantasy points in all seven games this year. The matchup isn't great, but it's not prohibitive. Michigan is a top 40 pass defense, but that's no reason to sit a stud like Lippett. If there's a concern with Lippett it might be game flow as Michigan State could easily throttle Michigan. But the Spartans have blown out four of their seven opponents, and Lippett always gets his. This is a great value.
If you don't like James Conner at running back, Pittsburgh's Tyler Boyd ($5,800) is a solid option in a good matchup. And if Paul Perkins misses for UCLA, maybe Jordan Payton ($5,700) will be the real beneficiary and not the backup running back(s). Payton is probably one of the 30 best fantasy receivers in the country, and his price is depressed after he had his worst game of the year last week.
Medium (Priced between $4,500 and $5,500)
John Harris / Texas/ $5,000 / @ Kansas State
Aside from disappearing against Baylor, Harris has a touchdown or 100 yards in each game. His QB, Tyrone Swoopes, has been decent, which is why Harris been so good, but Swoopes was horrendous in that Baylor game. So I'm willing to give Harris a pass on that one. He is averaging 22 fantasy points per game if you throw out the Baylor game. Kansas State probably has a top 25 defense, but the strength of their defense is against the run. They have a top five schedule-adjusted run defense but are probably outside the top 50 in pass defense. Texas is a two touchdown dog, so they should have to throw it quite a bit as well. So in addition to being good and relatively cheap, Harris has matchup and game flow working in his favor.
Stefon Diggs / Maryland / $5,500 / @ Wisconsin
I guess I can't really mention UCLA's Payton without mentioning Diggs given that their production to date is basically identical, and the difficulty of their matchups this week is about the same. I'd much rather spend a couple hundred bucks more on Payton if Perkins is out, but Diggs had to be mentioned in case you need to save a little money.
Miles Gooch / Virginia / $4,600 / vs. North Carolina
There are a lot of great names in college football, but there may be none better that Mr. Gooch. Gooch had a breakout game last week with six catches for 129 yards in a tough matchup against Duke, a top 40 pass defense. That surely caused a spike in his price this week, but that might be a good thing else he might not have been on my radar for a fantastic matchup with North Carolina. UNC has been the seventh worst pass defense so far, 15th worst on a schedule-adjusted basis. Gooch is the leading Virginia receiver in yardage and has the most catches of any receiver, so he has the best chance to take advantage of this matchup.
If you can't afford to stack Trickett and White, Mario Alford ($5,400) is a cheaper option for a West Virginia stack. Aside from Gooch, Alford could be the best value of this bunch. And if you decide to use P.J. Walker in a GPP, you could stack him with Jalen Fitzpatrick ($4,800).
Low (Priced under $4,400)
Bud Sasser / Missouri / $4,100 / vs. Vanderbilt
The Missouri offense has completely disappeared the last two weeks. They were blanked by Georgia two weeks ago and managed just one touchdown last week against Florida. But to try and explain away the bad performances, Georgia is a top 20 overall defense and Mizzou didn't need the offense so much against Florida as their defense and special teams scored five touchdowns. Sasser is still the top option on this team by far, and he was a safe PPR play for the four weeks before the offense went silent. Because of the recent performance, Sasser's price has dropped precipitously. At this price point he could potentially be a nice value. That said, he doesn't have a ton of upside, so he could be a cheap cash game option.
Jordan Westerkamp / Nebraska / $3,600 / vs. Rutgers
If you decide to go with Armstrong over Abdullah, I like Westerkamp if you want to pair Armstrong with someone in a GPP. Kenny Bell is an option as well, but the two have almost identical statistics and Westerkamp is $600 cheaper. If you're just playing one lineup, an Armstrong/Westerkamp stack is not what I would recommend. But if you're gonna roll out several GPP lineups, throw this stack in one of them and see if it hits.
Speaking of stacks, Tevin Jones ($3,700) or Keiwone Malone ($3,400) could be stacked with Paxton Lynch against SMU, but Lynch feels more like a safe cash game play so no stack is necessary. And Canaan Severin ($3,600) is $1,000 cheaper than Gooch. Surely one Virginia receiver will have a day against UNC, so if you want to take a shot there and save some money, go with Severin.
Tight Ends
No need to break tight ends down by price. There's usually not a ton of upside with tight ends, so just finding a safe value is usually the idea. For that reason I like Cam Serigne ($3,100) of Wake Forest because he's third among tight ends in receptions so far. He doesn't have big yardage and touchdown totals, but the catches raise his floor in the PPR format. Josiah Price ($2,900) is more of a GPP play as he's tied for third among tight ends with four touchdowns but only has 15 catches on the year.