2014 Fantasy Football: Blake Bortles and Teddy Bridgewater in 2QB Leagues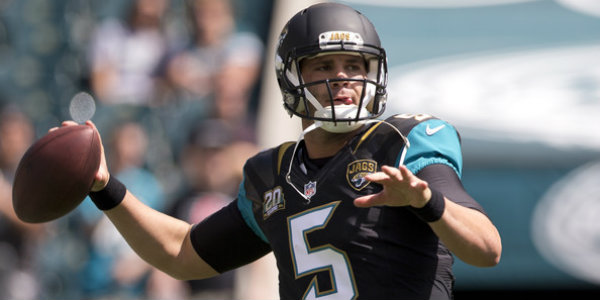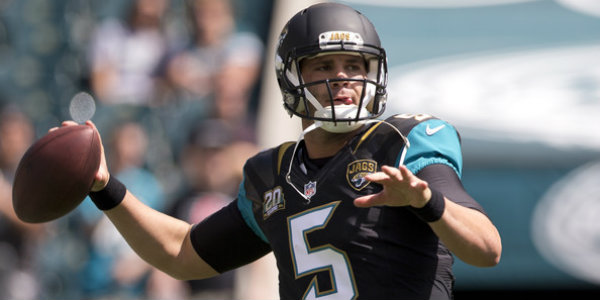 In my opinion, two quarterback leagues are the future of fantasy. This season all four of my leagues are two quarterback leagues. Last year I was in just a single one quarterback league, and the amount of strategy that it invokes just does not compare to a league in which you have to carry two quarterbacks. Two of the leagues I am in are two quarterback leagues with 12 managers, which means there are four teams without a true backup quarterback. This causes quarterbacks to be high priced in FAAB bids and in the draft.
Quarterback is the most important position on the field, so in my eyes 2QB leagues are not a misrepresentation of value. But I digress, this column is about Teddy Bridgewater and Blake Bortles, and I why I would be very excited to have either of them in a two-quarterback league, especially in keeper formats.
To start, as a Rutgers football fan, I saw a lot of both Bortles and Bridgewater in the now AAC and formerly in the Big East. The talent of both was noticeable from the first time they stepped on a football field. Bortles is almost a clone of Andrew Luck with his size, athleticism, and ability to push the ball down field. Bridgewater ran very little in college, but is an impressive athlete himself and learned how to make excellent decisions with the football as he progressed during his time at Lousville.
Bortles
Of the two, I think Bortles is the guy you would be most happy to have. He will take more risks than Bridgewater will, and he will try to push the ball down the field frequently. He also will use his athleticism to scramble out of the pocket, which as we all know is incredibly valuable in fantasy. Adding 20-30 rushing yards a game is a nice little boost on top of passing numbers, and I think that is a reasonable projection for Bortles. In his first half of NFL play, he attempted two rushes for 10 and 20 yards respectively. I think we will see teams dropping back in coverage and Bortles breaking off a decently long run or two and using his size, perhaps immaturely, to his advantage for decent gains.
In the passing game I think we will be looking at a good deal of risky passes, as Bortles projects as more of a gun slinger than a master of precision. Luck's rookie season looks like a solid point of comparison for Bortles, as he completed under 55% of his passes, but still added over 4,000 yards and 23 touchdowns along with a whole mess of turnovers. The turnovers will be frustrating, but hopefully Bortles uses his legs enough to outweigh the interceptions and fumbles.
Obviously those numbers will have to be prorated to Bortles missing two and a half games, but the Jags should be in a good deal of come from behind situations. Their young receivers, much like Bortles, look like they will succeed more when the ball is being pushed down the field rather than on short west-coast style routes.
I like Bortles a good deal in two-quarterback leagues, and I could see him pushing for quarterback one type numbers as the season progresses. If you are looking to add a quarterback, Bortles is a great target before he makes his first NFL start.
Bridgewater
In a league in where I own both Bridgewater and Bortles (along with Jay Cutler and Joe Flacco), I will be starting Bortles over Teddy this week. Overall, I like Bortles a tad more than Bridgewater for fantasy purposes and long term as an actual quarterback. That is no slight against Bridgewater, however, as I am likely higher on Bortles than most.
With that said, Bridgewater is likely the more polished passer at this point, and having an exciting youngster in Cordarelle Patterson and a savvy veteran in Greg Jennings manning the wide receiver spots should allow some of his shorter passes to turn into longer gains.
What I liked about his first taste of NFL play was his willingness to tuck the ball and run. He ran six times for 27 yards, and if he is committed to moving around in the pocket and rushing the ball when the coast is clear, I expect his yard per rush average to jump up quite a good deal. With Adrian Peterson out, he could be in for a Geno Smith-esque rushing year. By that I mean, Smith was not regarded as much of a runner coming out of college, much like Bridgewater, but he turned some heads in his rookie year with over 300 rushing yards and six rushing touchdowns. Teddy ran for just six touchdowns in all of college, so a similar type of uptick in usage on the rushing side could be a nice boost to his fantasy numbers.
Coincidentally, both Bortles and Bridgewater are currently ranked 19th for quarterbacks this week by Yahoo! rankings. With Bortles opposing San Diego and Bridgewater facing the Falcons, I absolutely agree that both should be started in most two-quarterback leagues. I like both of their upside to have solid weeks and hover around the 12-15 ranking on a weekly basis.