2014 Fantasy Football Daily Fix: Week 2 Wide Receivers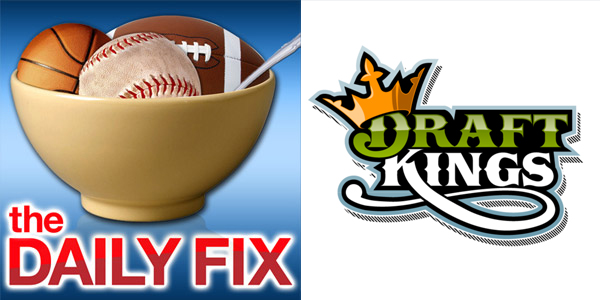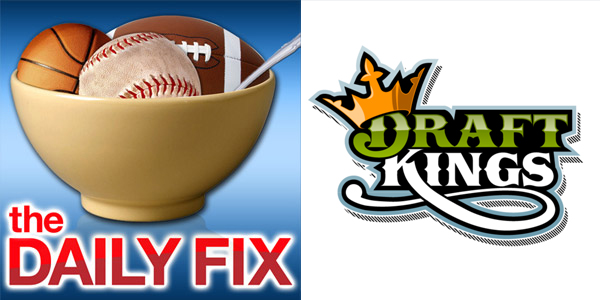 Welcome to Wide Receiver Wednesday at the Daily Fix! Each Wednesday of the NFL regular season I'll provide you with several receiving options that are strong plays that week at DraftKings. Monday through Friday the Fix writers will provide you with a Daily Fix that covers each position, with a weekly roundup on Friday.
Not into the 'Daily' thing yet? Let's talk. It's a ton of fun, you get to start new each week and pick your squad, and DraftKings has a great promo going right now where they'll match your initial deposit up to $600. Do it. Oh, and you get a free year's subscription to our premium content as well in the #FrontOffice.
The Wide Receiver position is loaded with options in this new, ever-prolific passing era of the NFL, so options abound. I'll break it up into tiers, essentially, WR1's, 2's, 3's and FLEX/deep options.
Your WR1 and WR2's are no-brainer starts in your normal fantasy leagues. I'll highlight them if they have an exceptional matchup or price. We're likely going to find some inexpensive plays here week in a week out as well, due to the depth at the position. Scoring and other settings can be found here.
WR1
 Demaryius Thomas – KC @ DEN ($7,000)
My Fix colleague, Brett Talley, wrote an excellent piece yesterday where he took a look at the players that saw the biggest jump in price from week 1 to week 2. If there's a biggest drop in price I bet Demaryius Thomas makes the list. Let's not be silly, folks. Thomas is a steal at this price, he was targeting four times in the end zone but he and Peyton Manning were unable to connect but that won't be an issue moving forward. Play Thomas with confidence.
WR2
Pierre Garcon – JAX @ WAS ($6,400)
So much fantasy goodness in this tier. Pierre Garcon was a PPR beast last season, and he didn't skip a beat in week one. Targeted 12 times by Robert Griffin III, Garcon caught 10 balls last week, and faces the Jaguars in week 2. Replicating Jeremy Maclin's week one performance against these same Jaguars seems very likely for Garcon.
Kendall Wright – DAL @ TEN ($5,800)
If you weren't in the loop, the Cowboys' defense sucks. Gerard Martin and I spent quite a bit of time on our most recent episode of The Football Fix podcast discussing said topic. Like Gerard said during the podcast, not everyone can score for the Titans this week, but I expect Wright to continue to be a target/reception force again. You get a point per reception in most DraftKings games, so get Wright in your lineup on Sunday.
Reggie Wayne – PHI @ IND ($5,300)
Notice a trend? There's a stream of under-priced, safe PPR guys this week and if you're a fan of the 50/50 contests, these are your guys. Reggie Wayne is another high target wideout who's unlikely to disappoint. This should be a high-scoring contest and a healthy Wayne is a welcomed sight to Andrew Luck this season.
Brandin Cooks – NO @ CLE ($5,300)
This price feels like a mistake? (Looks around to see if anyone's looking…adds Cooks to lineup). Alright, I've been able to confirm that this price is correct, and not an error on the part of the fine folks at DraftKings. Cooks was inches away from a 2-TD opening day performance, was featured heavily in the Saints up-tempo offense, and will continue to be worth your attention when he's in this price range. I expect Joe Haden to spend a lot of time with Marquse Colston on Sunday, allowing Cooks to eat all day.
WR3
Michael Crabtree – CHI @ SF ($5,100)
Vincent Jackson – STL @ TB ($5,000)
This feels like an overreaction to a poor week 1. Both of these players were top 20 picks at the position during draft season, and thus priced as WR2's last week. Both had disappointing week 1's, but I don't change my opinion of a player that quickly, and neither should you.
Colin Kaepernick had his coming out party back in 2012 on a Monday night against the Bears, and they'll be a welcomed sight again on Sunday night. Michael Crabtree came out of Sunday's contest no worse for wear, and should be near full strength.
The Josh McCown Experience left a lot to be desired last week, but let's not forget what Vincent Jackson is capable of. He's the perfect complement to some of the safer options in the W2 tier, as his big play ability fits well in tournament-style contests.
FLEX
Andrew Hawkins—CLE @ NO ($4,900)
Last week I gave you Allen Hurns. Allen Hurns, people! This one isn't quite as far off the radar, but Andrew Hawkins is a must-play this week. Regardless of what transpires with Josh Gordon, he's not back this week. Jordan Cameron is beat up after hurting his shoulder again, and Miles Austin is his main competition for targets. So, yeah. Brian Hoyer and the Browns are likely to be playing from behind here, on the road in New Orleans, so look for Hawkins to be the main beneficiary.