2014 Fantasy Football Daily Fix: Week 9 Wide Receivers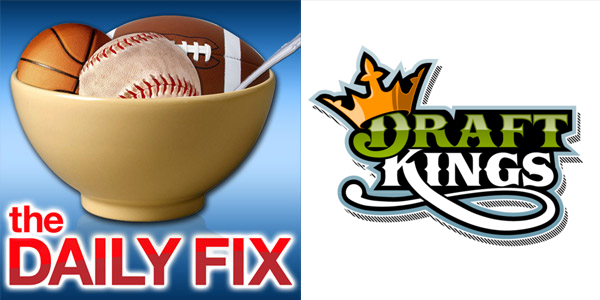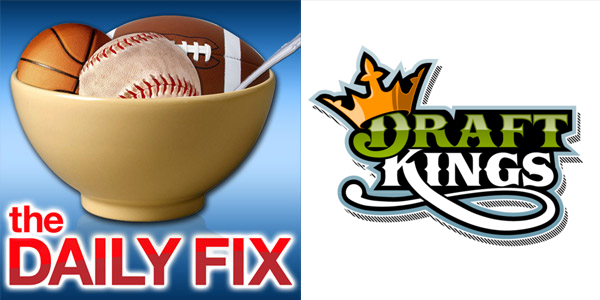 Welcome to Wide Receiver Wednesday at the Daily Fix! Each Wednesday of the NFL regular season @RyNoonan will provide you with several receiving options that are strong plays that week at DraftKings. Monday through Friday the Fix writers will provide you with a Daily Fix that covers each position, with a weekly roundup on Friday.
Not into the 'Daily' thing yet? Let's talk. It's a ton of fun, you get to start new each week and pick your squad, and DraftKings has a great promo going right now where they'll match your initial deposit up to $600. Do it. Oh, and you get a free year's subscription to our premium content as well in the #FrontOffice.
The Wide Receiver position is loaded with options in this new, ever-prolific passing era of the NFL, so options abound. I'll break it up into tiers, essentially, WR1's, 2's, 3's and FLEX/deep options.
Your WR1 and WR2's are no-brainer starts in your normal fantasy leagues. I'll highlight them if they have an exceptional matchup or price. We're likely going to find some inexpensive plays here week in a week out as well, due to the depth at the position. We'll need to dig a little deeper as we're entering bye weeks, but I hope to continue picking winners for you.
Scoring and other settings can be found here.
For reference, you'll continue to see me use both aFPA (Schedule-Adjusted Fantasy Points Allowed) from 4for4.com and DVOA (Defensive-Adjusted Value Over Average) from FootballOutsiders.com. These stats become more reliable each week as have real data points to reference instead of only a hybrid of data mixed with pre-season expectations.
WR1
Antonio Brown – BAL @ PIT ($9,100)
There are so few upper-echelon receiver values this week, and by few I mean none.  I like to target players that have a high ceiling but also offer a cost per point savings relative to their peers. Using the projected point totals from FantasyPros (+/-3); I look for players that'll come in under $400 per point. Based on Brown's projections for the week, he'll barely come in under the $400 mark, but if I'm spending big on a wide receiver it's hard to find a higher floor than Brown. With Jimmy Smith set to miss a few weeks, we have to look at this Baltimore secondary a bit differently moving forward.
WR2
Andre Johnson – PHI @ HOU ($5,500)
The lineups I've already built for Week 9 are chalk full of WR2 types because that's where the values live this week, starting with Andre Johnson. I'd be worried about the Texans inability to score touchdowns, less than 2 per game this season, but this is a juicy matchup.  I wanted to write Johnson off for dead early this season, but his impressive play of late paired with his high target volume make him a nice discount in this spot.
Rueben Randle –IND @ NYG ($5,400)
The only thing that'll keep me from using Randle 100% of the time this week is…nah, I've got nothing. This is a GREAT spot for the young Giants wideout. Coming off of a bye where Roob was able to get a full week of #1 reps in the Giants' offense, Randle faces a Colts secondary without elite cornerback Vonte Davis. What happened in Pittsburgh on Sunday had as much to do with Davis missing 3 quarters as it did with Roethlisberger being 'in the zone'. The Colts entered play against the Steelers as the top passing defense in the league, one especially stout against the opposition's top weapon. Without Davis on the field, the Steelers receivers were running circles (and Spider 2 Y Banana) all over the Colts. Look for more of the same, as the Giants plan on being more aggressive here as we start the second half of the season. Randle goes OFF.
Mike Wallace– SD @ MIA ($5,200)
Mike Wallace had been extremely consistent this season prior to last week's outing against the Jaguars, but that was to be anticipated due to a lack of volume. We're rewarded with a deep discount this week and I'm going to take advantage. Wallace will crack my top-10 at the position this week, but comes in at 22 on DraftKings salary/rank. The gameflow here is likely to keep Wallace involved, and the Chargers rank 26th in DVOA against the pass. Giddy up.
WR3
Julian Edelman – DEN @ NE ($4,100)
A lot of Daily players were big on Edelman last week but I didn't understand it. This week I'm all over him. Yes, the price will never be better, but more importantly I like the matchup. This Denver defense is elite, and their ability to close the pocket quickly on Brady will make Edelman's ability to get open vital. In the 2 contests last season Edelman totaled 19 catches on 26 targets including 3 scores. I know his usage is down this season, but as the Patriots narrative goes, no one specifically game-plans more for each new week than Bill Belichick.
Brandin Cooks– NO @ CAR ($4,100)
I just received news that my restraining order on Brandin Cooks has been revoked, so wa-la! He's back. On Sunday night we all got the Brandin Cooks show that we so desperately were seeking. End-arounds, quick slants, 9 routes…we got it all. Give Sean Payton credit for realizing during the bye that they needed to find more ways to get the ball into Cooks' hands and we can expect that to continue. I know that the Saints hate the sun and play much differently on the road, but I think that game-flow benefits Cooks here, as the Saints will need to continue to pass all game, keeping Cooks heavily involved.
FLEX/Lottery Tickets
If you played Robert Woods like I had suggested than I'm sure you were as frustrated as I was on Sunday. After two drives Woods had a nice afternoon started, catching 3 balls for 50 yards and a score. Shortly thereafter he left the game with an injury and never returned. Sammy Watkins owners rejoice.
This week I don't have a $3,000 play that I'd be comfortable starting, but it works out well since you can save money overall by starting the WR2's/3's instead of the big money options at the top. With that said, here are some interesting names with good matchups/cost:
Michael Floyd– AZ @ DAL- ($3,800)
Dude, trust me I know. I was all over Floyd last week. He got banged up early and was a shell of himself the rest of the afternoon. It's hard to trust him this week but that price is incredible for a player with this potential.
Jarvis Landry– SD @ MIA ($3,400)
For all the reasons above. See Wallace, Mike.
Kenny Britt– STL @ SF ($3,100)
You feel as good about using Kenny Britt as I do recommending him. Let's look at the situation though. He's near minimum price, and the opportunity potential took a step up this week with Brian Quick going down for the season. Britt is a safe bet for at least 7-8 targets in what seems like a game that'll involve lots of garbage time for the Rams.