2014 Fantasy Football: DraftKings Price Risers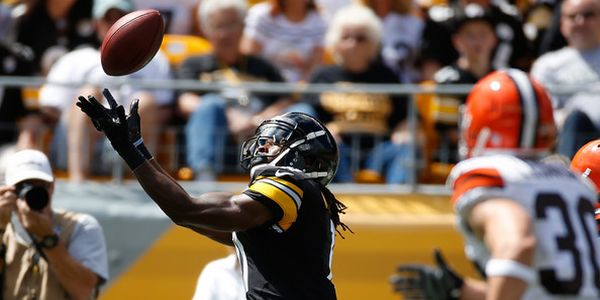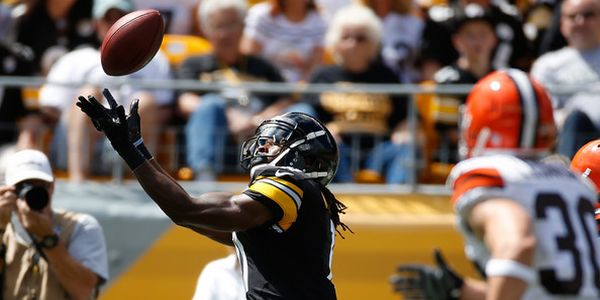 Prices in week one daily contests are largely based off the perception that develops over months during the offseason. Matchups also affect prices (although they shouldn't this early in the year), but, as you can see below, there was a pretty strong relationship between ADP and prices in week one.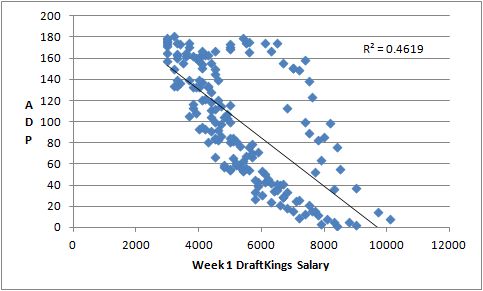 After just one week, some players have seen their price increase drastically. Here is a chart showing the players who have seen the largest increase in price from week one to week two.
It makes all the sense in the word for all the running backs on the list to be there. All four have excellent chances to get much more work in week two than they got in week one. And that extra work makes the extra money worth spending. But the pass catchers on the list may not be so deserving of their price increases.
Let's start with last week's breakout star, Hurns. First of all, kudos to Ryan Noonan for calling that last week. Hurns certainly deserves more than the minimum price this week and substantially so. In addition to two scores on Sunday, Hurns was targeted nine times. It's nice to see such a breakout come with a substantial target total and not just a couple of scores. If Cecil Shorts misses anymore time, Hurns could continue to receive many targets. But even if Shorts is out again this week, Hurns doesn't deserve to be the 31st most expensive receiver. This is a guy hardly anyone had heard of last week who can't be counted on to score again this week. The matchup with Washington is nice, but even if Shorts is out, you can get a lot more certainty out of your $5,100 (Michael Crabtree, $5,100) OR a lot more upside (Torrey Smith, $5,000).
Similar analysis could fit any other pass catcher on the list. Avery shouldn't be priced like a top 40 receiver based on his 13 targets last week with Dwayne Bowe returning to the lineup. There was a lot to love about Bennett in the preseason, and 70 yards and a score on 10 targets makes him even more attractive. But is that enough to validate the jump in price point from borderline top 10 tight end to borderline top five tight end? And is 46 yards and a score enough to send Streater from top 60 receiver to borderline top 40 receiver? Similarly, Quick has just his second career game with more than 50 yards receiving, and he's in the top 40 conversation? And Kelvin Bejamin is a top 20 receiver after just one week? Benjmain has all the upside in the world, but it's way too soon to be paying WR2 money for him. The same goes for Smith. If his ADP is any indication, we'd all pretty much given up on him. But after one week he's back in the top 20 receiver conversation?
If there is one pass catcher that deserves their price increase, it's Markus Wheaton. That's primarily because his week one price was much lower than it should have been. The expert consensus ranking of Wheaton in the preseason was 45th among receivers, but his week one price was the 70th cheapest among receivers. His strong week one performance earned him a bump up to where the experts thought he should have been to begin with. He obviously won't be the value going forward that he was last week, but he's still not a bad value. The other receivers on the list have surpassed their expected value and should be avoided. But use Wheaton if you like.