2014 Fantasy Football: Potential Wide Receiver Sleepers To Target In Your Draft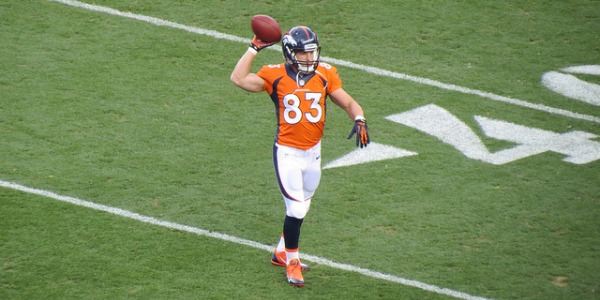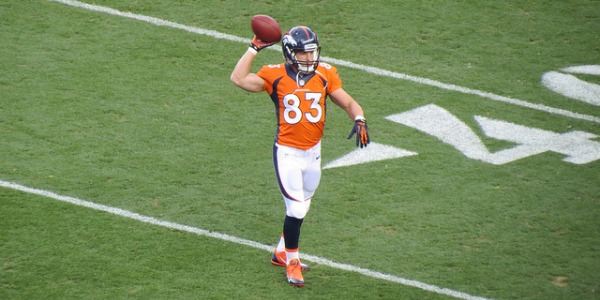 Note: This piece was originally written on July 15th by Jake Ciely and is one of many unique pieces that can be found in our 2014 fantasy football draft guide. None of this information has been updated since it was originally published.
Wes Welker (25th among WR/62nd overall) – Everyone knows Peyton Manning is still the quarterback right? Maybe not. Maybe they also forgot that Eric Decker is gone and Emmanuel Sanders needs to prove that he's an equitable replacement (early reports are good). They seemingly don't remember that Welker finished 20th last year with three games missed. I understand the age/injury concern, but dropping Welker down into the mid-20s is a bit much. Last year was only the third season Welker even missed time, and he's never missed more than three games in a year. Peyton + 16 games = another Top 15 WR finish, and even if Welker misses a few games, you'll simply get your draft value in return.

Golden Tate, Lions (39/97) – Tate is the 39th receiver off the board currently, and I am more than shocked. Playing for the Seahawks with a run-heavy offense and Russell Wilson at quarterback, Tate finished 29th last year. And I do mean run heavy! The Seahawks finished 26th in passing offense and second to last in pass attempts. The Lions? Oh, they simply finished third and fifth. Tate gives the Lions their long-desired No. 2 receiver across from Calvin Johnson, and Tate should post career numbers.
Cecil Shorts (43/114) – I'm a sucker for Shorts, even though you don't want to see my pale white chicken legs. Shorts sits atop the depth chart with no Justin Blackmon and two rookies behind him in Allen Robinson and Marqise Lee. The targets will be plentiful, as Shorts should near the 120-plus range. Even with subpar quarterback play, Shorts should post his first 1,000-yard season and chip in a couple touchdowns. That's worthy of WR3 status.
You can get our #FrontOffice package, which includes the kit ($20 value) for FREE by depositing $10 at DraftKings here. 
Dwayne Bowe, KC (49/123) – Bowe's current ADP isn't too far from his 2013 finish of 44th. Last year, we saw Bowe's second worst numbers of his career, and you could say it was his worst, as 2009 was due to five games missed. To be fair, Bowe was adjusting to a new offense and quarterback, and late in the season, Bowe's numbers improved. Alex Smith's rapport with Bowe improved, and Smith started going deep more often. Bowe shouldn't be your WR2 and won't post that kind of value, but he is set up for a bounceback season.
Marvin Jones, CIN (52/128) – Jones finished as the 21st receiver last year, yet he played on just 47.9 percent of the Bengals snaps. Before we go further, know that I've endlessly warned people about Hue Jackson and his love for the run. The Bengals won't pass as much this year, and Andy Dalton won't near those 586 attempts again. However, that doesn't mean Jones won't emerge as the No. 2 threat in the passing game or reach the upper teens in target percentage. As such, Jones will finish with more receptions and yards, which will offset the likely drop in touchdowns.
Editor's Note: Marvin Jones has been injured since the initial writing of this article. He'll miss a approximately three regular season games.
Doug Baldwin (69/184) – I just don't get it. One of my offseason campaigns seems to be falling on deaf ears, as Baldwin still isn't getting respect. Baldwin had 73 targets, 50 receptions, 778 yards and five touchdowns last year. Those numbers helped Baldwin finish as the 37th best receiver. Yet, Baldwin is 69th in ADP right now! Sixty ninth! Tate is gone, and Percy Harvin steps back in to be the focal point of opposing defenses. Baldwin will be allowed to exploit the weaker matchups again. Plus, when Harvin suffers another injury, who steps into that No. 1 role? Don't tell me it will be Sidney Rice, who can't stay on the field either. Baldwin should post near-identical numbers to last season, which is why you all baffle me by dropping Baldwin to almost undrafted status!