2014 Fantasy Football: Somehow Matt Forte Is Underrated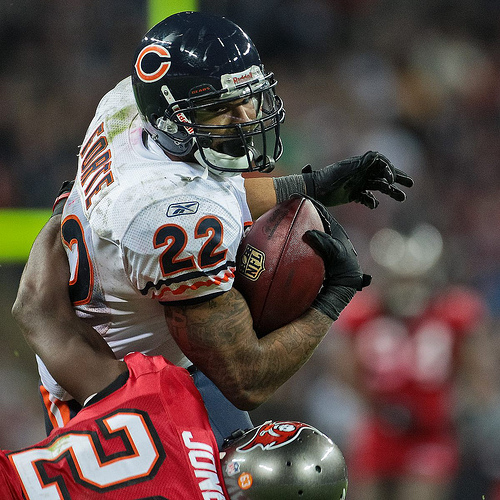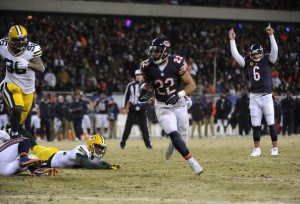 There's been so much discussion around early round draft strategies this season, perhaps more so than ever. Due to the ever increasing running back by committee approach and the lack of production from running backs that were perceived to be elite last season, wide receivers are all the rage. With the way officials are calling games so far, rightfully so. When first round running backs are discussed however, it appears to be a 'Big 3' and everyone one else. In some order, it's LeSean McCoy, Jamaal Charles and Adrian Peterson. Am I missing something? I need to be convinced why Matt Forte isn't in the top group at the position. Today, I want to tell you why I think he's the best pick you can make in the first round.
The 'best pick' doesn't necessarily mean he should be the #1 pick, but my point is that I'm surprised he's not in the discussion. Over at FantasyPros, Forte is on average the 4th player off the board based on ADP and the expert rankings, behind the previously mentioned 'Big 3'. Of the 115 experts listed on the site, including yours truly, 25% have Forte ranked lower than 4th overall. Let's take a look at how Forte stacked up to his peers last season.
I've listed where each player ranks in both rushing and receiving Defense-adjusted Yards Above Replacement, or DYAR. This gives the value of the performance on plays where this RB carried/caught the ball compared to replacement level, adjusted for situation and opponent and then translated into yardage. Let's contextualize this and see what it means for the presumptive 'Big 3' for the upcoming season.
| PLAYER | TEAM | CARRIES | YARDS | TDs | RushDYAR Rk | REC | TARGETS | YARDS | Rec TDs | RecDYAR Rk |
| --- | --- | --- | --- | --- | --- | --- | --- | --- | --- | --- |
| Jamaal Charles | KC | 259 | 1288 | 12 | 3 | 70 | 104 | 693 | 7 | 7 |
| LeSean McCoy | PHI | 314 | 1607 | 9 | 1 | 52 | 65 | 539 | 2 | 8 |
| Adrian Peterson | MIN | 278 | 1264 | 10 | 25 | 29 | 39 | 171 | 1 | 43 |
| Matt Forte | CHI | 288 | 1338 | 10 | 4 | 74 | 94 | 594 | 3 | 11 |
Rushing
These four are no-brainer bell cows for their respective clubs, and we should expect that to continue this season. They're in this discussion because they're likely to stay on the field regardless of the situation. It's worth noting that the Chiefs face a much more difficult schedule this season, the likelihood of playing from behind more will certainly impact Charles' carries, but I'm splitting hairs. I think the loss of two starters from last season's offensive line is more impactful than the score or what Knile Davis is doing. Peterson will continue to be the focal point of the Minnesota offense, but the unlikelihood of much improvement in the passing game outside the hash marks will allow defenses to continue to stuff the box and focus on 'All Day'. The addition of Darren Sproles should have little to no impact on McCoy's carry totals in Philadelphia, and the break-neck speed in which Chip Kelly intends to run the Eagles offense makes it likely that a healthy McCoy approaches 300 carries again.
Receiving
The chart above shows a real separation in the receiving numbers with Peterson clearly a step or two behind his peers. New offensive coordinator Norv Turner has made a habit of featuring both his tight ends and running backs heavily in the passing game, so a bump here is a reasonable expectation for Peterson. 'Shady' McCoy has some backfield competition in this department this season, but my guess is Coach Kelly manages to keep both on the field as often as possible, but a dip into the 40's is likely for McCoy's catch total in 2014. Jamaal Charles' 104 targets were the best in the league at the position, and speak to the fact that he was at times the only weapon on the field for Kansas City in 2013. The only thing that'll keep Charles from a similar fantasy impact in 2014 is injury. If you can predict that, you're in the wrong business.
Team Context
This can be broken into two separate groups, the have's and have not's. Neither the Chiefs nor Vikings have much that'll scare the opposition on the outside. Sure, Dwayne Bowe and Cordarrelle Paterson are exciting, capable athletes, but teams will spend little time game planning against them. (Sorry, Patterson fan club members.) On the other hand, the Eagles offensive efficiency and weaponry was on par with the Bears last season, something that few teams can boast. I'm sure I'm not alone in thinking that the Eagles will take a small step back this season though. Nick Foles played at level that few expected, raising the performance of Riley Cooper and the now-departed DeSean Jackson. Jeremy Maclin returns after missing the entire 2013 campaign, and young Jordan Matthews is exciting yet unproven.
Matt Forte
Matt Forte is everything you want in a fantasy back. Regardless of the scoring format you use, his ability to impact both facets of the Bears offensive attack makes him incredibly valuable to fantasy owners. He led the league in red-zone touches last season with 60, and was targeted 11 times in the passing game when the Bears got inside the 20 as well. He may not appear to be as explosive as the other three, but he led the NFL in carries of 40 or more yards last season. The lack of a true handcuff behind him makes it even less likely that he'll be subbed out, with no Michael Bush to poach an occasional goal line carry.
I can't emphasis the team context enough here. The Bears have an explosive offense, a unit that returns all 11 starters this season. The Marc Trestman era should only be better in year two, with a season of experience together under their collective belt. The gigantic receiving duo of Brandon Marshall and Alshon Jeffrey need to be keyed on, and will present Jay Cutler plenty of under-manned pre-snap fronts. They'll likely be near the top in red zone plays again this season, and the NFC North presents little in the way of defensive powerhouses.
Running backs like the 'Big 4' are becoming a thing of the past. All four can be fantasy's top performer, but perhaps Forte is the best of the bunch.
Follow Ryan on Twitter, @RyNoonan.  You can also find his work at numberFire and hear him weekly on 'Caught Looking-The Fantasy Baseball Podcast' for TheFantasyReport.net.