2014 Fantasy Football Team Preview: The Buffalo Bills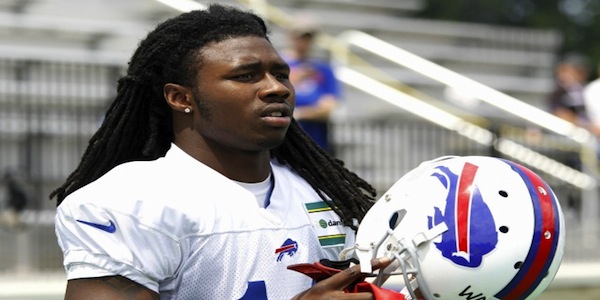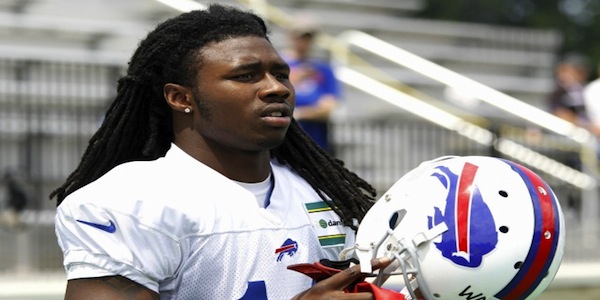 Note: This piece was originally written on July 15th by Ryan Noonan and is one of many unique pieces that can be found in our 2014 fantasy football draft guide. None of this information has been updated since it was originally published.
Team Profile-Buffalo Bills
The battle for second place in the AFC East is wide open and the Bills should be in that mix, but that feels like their ceiling this season. Coming off of a 6-10 season, the Bills are looking to get more than ten games out of their second-year starter, E.J. Manuel. There's quite a bit of young talent on this offense, but it'll all be stymied if Manuel doesn't develop into the player they thought they drafted in last year's first round. The defense has a lot of question marks, which could make the Bills a welcome sight when looking for a matchup to exploit.
Quarterback

It's difficult to head into the 2014 season and feel confident about E.J Manuel and the Bills' passing game. In limited action last season, Manuel was inconsistent and lacked the big play ability that fantasy owners look for when drafting or streaming a quarterback. He has the athleticism to run, but it's not a sustainable game plan, more so just the ability to scramble and get yards with his feet on broken plays. The Bills need Manuel to stretch the field to open up the running game, and he does have some talent on the outside to get it done. With the Bills run first philosophy, Manuel's potential is capped this season. He will be lucky to finish as a top-20 player at the position.
Running Back
No team ran the football more last season than the Buffalo Bills. With that said, if C.J. Spiller, Fred Jackson and newly-acquired Bryce Brown all enter the season healthy, you'll be mistaken if you think you can trust one of these guys week-in and week-out. To that effect, there was perhaps no bigger bust in fantasy last year than Spiller. The jump in usage hyped in the preseason never materialized, and it cost a first round pick to learn that lesson. Spiller was second on the team in both carries and receptions out of the backfield, as Fred Jackson refused to take a backseat like some had hoped. I expect more of the same this season, but I anticipate the overall touches for both players drop with the addition of Bryce Brown. Brown has shown flashes of being an elite runner when he's able to hold on to the football, and he's an upgrade over veteran Tashard Choice as the team's third back. The Bills traded away a conditional fourth round pick for Brown, and I expect he'll be a nuisance to Spiller or Jackson owners all season.
You can get our #FrontOffice package, which includes the kit ($20 value) for FREE by depositing $10 at DraftKings here. 
Wide Receiver
How do you make sure you maximize last year's first round investment at the quarterback position? You trade up in the first round and give that quarterback a shiny new toy to play with. Arguably the most talented offensive weapon in this year's draft class, Sammy Watkins will be called upon to contribute early and often for the Bills. Watkins drew comparisons to Julio Jones due to his strength and ability after the catch. The run-first nature of the offense, along with the questions under center, should cap Watkins' rookie season impact, but he should be high on the draft board for dynasty leaguers. Stevie Johnson is in San Francisco; second year wideout Robert Woods will slide into his role as the slot receiver. Coming off of ankle surgery, Woods is likely to be the other wide receiver in 2-wide sets as well. Former Buccaneer Mike Williams comes to Buffalo off of a disappointing 2013 season. Williams had a strong finish to 2012 and was drafted as a WR3/4 last season in most fantasy leagues. Even with his size and red zone potential, Williams is someone to ignore on draft day in all but the deepest of leagues.
Tight End
The Bills offer fantasy owners very little at the tight end position. Incumbent Scott Chandler is a TE2 at best and could be fighting for playing time on the off chance that new Bill Tony Moeaki can stay healthy. Moeaki didn't play a single snap in 2013 and shouldn't be expected to stay healthy this season either; that doesn't seem to be his thing. He does show flashes of promise when he is in the lineup, but from a fantasy perspective, this is a situation that offers little upside.
Defense
This could get ugly for Bills fans. The Bills lost Jairus Byrd to the Saints during free agency, and star linebacker Kiko Alonso is lost for the season with the recent news of his ACL injury. The Bills will continue to put pressure on the opponent's quarterback, but shouldn't be owned in fantasy this season. The cornerback position is still a strength, but I fear that the Bills will get run on early and often, and will continue to be one of the worst run-stopping teams in football.
Player to Watch
Bryce Brown-RB – The previously mentioned Brown is someone to target late in your drafts this season. It feels like Fred Jackson is underrated year after year, and the 33-year old tailback was effective again last season. With that said, I'd rather be a year early than a year late when banking on a veteran back hitting the proverbial wall. If that happens to Jackson this season, I expect Brown to benefit. Fantasy value at the running back position is driven by opportunity, and I expect the Bills will want to get a return on their investment when it comes to Bryce Brown.
Key Stat
1,000
As in, a thousand-yard receiver. Buffalo didn't have one last season, and if the Bills are to improve, they'll need Watkins or Wood to step up into a dominant role as a play-maker. This defense should give them plenty of opportunities to come from behind. They'll need a big performer on the outside to do it.
You can get our #FrontOffice package, which includes the kit ($20 value) for FREE by depositing $10 at DraftKings here.