2014 Fantasy Football Team Preview: The Seattle Seahawks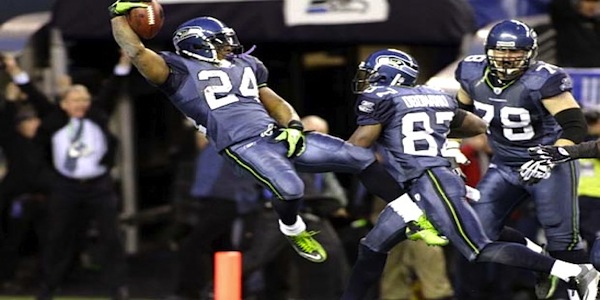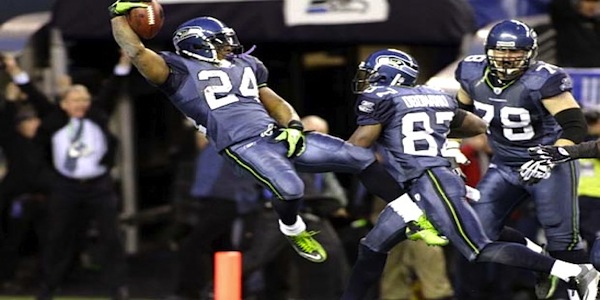 Note: This piece was originally written on July 15th by Justin Mandaro and is one of many unique pieces that can be found in our 2014 fantasy football draft guide. None of this information has been updated since it was originally published.
For many years the NFC West was the butt of everyone's jokes, and the Seahawks scraped the bottom of the barrel. Enter Pete Carroll, former New York Jet and New England Patriot HC before taking his talents to SoCal to coach the USC Trojans. Following Carroll's arrival to the great Northwest in 2010, the Seahawks began bolstering their roster, trading for guys like Marshawn Lynch, Chris Clemons and Percy Harvin, drafting Kam Chancellor, Earl Thomas, Russell Okung, Richard Sherman, Golden Tate and most notably Russell Wilson, while also signing guys like Zach Miller and Doug Baldwin among others. All of these building blocks turned a once 5-11 team in 2009 to the Super Bowl Champions in just four seasons.   But with the wins, the rings and the notoriety comes a big target as teams gear up this off season looking to knock the Hawks off their pedestal.
Quarterback
For almost a century ,the prototypical NFL QB stood at least 6'2" tall, but in 2012 that all changed when the Seahawks took a chance on Wilson in the 3rd round. Although he came up short in the playoffs a year ago, it was proven the decision was the right one. With a monster 2013 campaign, Wilson took the Seahawks to where they had never gone before with a Super Bowl victory. The 5'11" signal caller surpassed 3,100 passing yards, 25 passing TDs & 485 yards for the second straight season. Wilson won't miraculously turn into the second coming of Peyton Manning but Wilson is one of the most consistent players on the field. It should be noted the Seahawks went out and traded for Terrelle Pryor this off-season. Pryor doesn't have the level of talent Wilson does but is a solid back up option for the Hawks if Wilson were to go down.
Running Back
Pete Carroll should be arrested for the theft of Marshawn Lynch. Midway through the 2010 season, Carroll and the Seahawks stole the Beast for their 4th & 5th round picks and haven't looked back since. In the three seasons following, Lynch has averaged 300 carries per year, surpassed 1,200 yards in each season, with a total of 35 touchdowns on the ground. Lynch is only 28 years old and is certainly still in his prime, but 300 carries a year can certainly start to wear down the body specifically with Lynch's type of running. Enter Christine Michael. Earlier this off-season, Offensive Coordinator Darrell Bevell said the Seahawks would lean more towards a committee in 2014. Although Bevell's statement was quickly retracted, confirming Lynch is still the man, Michael is making major strides in this years OTAs and will easily be the #2 behind Lynch as long as he stays healthy.
You can get our #FrontOffice package, which includes the kit ($20 value) for FREE by depositing $10 at DraftKings here. 
Wide Receivers
To kick off the 2013 season, the trade for Percy Harvin was big news. Harvin was injured at the time of the trade and missed a significant amount of time, but there is absolutely no denying his talent. With a full offseason of health, Harvin looks to take the reigns as the #1 receiver for Seattle. The Seahawks lost Golden Tate to the Lions this off-season but resigned Sidney Rice. It is clear the focus in Seattle has been on the running game, but in Wilson's third year, look for the leash to be loosened a bit. Doug Baldwin signed a two-year contract with the club to move back into the slot position while former CFL Rookie of the Year Chris Matthews comes in looking to fight Jermaine Kearse for the #4 gig. Most fantasy owners should target Harvin this season, but Baldwin, Kearse & Matthews certainly deserve a spot on many owners radars.
Tight End
Zach Miller isn't much of a fantasy starter at this position due to his lack of overall production with a high of only 38 receptions in his three years in Seattle. However, Miller holds some value in the red zone with a total of 8 receiving TDs in the last two seasons combined making him a solid choice in leagues that start two tight ends or for bye week fillers.
Defense
There is absolutely no question as to whether or not the Seahawks defense should be drafted and drafted early. The Seahawks crew scored more points than any other fantasy defense according to ESPN standard scoring by 10 points. They found the end zone four times, and gave up 20 or fewer points in 12 of 16 games. For the most part the Seahawks defense remains in tact, so look for the Seahawks fast paced, power defense to continue to rack up points at will.
Player to Watch
It is hard to pinpoint just one player to watch for when you are the reigning, defending Super Bowl Champs. It is easy to pick the guys like Lynch and Harvin, but the player to really keep your eyes on is Christine Michael (HB). Michael is a 2nd year player out of Texas A&M that missed some time last year due to injury. His time at A&M didn't produce outstanding numbers in terms of yards, but when your highest carry total is only 166 in four collegiate seasons that happens. His numbers begin to open up eyes when you see his 5.3 yards per carry average on 529 total carries accompanied with 34 rushing TDs. News has already surfaced that Michael will get more carries under Bevell which will increase his value in deeper leagues.
Key Stat
Warning: Stay away from Sidney Rice. Rice played in just eight games last season before going down with an injury that would sideline him for the rest of the year. Rice found the end zone three times before going down, as well as recording at least two catches and 30 yards in four contests. However, at the time of the injury Wilson had only connected on 45.5% of passes thrown to the wide out, which was 3rd worst in the league with at least 30 attempts.
You can get our #FrontOffice package, which includes the kit ($20 value) for FREE by depositing $10 at DraftKings here.