2014 Fantasy Football: Top Ten Running Backs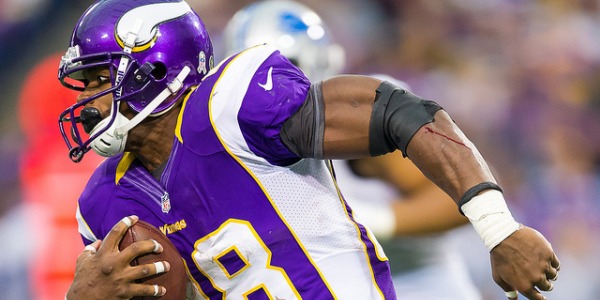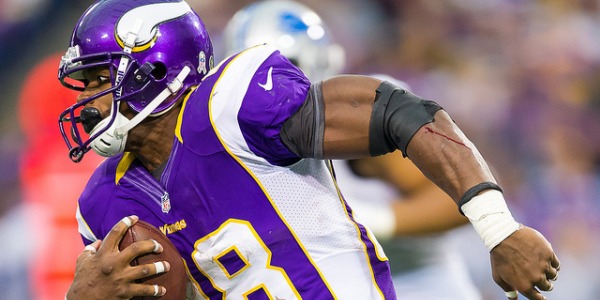 1. LeSean McCoy
McCoy should be this year's first-overall pick. He is a perfect fit in Chip Kelly's up-tempo offense. Last season Shady won the rushing title by 268 yards. Over the past three seasons, McCoy is second in fantasy points only to Adrian Peterson. He had well over 350 touches last year and is not expected to see a decrease in usage this season. His high volume of carries is enough to edge out Jamaal Charles for the top spot. Expect over 2,000 yards from scrimmage and double-digit TDs again this season. The only concern is that newly acquired RB Darren Sproles could siphon some of McCoy's PPR value.
2. Jamaal Charles
Charles is one of the most explosive backs in the NFL. He is a PPR monster and should have another great season. The only concern with Charles is he'll probably only get about 250 carries. Last season, he caught 70 passes and scored 19 TDs. These numbers are very difficult to sustain. Barring injury, he will have another great year, however it will be difficult for him to match last year's fantasy output. With all that being said, the Chiefs' offense is extremely limited and they will have no choice but to go to Charles early and often.
3. Matt Forte
Forte is coming off the best fantasy year of his career. He has been a consistently elite fantasy RB for years, nevertheless his 12 TDs last year really put him over the top. He is an elite pass-catching RB, and he runs with a very balanced size and speed combination. Forte accumulated 74 receptions and 1,933 yards from scrimmage. He is an elite RB1 this year and should be drafted early in the first round. The only concern could be his usage rate. Forte led all RBs in offensive snaps last season (887), and the past three rushers to lead their position at offensive snaps have failed to record a top-nine fantasy season in the following year. Last season's output will be hard to match, nonetheless he should still be considered an excellent RB1. He deserves to be drafted third overall in most formats.
4. Eddie Lacy
Lacy is in the perfect situation. He is a power back coupled with an elite QB. His power running and soft hands make him an elite three-down back. Last year's offensive rookie of the year is set to have a huge season. The former Crimson Tide RB should improve on the 1,435 yards from scrimmage he amassed during his rookie campaign, and his 11 TDs should be matched as well. He is the highest ranking sophomore back on this list, edging out a few other of his fellow draft class members. Now that Lacy appears to be in good shape heading in to the season, the only concern is his health. He dropped all the way until late in the second round of the 2013 draft because of health issues and was banged up at times last year. Nonetheless, you can bank on him to be a star in Green Bay. Lacy could make a serious push for the rushing title this season and is a safe bet for double-digit TDs.
5. Montee Ball
In 2013, Knowshon Moreno finished the season as the number four fantasy back in the league. Ball is a much more talented back and has youth and health on his side. His 4.7 YPC was more efficient than Moreno's 4.3 YPC, however it came in a much smaller sample size. Ball is a versatile back and has a propensity to score TDs. The former Badger set the NCAA career TD record (83), including 39 in 2011. In his final two seasons at Wisconsin he totaled 3,753 rushing yards and 61 TDs. Even more than his talent, Ball's most significant advantage is the fact that he has Peyton Manning as his QB. Manning loves throwing to his RBs; he always has going back to his days with Edgerrin James. He also gives a runner every advantage to succeed on the ground. The pressure Manning and his weapons put on a defense, coupled with his unparalleled ability to dissect a defense and audible during pre-snap reads, makes it close to impossible for a defense to focus in on a RB. Ball has a legitimate shot to be an elite RB1 this season and for as long as Manning is under center in Denver.
Bernard was the first RB taken in the 2013 draft. He is the most talented back in his draft class and showed flashes of greatness last season. He has the elusiveness and explosive breakaway capability to turn any play in to a big one. New offensive coordinator Hue Jackson loves to run the ball, but how he splits the carries is yet to be determined. Last season BenJarvus Green-Ellis received 220 carries and rookie Jeremy Hill could be in line for a similar workload this year. Gio does not have the ideal size of a workhorse back. He should still be considered an elite PPR back. Expect him to earn more than 225 carries this season and improve on his 56 receptions from last season. His situation may not be ideal but his talent is elite.
7. Adrian Peterson
Many people may be surprised to see AP this low on the list. Don't worry there is a method to my madness. We all know Peterson is a borderline super-human freak of nature. Still, he is human. He will be 29 this year and, according to RB usage rates, is due for a decline. He has passed the 2,225 touch threshold. The fact that he is still ranked this high says a lot about his ability. He is probably the most talented pure runner since Barry Sanders. Eventually the beating he takes will take a toll on him, especially with his punishing rushing style. Think about this, many people are already beginning to predict the demise of Marshawn Lynch due to wear-and-tear. Lynch is a year younger than AP and has almost 300 less career touches. He also outscored AP last season by about 30 points in most formats. Peterson is being drafted in the top five in almost every draft, usually higher. I would rather pass on him a year too early than a year too late.
Ellington is this year's fantasy darling. He was super-efficient last season and showed flashes of greatness. With limited carries (118), he averaged 5.5 YPC. He also added 39 receptions and four TDs. Cardinals' head coach Bruce Arians has said all offseason that the second-year back will get 20-plus touches a game and be their workhorse back. It remains to be seen if the 5-foot-9, 199-pounder can handle that heavy a workload. Nonetheless, what he has shown is great vision, cut-back ability and big play capability. Many owners are hesitant to draft Ellington at his current ADP of 31.18 and rightfully so. He is undersized and somewhat unproven. For those willing to take that risk on the young back, he will pay major dividends. Expect about 65 receptions, 1,700 yards from scrimmage and nine TDs. Health is his biggest concern. If healthy, he's a solid RB1 with major upside.
9. Le'Veon Bell
A few short months ago, Bell would have been top five on this list or close to it. Needless to say, it has not been a good couple of months for him. LeGarrette Blount has emerged as a legitimate threat to Bell's fantasy value and Dri Archer could siphon some passing targets. With Blount taking about ten carries a game and red zone carries, Bell's stock drops a bit. Then he gets arrested on possession and DUI charges. So he is facing a possible suspension and potentially splitting touches. I still love his talent. He's a big powerful back that can carry a heavy workload, catch passes and protect the QB. That could very well outweigh all the negativity currently surrounding the sophomore back. The upside is still there, but he is not as safe a pick as he once appeared to be.
10. Doug Martin
Martin is on the other side of the spectrum from Bell. The Muscle Hamster has climbed into the top ten thanks to a string of good luck. After being stuck in a guaranteed time share, injuries have changed the landscape of the Bucs backfield. Impressive pass-catching rookie Charles Sims is expected to miss 12-14 weeks and University of Miami product Mike James has been banged up as well. Martin struggled last season when healthy, averaging only 3.6 YPC and scoring one TD in six games. This was shocking after his rookie season in which he totaled 1,926 yards from scrimmage and 12 TDs. Still, head coach Lovie Smith has come out and stated that Martin will now be a "bell-cow" RB. His heavy workload and promising rookie performance is enough to allow him to round out this list.